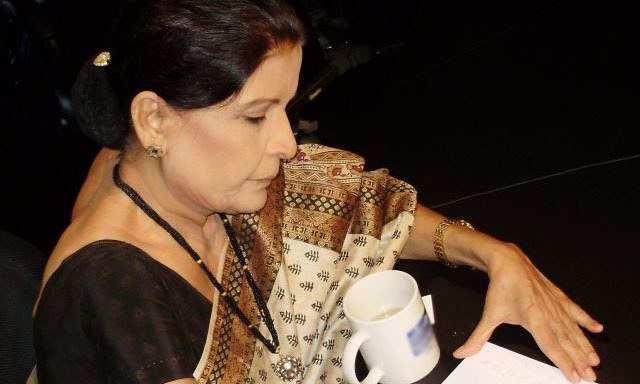 Two weeks back, Pakistan's popular personality and cooking expert Zubaida Tariq, popularly known as Aapa, was taken to South City Hospital in Karachi on the premise of a fever which later turned out to be Dengue. The maestro stayed in the hospital for two days, a close family member confirmed to HIP and is now on her road to to recovery.
"She's not 100% fit, but she's getting better every day," said Aapa's daughter in law when asked if she was ready to get back into action.
Zubadia Aapa has an illustrious family background which boasts names such as Anwar Maqsood, Fatima Surraya Bajia, and Zehra Nigah and is well known for her desi totkas.
You accidentally spill nail polish on your carpet? Aapa has a solution. Your beef isn't tender enough? Trust Aapa to make it so tender, it'll start having 'actual' feelings. You don't know how to drape a sari? Oh, she'll make you a pro in say, 30 seconds.
She's the superwoman of our industry. No one can doubt her expertise regarding household matters. And it's not just about cooking, hosting dinners or looking proper all the time; Aapa runs a cafe called Z'APA as well.
It's not just the maestro herself, other people are also taking advantage of her fame and expertise. There is a website, Zubaidaaapa.com, that'll help you impress your in laws (or yourself), give totkas on hair loss or read tips to say healthy. But it's imperative to note that Zubaida Aapa is not running these sites or Facebook pages. These are headed by unknown people who want to cash in on her expertise.
Here is wishing Aapa a speedy recovery!