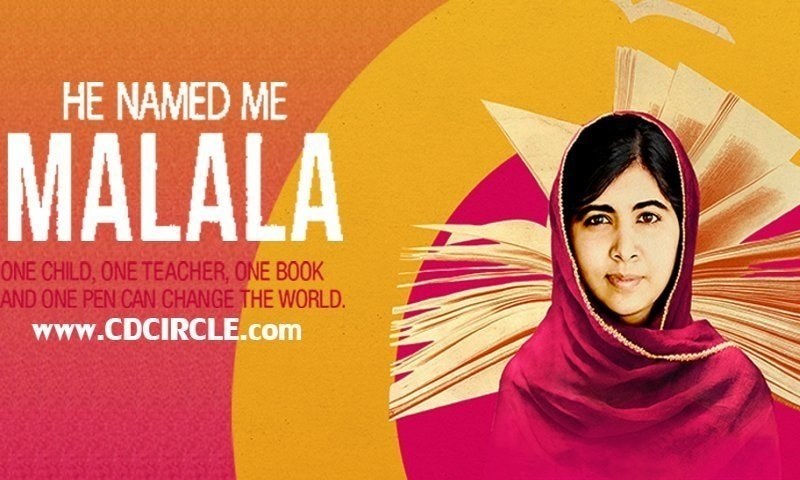 "There's a moment when you have to choose whether to be silent or to stand up." Malala Yousufzai

On October 9, 2012, a Taliban gunman shot Malala Yousafzai while she was trying to get home after school in Pakistan's Swat Valley. The masked gunman (wearing Nike Jordans BTW) shouted "Which one of you is Malala? Speak up, otherwise I will shoot you all," and, on her being identified, shot at her. She was hit with one bullet, which went through her head damaging part of her skull and brain. Two other girls were also wounded in the shooting: Kainat Riaz and Shazia Ramzan, both of whom were stable enough to speak to reporters and provide details of the attack afterwards.
Yousufzai was shot because she wanted girls in her village to get an education and was keeping a diary for BBC detailing the tortures of Taliban in her village.
Davis Guggenheim decided to make a documentary about Malala Yousufzai called He Named Me Malala. The documentary was released in USA and Canada on October 2nd and after watching it last night, it reaffirmed my faith in humanity to be honest. The documentary, as much as it was about Malala Yousufzai, was equally about her father who has been her strength since the day she was born.
Ziauddin Yousufzai named his daughter 'Malala' after Malalai of Maiwand; a national folk hero of Afghanistan who rallied local Pashtun fighters against the British troops in the 1880 Battle of Maiwand. She fought alongside Ayub Khan and was responsible for the Afghan victory at the Battle of Maiwand, during the Second Anglo-Afghan War. Her father is everywhere she goes. He is not only proud of his daughter, but ferociously protective of her too.
It showed in the documentary how he wanted to raise a daughter to be educated and independent; someone who feared nothing and stood up for what was right always. And you see that confidence in Yousufzai every time she speaks. She can't smile or even speak properly due to the damage done to her brain, but she doesn't let that stop her. We also saw some clips of her surgery and her scars. Oh, and to all the conspiracy theorists out there saying her head wasn't shaved for surgery, hence this is a drama - guess what? It was shaved! The left side of her head was continuously shaved for procedures; in Pakistan and the UK. After the surgery she parted her hair and covered that side of the face in such a way that you couldn't actually tell. (Perhaps time to either get your facts straight or move on to the next conspiracy)!
We also saw how Yousufzai rose to fame and met everyone from Jon Stewart from The Daily Show to The Queen of England. And of course let's not forget that she became the youngest recipient of the Noble Peace Prize in 2014. She also had the guts to go the White House and tell President Obama that one of the reasons for terrorism in Pakistan is because of his drone attacks! She accomplished all of the above while trying to adjust to her new life in the UK. When she talks about Pakistan and Swat Valley, you see how much she wants to return to Pakistan, but can't. Even with her fame, you can clearly see how she doesn't stray from her culture. She is the only girl in her class who covers her head and has a skirt long enough so her legs are not shown. She may be a huge public figure, but because of that her grades have suffered a bit too.
Most of the documentary was about her travels to different places trying to fight for girls' education, but we did see some of her interactions at home also. She has two younger brothers and that is an equation as normal as any other siblings'. We also got to see her mother and how much she too misses her homeland and is not able to adjust in the UK. I do wish we had seen her mother a bit more though. She apparently is going back to school to read and write, which in my opinion is fantastic and something to be extremely proud of!
Also in the documentary we met Shazia and Kainat; the two girls who were also shot with Malala. They showed the scars on their hands and it was nice to see how Yousufzai still is in touch with them and makes full use of Skype to keep in touch with her other friends and family.
He Named Me Malala covers everything from her childhood, to her being shot at, to her life now. The thing I didn't like about it was how Davis Guggenheim asked some really ridiculous questions. When she talks about her admiration for Shane Watson, Shahid Afridi (yes Afridi fans; she refers to him as the greatest cricketer in the world), and Roger Federer, Guggenheim asks if she actually likes them as sportsmen or the way they look. He also asks her whether she would be able to call up a boy and ask him out; questions Yousufzai laughed at, but was clearly not comfortable with. He was asking western questions to an eastern girl still deeply rooted in tradition. He also (almost) accused her father about naming her after Malalai of Maiwand as if saying her being shot is kind of what he readied her for.
Another thing Guggenheim mentioned to her was how she never talks about her struggle. Of course she doesn't; it's a difficult topic to talk about. At times he seemed quite insensitive of the situation in which Yousufzai had found herself in, through no fault of her own.
Overall the documentary was a great effort to show the life of Malala Yousufzai, her resilience despite of her struggles and handicaps, and in my opinion was not only needed, but was necessary. I think if one has the chance to see it, they definitely should. This 17 year old is kind, humble, and has gone through more than most of us sitting behind our laptops ever will. She is someone to be proud of and a role model for not just girls, but also boys.