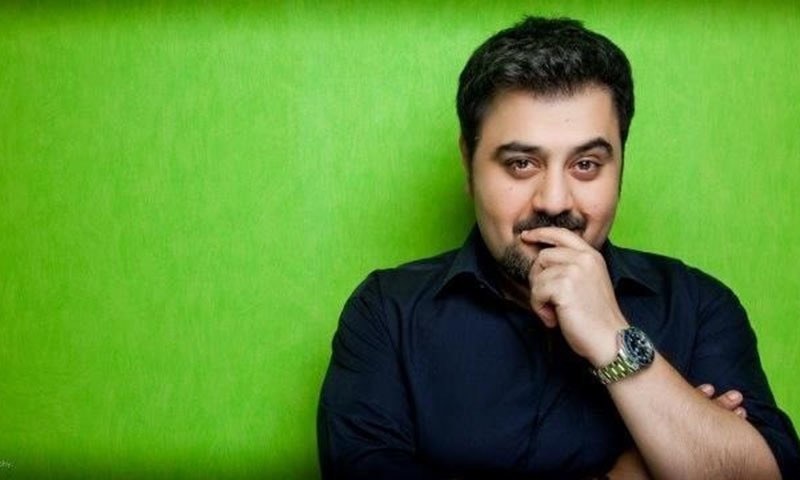 HIP wishes Ahmed Ali Butt a very happy birthday!

Pretty much everyone knows who Ahmed Ali Butt is. If you don't, you are the saddest soul on earth.
He's the funniest guy in Jawani Phir Nahi Aani, Mr Shameem in HUM TV's sitcom Mr Shameem, Ex-band member of Pakistani rock band Entity Paradigm (EP), Zille-e-Huma's son and consequently legendary singer Madam Noor Jehan's grandson.
The first time I noticed Ahmed Ali Butt
It was during EP's song Shor Macha.
Shor Macha, as the name suggests had a lots of shor, but Butt's Urdu rap mad me smile. "Don't they rap only in English?" I wondered as my metal head friend indulged in the mandatory head banging.
When her adrenaline rush subsided, she very politely told me, "Don't you know he's Noor Jehan's grandson?" And I was like "Dude?!"
And that's pretty much the reaction he induces in people whenever he appears on screen - be it television or cinema - or stage.
When the EP team reunited for Coke Studio
It was season three of Coke Studio and my sister came to me and said, "Have you seen Ahmed Ali Butt say jhoota in Bolo Bolo?" Yes, that's what caught her attention. Not Fawad Khan and his husky vocals but Butt saying 'jhoota' with much zeal and enthusiasm.
So, keep an eye out for the jhoota part and enjoy!
Butt mimics HSY on his show
This episode of Tonite with HSY - featuring Ahmed Ali Butt and his wife Fatima Khan - was one hell of a joy ride. The most fun moment was of course the mimicry session. You can see Butt having a go at HSY in the video above but what you cannot see, is his response to his wife's mimicry.
Khan was asked to deliver the infamous dialogue from Maula Jutt, "Maulay nu maula na maray ta maula nayi mardaa, Oye!" And she did deliver it with finesse but Ahmed Ali Butt wasn't too happy.
"Aisa lag raha hai Maulay ne bhung pi hui hai," he said. And everyone laughed. Predictably so.
Boys, WhatsApp and Ahmed Ali Butt
With the power of these three combined arises the shadiest group on the planet. At least, that's what I gathered from the conversation that took place between Hassan Sheheryar Yasin and Ahmed Ali Butt.
The group includes actors, directors, legends, and Tharkis, according to Butt. But that is all, HSY could wiggle out of him.
"The first rule of boy's club is that do not talk about 'the boys club'," was Ahmed Ali Butt's response when HSY asked him about this 'exclusive' WhatsApp group. Yes, so let's not talk about it further.
Ahmed Ali Butt's Thailand adventure
Did you know a boat toppled over during Jawani Phir Nahi Aani's shoot as soon as Ahmed Ali Butt sat in it? Neither did I. But Humayun Saeed and Hamza Ali Abbasi made sure that the world new about this unfortunate incident. These two thought it was funny but being a person who has a fear of underwater creatures (that is me), I can understand Butt's plight. So not funny guys!
Saeed and Abbasi were spilling their secrets on See TV's morning show SunRise from Istanbul and while they were at it, they decided to spill a few beans about Ahmed Ali Butt as well. While Butt wasn't physically present in the interview, he totally owned it.
His rap fro JPNA's title song
The way he included his Nani's (Madam Noor Jehan) song Mundeya totally steals the show. And of course the lyrics are hilarious too, especially,"Sun sing karti meri nani!"
His stint at the 3rd Hum Awards
One tends to get emotional after Khalil ur Rehman Qamar's little speech but Butt did what he does best. He broke the tension with his quip as he announced the upcoming dance performance.
"Iss performance se Khalil Saab ka mood bhi kuch behtar hojayega halanke humein iski zaroorat koi nahi!" said Butt and then apologised to Khalil ur Rehman Qamar but the apology was lost in the peels of laughter that erupted all around.