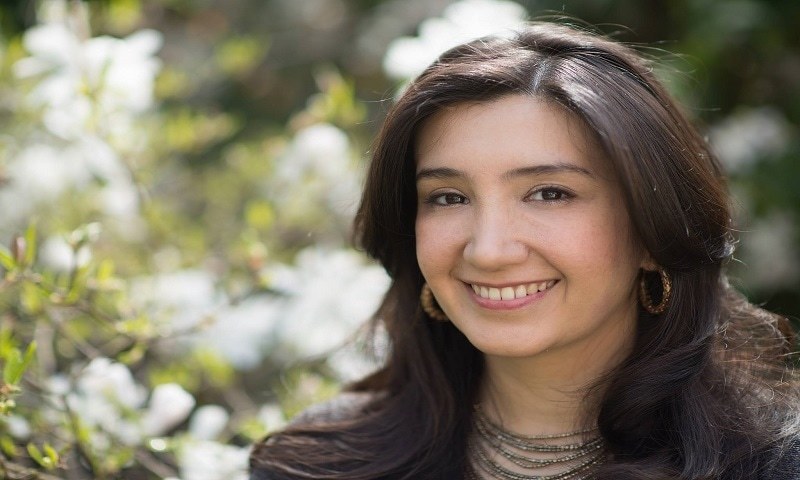 "HMJ is made for Pakistanis, by Pakistanis, with a Pakistani point of view, but with a global impact," says the singer
Zeb Bangash is one of Pakistan's most versatile singers, having the ability to sing in six different languages. She has garnered much praise as the lead singer and co-composer of 'Zeb and Haniya,' a band she created with her cousin. Their original songs gained them much popularity and critical acclaim worldwide including a feature in TIME magazine.
Her collaboration on Kya Khayal Hai with Bollywood musical heavyweights Shantanu Moitra and Swanand Kirkire, for the Cannes Film Award winning TV series Dewarists led to Zeb's playback singing Bollywood debut with the film Madras Café. She also worked with Oscar-winning composer A.R Rehman on the soundtrack of Imtiaz Ali's Highwayand presently she is working as a music director/playback singer in a number of Bollywood films. Another first for Pakistan from Zeb comes in the venture called Sandaraa, where she teamed up with clarinet virtuoso Michael Winograd in Brooklyn, U.S.
In Asim Raza's directorial debut Ho Mann Jahaan, she is not only the main female voice, but is also one of the composer of the background score. The film will feature nine tracks which are a collaboration of none other than the best musicians of the country. The music of the film is spellbinding, I find it difficult to get out of my mind these days, hence I decided to talk to Zeb Bangash about Ho Mann Jahaan.
Here is an exclusive with the versatile singer.
How did you get involved with the project?
Actually I saw Asim Raza's movie Behad that he did with Nadia Jamil and I absolutely loved it. I called Asim to congratulate him and we had a good chat. It was at that time when Asim vaguely mentioned that he's been thinking of getting me onboard, but nothing was on our plate at that time. Then later I did an Olpers ramazan advertisement jingle and Asim Raza was directing it. I happened to meet him there and there he asked me "kia tum meri eik film ka gaana kar sakti ho?" I said yes and told him that I've been working for Indian films as well. It turned out that Asim Raza didn't know about it. I was actually in Thailand for an Indian movie project Lipstick Waaley Sapney, which will release in 2016 and other projects too. Then Asim asked if I can create music for HMJ and write songs. Especially one song that is about the three musicians and the girl is the singer in the movie, with the point of view of a band he wanted me to come up with something. I was really excited and thrilled. Actually to be part of such an amazing Pakistani project was itself quite a joyous and honourable moment and the satisfaction one gets from that is very special.
What was your favorite moment in the process of HMJ?
The first time I walked on to the sets of film I still remember since I had never really been on a film set before and to see that process of shooting was astounding. Of course I spent a lot of time with Asim Raza trying to understand the entire organization of the project and Mahira, Adeel, Abbasi, and Sherry are such great friends and supporters. When I actually headed to take that one step to the set and watched Asim directing it was unbelievable and so inspiring. When you actually see your own song being acted out in real time and shot in such a grand way - it was totally an out of this world experience for me being a singer. When I saw the execution, I got that feeling - OK this is going to be great!
Were there any problems you faced while working on this project?
There was actually no problem in doing it. I actually feel that anything that is creative and has too much drama in it, it loses the creative energy and brings negativity. I think Raza's management and direction style is such that there's very little space for problems. Literally everything was done with fun and laughter and you don't even know it's over. People give big lectures on professionalism and I feel that rigidness is actually against the required professionalism. Thank god I got such friendly atmosphere and people. Though I worked very hard and not that there were no obstacles, but it never felt like it was causing a hindrance. Everything went so smooth and exciting.
It was really great to see all my friends starring in it and then there was Asim Raza too, so I was very comfortable with it. Actually I said yes, then Asim Raza called me for office exhibition factory and narration of the script when I was back in Karachi, so that its easier for me to understand exactly who these people are and what their friendship was. it was a tough to define the point of view of the whole band. When you actually see the finished product, the film, and the song, everyone feels so much pride that it really turned out so well.
What did you like most about Ho Mann Jahaan?
One thing that I really enjoyed about this project is that it shows the true essence of Pakistan and from a Pakistani perspective. It's truly our own idea and we're not trying to be like anyone else. Generally what is represented through our films and media looks as though outsiders have made it or its been made for an audience outside of Pakistan; HMJ is nothing like that. This film is made for Pakistanis, by Pakistanis, with the Pakistani point of view, but it's been told in a human way, which actually has a global impact.
Were you involved only in the making of the music or will we see you on screen also? (Ehem!)
Yeah, I did a little cameo role as well in the movie. Ha-ha, I'll see if you can recognize me. That was a very interesting role, but I had a lot of fun doing it; "mujhey to bara mazaa aaya". Though the scene was shot in one go, I wanted to do it again and again. It was real fun.
Lastly, would you tell us what your expectations are in regards to the music of this movie?
I don't know as I have never ever judged any work myself. I don't think on that scale, and I decided this much before that I will never have any expectations out of what I do. I do with my heart and soul and never think to get anything in return beforehand. At the end of the day, all I have to say is that I really enjoyed the process and I really loved what has come out. This whole experience has been so beautiful throughout that it'll always be close to my heart.
There you go guys; everyone's favorite Zeb Bangash sharing her amazing experience with all of us. Surely you all must be excited to see Zeb Bangash in that 'difficult to recognize' role, and I'm excited too!