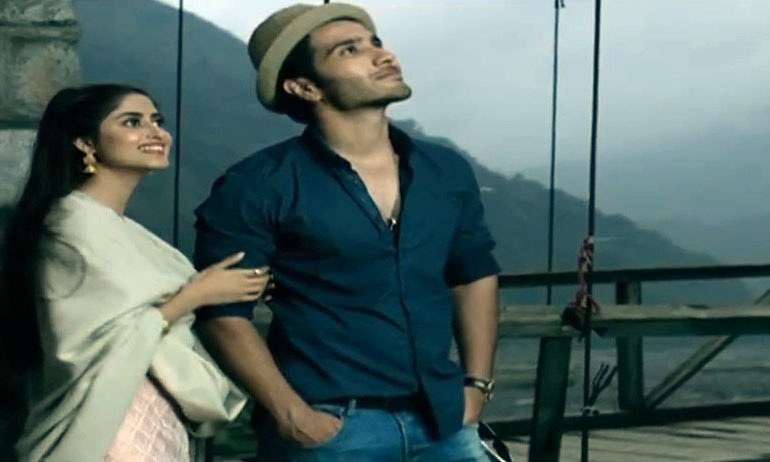 It's a 'bad boy turns good boy' kind of a story and will air in the first week of November.

I promise Gul-e-Rana is going to have at least three things in abundance. Chemistry, chemistry, and chemistry!
(Please imagine me saying this in Kareena-Kapoor-in-K3G-style. Thank you.)
Now what is Gul-e-Rana? It's Hum TV's upcoming drama serial - the day and time haven't been announced yet. It is directed by Farooq Rind and stars Sajjal Ali, Feroze Khan, Mehmood Akhter, Rubina Ashraf, Sundas Tariq, and so on.
The DOP Qasim Ali Mureed confirmed that this serial shows journey of a 'bad boy' , played by Feroze Khan, who gradually evolves into a better person. He also revealed that the serial will air in the first week of November.
Now, let's have a look at why I feel Gul-e-Rana is going to be the serial of the season.
Bad boy turns good boy formula...
Always works! We might not like to admit it, but there's a certain charm around 'bad boys'. Their journey from being this evil, obnoxious person to a gentleman makes up a good story and if the reason behind his change is a girl then it becomes even more interesting.
*
"Biwi ek bohat personal cheez [please note he's calling his wife a 'thing'] hoti hai yaar. Jab chahay uthado, jab chahay bitha do, Khaana pakao, kapray tayar karo. Chup tou chup, bolo tou bolo."
*
That's what Feroze (rather the character he's playing) thinks about women. That is plain misogynistic but it'll be fun to see his character grow and become sane.
The 'jodi'
Sajal Ali and Feroze Khan create magic on screen. It's not just me, even 'Hum Awards' management thought so and opened the ceremony with their performance.
The television couple first appeared on Chup Raho. Since in that serial they ended up as psychologically messed up people, I was desperately waiting for them to appear in a simple, romantic drama serial where I can enjoy the chemistry between these two.
Read: BTS: Sajal-Feroze jodi reunites for 'Gul e Rana'
The (lack of) competition
Diyar-e-Dil is the only drama serial I'm following nowadays. "There is nothing to watch on TV," is the response I get whenever I speak to someone on this topic.
This, of course, is a big advantage for Gul-e-Rana. The show can go places and by the looks of it, it will. The picturesque Murree, a strong-headed girl and a spoiled brat make up for a delicious recipe for a romantic ride (because that's what I feel Gul-e-Rana is going to be).
Good looks!
No, I'm not talking about Feroze Khan and Sajal Ali - I've swooned enough on them - this time it's the location. Diyar-e-Dil has spoiled us a bit and I was wondering if I would be able to watch a city-oriented drama serial with boring visuals ever again. But it looks like I'm in for a treat because the latest drama on my watch list has also been shot beautifully.
Have a look at the promos and you'll agree with me.
2: