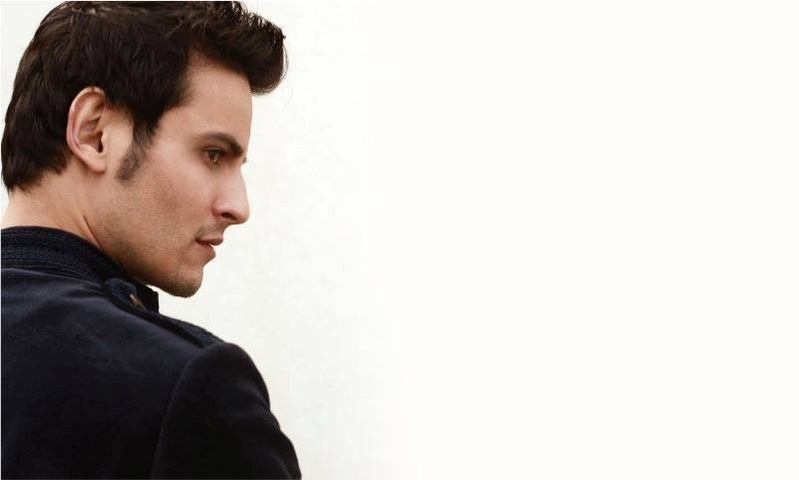 "I'm generally awkward around praise; I tend to deflect it and focus on the criticism," says the actor

Last time I spoke to Osman Khalid Butt, drama serial Goya had just ended and Diyar -e- Dil had just started. Well Diyar -e- Dil's last episode will go on air Tuesday (yes ladies, no more Wali every Tuesday)! Not to worry though; I got in touch with the talented actor again to see what he was up to now and to find out when will we see him on screen again.
Read on to see what he has to say:
Also read: To me, ratings frankly don't matter: Osman Khalid Butt
How does it feel to not just be accepted, but also highly praised for every character you portray?
It feels a bit surreal, to be honest. I'm very self-critical so I'm generally awkward around praise; I tend to deflect it and focus on the criticism – which is quite an unhealthy quirk, now that I type all of this down. My God, I've started psychoanalyzing myself – back to your question!
That's generous of you to say: it feels incredible to have your hard work rewarded with the approval of the audiences and critics. Diyar-e-Dil, for example, was a huge challenge because I had to match expectations of fans of the novella. It was the first role that projected me as a traditional (horse-riding, gun-toting, self-sacrificing, and assorted 'ing's) drama 'hero' and despite Goya, when you're still remembered best as the guy from the Humsafar parody /* Aunn Zara* – both comic avatars – it's not just about being accepted as Wali; it's audiences being able to digest the thought of you playing Wali.
I'm elated, humbled, and relieved to have crossed that proverbial finish line. All the plays I have done have been huge learning curves and I'm so happy I've been able to make a mark with Mayer (Hashtag kajal), Aunn, Omer, & now Wali.
I'd like to take this opportunity to thank all my fans and supporters; especially the ones who stuck it out through thick and thin. Your encouragement has kept me going, and I am deeply overwhelmed.
How was it like working with someone as big as Abid Ali?
Daunting at first, because, well, he's an institution unto himself. But that's the beauty of watching such a thorough professional at his craft – you get to learn so much. I picked up on so many things: the subtle shifts of expression, how the mood and beat of a monologue would change by just a slight inflection in tone, and most importantly: how he could portray mischief, love, anger, pride – so many emotions just through his eyes.
A lot of critics have praised my take on Wali by saying that despite the lack of dialogue, I was able to convey a lot through expression. Guess who I was channeling? I cannot praise him enough.
You had Hareem Farooq and Ali Rehman as your parents; What was that like since you are friends with both of them?
I know, right? Only with Ali it's still not that big of a stretch because he's a decade* older than me. (This is a joke. Ali will murder me for this.) I think because all three of us are originally theater actors and that requires you to embody different characters, play different age groups, tap into such diverse mindsets that this character dynamic was just another challenge for us; one I feel all three of us rose to rather well. I think our friendship and onstage chemistry translated brilliantly onscreen, though I do wish I had had more scenes with Ali. I share a fantastic rapport with him and hope we get to work together onscreen again soon.
The Arjumand-Wali dynamic worked so well because Hareem brought such a quiet grace and dignity to the older-Arjumand that it was extremely easy to forget Hareem and focus only on 'Ammi' whenever the camera rolled.
I am really fortunate to have worked with the both of them. That they're amazing actors is a given, but there's just something magical about working with old friends.
You have scripted Janaan; can you tell us a bit about it?
Janaan is a frothy romantic comedy that celebrates a proud Pukhtun culture in escapist fashion. Think of all the movies that have come out recently (barring a couple): there's a very stereotypical representation of Pathans; this film is an antithesis of sorts. The film brings forward an unseen glamor, beauty, laughter, and romance associated with the region, along with some sharp social commentary. It's essentially about a quirky family with many colorful characters.
What is next – another drama or a film perhaps?
You know how it goes, mum's the word till things finalize, but InSha'Allah there might be a film project in the coming year. I'm writing for a film as well, so there's that. As far as dramas are concerned, there's Haseeb Hasan's next after Tera Gham Aur Hum, titled Sanam, written by Mona Haseeb. Haven't signed anything else yet, but am reading a couple of interesting projects.
What is the 'Almost Famous' shoot about?
It was basically the fourth part of a series of shoots I've done for a very close friend, Bilal Abdullah (look him up – photographer, graphic designer, men's fashion blogger, running a successful interior décor outlet; this man has done it all) over the years. He wanted to portray a 'rockstar'-esque image – which naturally conflicted with my introvert nature. I like how the series portrays the illusion (the poor man's James Dean, cigarette in tow) versus the breaking of the bubble in the final picture, which is a candid one of me bursting into laughter.
As for the name, we were toying around with a couple, including the groan-inducing 'Losing My Religion' (sorry Bilal Bhai), when I thought 'Almost Famous' would give a cool, self-deprecating, 'almost there, but not quite' feel to the shoot.
Haha, that should be my personal tagline. Osman Khalid Butt: 'Almost there, but not quite.'
So there you have it everyone. Wali may not be on screen after Tuesday, but OKB will soon be back in Haseeb Hasan and Mona Haseeb's Sanam.