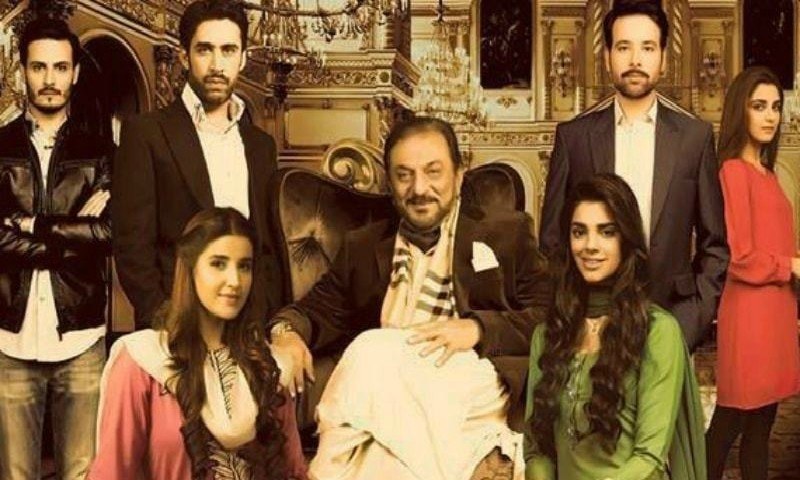 "Yeh zindagi eik kitab ki tarha hoti hai, bilkul eik band kitab ki tarha, jise jab parhne ke liye khola jae..."

So finally, 33 weeks and 24 reviews later, Diyar -e-Dil ends. Roohi aur Arjomand ki dosti ho gayee and even though Wali didn't eat the special gajar ka halwa Faara made (so mean), aakhir mein unki dosti bhi ho gayee. I hope Faara and Wali fans are finally happy as the last episode was dedicated solely to them.
In the off chance that the three people reading this review haven't seen the last episode, there will not be a summary of the finale; at least there won't be anymore information than the above.
Diyar -e-Dil was a journey; or perhaps it seemed like it to me as I have never seen a drama with 30+ episodes. In all honesty, this serial could have ended 7-8 episodes ago, but if there was ever a drama that I could give leniency to in that regard, it was this one. Only because it didn't drag as much as I thought it would. This was something both Farhat Ishtiaaq and Haseeb Hasan assured me of before the drama aired.
Also read: Farhat Ishtiaq and Haseeb Hassan talk Diyar-e-Dil
As I was saying above, this drama was a journey; a journey of pain, self sacrifice, love, self reflection, and betrayal. At the end, all the sacrifices seemed to be worth it because three generations were finally able to live in one house in which no one was angry, bitter, or unhappy. Agha Jan, after 25 years had his family back with the exception of his two sons.
If you got nothing from watching this serial, you at least walked away realizing how important family is and how important change is. We saw Agha Jan go from a stubborn, proud, and 'my way or the highway' jageerdaar to a loving, caring, and a forgiving father and grandfather. Unfortunately he had to lose both of his sons to do so. I have often wondered if Suhaib hadn't died, would the family be where it is right now? Agha Jan may not have had the perfect relationship with his sons, but the one he had with Arjomand, Wali, Zarminey, Faara, and even Roohi at the end, more than made up for it. You see his equation with Wali in the last episode and it is more of friends than anything else. Abid Ali made everyone want Agha Jan as their grandfather, that is how good he was. No one, absolutely no one could have portrayed Agha Jan like Abid Ali. He is not just an institution, he is the entire academy!
We saw Arjomand and Suhaib having to make the biggest sacrifices of their lives, but end up building a life of love and trust where family always came first. These were the values they taught their own kids. Arjomand could have lived her life in self pity and blamed everyone, but she chose to rise above and come out stronger than any other female in the drama. Hareem Farooq owned Arjomand. The dignity and grace with which she portrayed the older Arjomand is not something you see often on screen; especially from someone who is only in her twenties! Hers is a character that will forever be etched into my mind.
We saw Roohi and Behroz living in fools' paradise thinking they had built a life of love and trust, but it ended up being a huge lie. Behroz realized how important family and family values were, but it was too late. By the time he came to his senses, 20 years of his life had passed and his brother had died. Roohi's bitterness cost her her husband's life and that same bitterness coupled with her blind trust in Tajammul and his family, almost cost her her own daughter.
Faara and Wali too had their own issues. Faara was rigid and badtameez and Wali came on way too strong in the beginning. Neither of them understood each other. Faara had been brainwashed by her mother and didn't see the reality until she was forced to be away from her. Wali, in trying to be the perfect son and grandson, forgot he was also human. Both Maya Ali and Osman Khalid Butt did wonders with their characters. Maya Ali after the headband came off, and OKB, well he started off being really good and ended at fantastic.
In all the characters, I didn't forget Zarminey...Mariyam Nafees was that bright light when everything was dark in DeD. She was spunky, spontaneous, funny, and basically shined from day one. Yes, she didn't have many lines or even many scenes, but she did absolute wonders with what she had.
The real stars of the show however were Farhat Ishtiaq and Haseeb Hasan, without whom none of the above would have been possible. Yes, there were definitely times I wanted to pull my hair out. I didn't agree that Roohi had to be so black and white without any hints of gray, but over all Farhat Ishtiaaq gave us a script that will be remembered for years to come, just like Humsafar. I was extremely grateful for the fact that she didn't have Behroz marry both Arjomand and Roohi. Just the lack of a doosri shadi and an extra marital affair were enough to keep watching. Haseeb Hasan literally took the script and made it come alive. He extracted nothing but the best from the cast. This is actually the first time I have seen a Haseeb Hasan project and the guys is amazing! i can't wait for Tera Gham aur Hum in December.
Diyar -e- Dil has been one of the few dramas I have seen where I can say "this was definitely a team effort." From the writer and director, to the cast members and DOP, no one gave less than 100%. Also one can't write the finale of DeD and not mention the haunting and mesmerizing OST. Like I said, this project was nothing less than a team effort. If only we could get more
So take a bow team DeD...for you did well!
I'll end the final review with the opening monologue of the first episode by Wali:
"Yeh zindagi eik kitab ki tarha hoti hai, bilkul eik band kitab ki tarha, jise jab parhne ke liye khola jae to ye nahi pata hota ke kis safeh mein khushi aur hansi milne wali hai, aur kahan ghum aur ansoo."