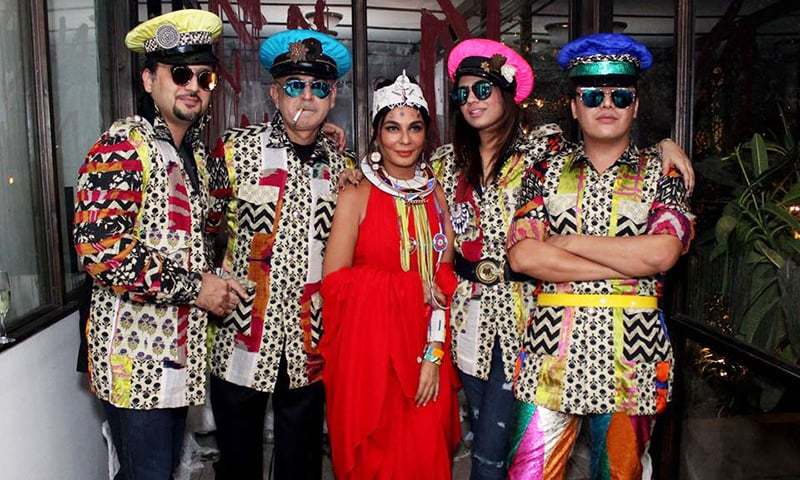 Asim Raza came as Bal Thakeray with a placard that read, 'Mahira ko Bahar nikalo'.

Where was the 'it' crowd yesterday? It was at Nabila's. No, not to get haircuts, manicures or pedicures, but to celebrate Halloween. One hardly needs to fix their nails for a Halloween party, right? Wrong! One look at Nabila's happening Halloween party made us realize that you need to look neat, even for a Halloween bash.
Don't believe us? Have a look at the pictures from last night's bash.
Let's start with the winner of the show. Look at how creative this man is. Whole of Pakistan has been discussing Shiv Sena like crazies, but it was Asim Raza who decided to dress up as founder of the Indian political party, Baal Thakeray.
He also sported this really scary handwritten note.
Now, let's have a look at the person for whom the note was for. Mahira Khan looked gorgeous with her cat woman mask, statement red lips and Sheheryar Munawar at her side.
Read: The truth behind 'Ho Mann Jahaan'
Look at the camaraderie of Ho Mann Jahaan's team. The director is holding up a placard against the lead actress of his film and the actor is about to cut his director's neck off. They're such lovely, peace-loving people.
(The real story, in our opinion, is that Sheheryar Munawar is pointing his axe at the political leader who has decided to ban Mahira Khan from India. Now that is definitely sweet.)
Read: Mahira Khan and Fawad Khan are Shiv Sena's latest targets
Sadaf Kanwal literally 'dolled up' for the event.
Deepak Perwani ends up looking dapper even when he has a knife protruding out of his jugular vein.
Model Fia Khan and her husband Qasim Ali Mureed have some awesome 'matching-matching' going on.
But as far as couples are concerned, Mr and Mrs Dracula stole the show. Shaneira Akram is one hot mommy in this red dress.
After much research we've reached a conclusion, that this man - Sheheryar Munawar - will look good looking even if he drapes a white sheet from head to toe. Here is Munawar as a lumberjack.
Here is another man who refuses to look anything but handsome.
Mantaha Maqsood's blingy take on Pocahontas has us swooning.
Look at all those ruffles on Frieha Altaf's dress. I wouldn't mind coming across such a pretty witch.
Imran Qureshi reminds me of Lindsay Lohan in Mean Girls. Was he the only one who took the Halloween theme to his heart?
Ali Azmat is giving out a pretty wrong or strong (depends on how you perceive it) message over here. Is he saying, 'I'm so scary myself that I don't need to dress up like someone else?'
We have one advice for designer Zaheer Abbas. Bro! you are partying in Karachi where pointing guns at people or cameras is a norm so it's not really scary. (At least when you're partying at a secure venue with private guards flanking the gate.)
How did Hira Tareen do those lips? Her make up skills are certainly on point.
Have a look at another image of Tareen, just to appreciate her art work and Meera Ansari's pretty face.
Here is another genius in a totally different 'avatar'. Look at Nomi Ansari's eyes! And now go have hallucinations about them, especially when you're looking at yourself in a mirror...at night.
Quite a few people did Bob Marley, but it was Wiqar Ali Khan who perfected the look with his shiny, lilac waistcoat.
Mehwish Hayat did the pretty version of Bob Marley.
The Halloween party was essentially a get together for the celebrities, socialites, models, designers, and corporate clients of Nabila, to celebrate the makeup artist's 30 years in the industry. So here are some important people looking...important.
And finally, the host of the show looked amazing in her tribal get-up.
Read: 30 questions for Nabila after 30 years in the beauty industry