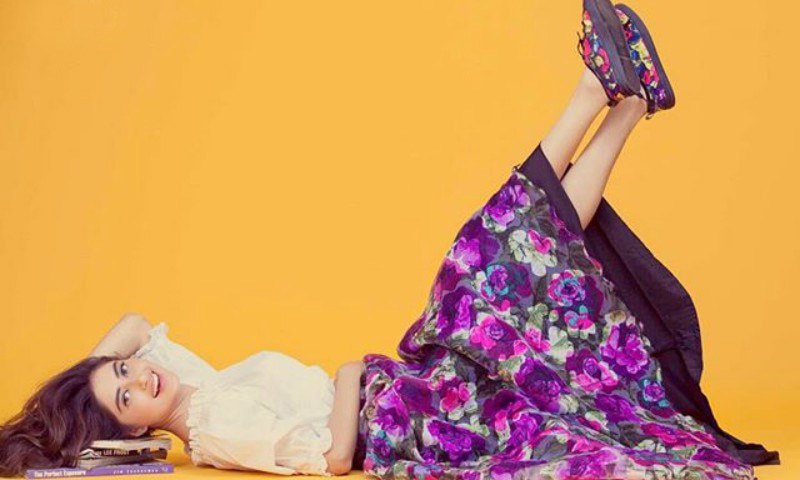 "People think I do 'rona dhona' in serials, but that's not true, those are the serials they remember," says Sajal Ali.

It was 10th Moharram and everything was at standstill, even the phone lines, but HIP managed to grab hold of Gul-e-Rana, or Sajal Ali as the world knows her.
If you think Ali is a young, clueless actress then you are sadly mistaken my girls (and boys). She is strong, focused, and has an intelligent opinion on everything ranging from bechari bahu to Shiv Sena's uncalled for attacks. She first appeared as Sohai in Hum TV's drama serial Mastana Mahi and boy, did she steal hearts with her beautiful face and long locks.
Sajal Ali then went on to become part of some major projects like Meray Qatil Meray Dildaar and Asim Raza's telefilm Behadd. But it was Aasmano pe likha and her chemistry with Sheheryar Munawar (the male lead from APL) that made her television's blue-eyed girl. A year later, Yasir Nawaz's Chup Raho again cemented the fact that this girl is going to go places and she's great at creating chemistry with her co-actors.
Critics usually blame her for choosing bechari bahu roles, but is it the case? We ask her this and many more questions about her personal and professional life so read on.
Is Karachi your hometown?
Sajal: No, we used to live in Lahore, but then my mother separated from my father and we shifted to Karachi. I completed my intermediate from here only and now I plan to do my bachelors too hopefully.
How did you enter this field?
Sajal: It wasn't bachpan ka shauq. Yes, I did participate in school plays and also won quite a few debate competitions – I was confident like that – but I entered the entertainment industry by chance. My mother was a single parent and I always wanted to support her emotionally and financially.
I was part of a few brand activation exercises and from there I landed up at an audition. Then eventually, as you can see, dramas happened.
How has this field treated you so far? We used to hear things like it's difficult for 'females' to work in this field and so on?
Sajal: I don't think that belief is restricted to entertainment industry only. In our country, it's a bit difficult for women to work in 'any' field for that matter. Once you're out there making a name for yourself, people start having problems, but I don't really care about them.
The main issue with our nation is that we are judgmental. We judge people on how they dress, walk, or eat. The thinking that 'women-working-in-dramas-are-bad', arises from that frame of mind only. I don't pay heed to such people and thank god, I've spent my time in this industry quite respectfully till now. I focus on my work.
Do you remember any memorable/funny incident from your audition?
Sajal: It wasn't exactly funny, but a director – I won't take his name – told me that my voice was very 'patli' and I was like, what? Anyway I've been in the industry for four years now with my 'patli' voice so it can't be 'that' patli can it? (She added with a laugh).
Critics usually say that you end up playing weak, weepy girl in every serial; do you also feel that way?
Sajal: In my (short) career I've done many different roles. I've played a mentally challenged girl in Sannata, an immature girl in Nanhi, and I did very different roles in Qudoosi Sahib Ki Bewa and Mohabbat Jaye Bhaar Mein.
But do people talk about these serials or remember my character? People talk about Chup Raho and Aasmano per likha. If they remember these dramas only, then who is it at fault? They see what they want to see. They think I always do *ronay dhonay wale serials, but that's not true. Those are the serials they tend to remember.
Now that there is this image attached with you, are you planning to break it soon?
Sajal: The audience themselves has created this image in their mind so I cannot do much about it, but in my upcoming show Gul-e-Rana, I play a very strong girl. Gul-e-Rana – that's my character's name – is a girl with dreams who won't cry or buckle down, but will continue to fulfill her dreams come what may.
Tell us more about Gul-e-Rana?
Sajal: It is a story of a girl, Gule-e-Rana, that is me, who lives in Hyderabad and is a very good student. She's passionate, career-oriented, and wants to make it big in life, but eventually Adeel (Feroze Khan who is a playboy) crosses her path and everything changes.
Now don't start thinking that Gul-e-Rana will cry and accept her fate. She's not that girl. She'll fight against her circumstances and will make her own identity. Adeel will create obstacles, but eventually he'll understand that he's just being a 'man'.
Is it necessary to have a 'man' in your life?
Sajal: The phrase that 'mard ke baghair aurat move nahi kar sakti' is somewhat true for our society, but it's not a 'fact'. It's what masses believe in our part of the world and hence, it has become a norm and anyone who doesn't follow it, is the odd one out.
Women need to have their own identity and careers. I've been supporting my mother from a young age and I'm proud of it. It's not necessary that a 'modern, independent girl' is always evil. That's just a stereotype created in our dramas. Being modern is a state of mind; it's not your clothes that make you modern.
And as far as I'm concerned, whenever my mother uses the 'log kya kahengai?' phrase on me; I reply with, 'Logon ki parwa hai humein?' I'm a little short-tempered that way.
What's next for Sajal Ali? Everyone's moving from dramas to movies so will we see you on the silver screen soon?
Sajal Ali: Yes, a movie is on the cards and it is with Anjum Shehzad, but that's about it; my lips are sealed. And as far as what's next is concerned, I'm waiting for audience's response to Gul-e-Rana. I haven't signed for any other drama serial yet.
Is it a conscious decision to do less plays, now that you've made a place in the industry?
Sajal: Yes, I've started focusing on scripts a lot. I want to work on good projects that give you sleepless nights.
I'm serious, when I'm working on a script I love; I can't sleep. I keep getting ideas in my head about how I'll portray the character and I don't get tired at shoots. Director asks, 'bas ab thak gayen honge sab' and I'm like 'nahi, aur scenes shoot kar letai hain.'
How can you be so passionate? Like who compromises on sleep?
Sajal Ali: (she adds with a laugh) I am like that. So I want to do projects that make me work harder because if you're not passionate about what you're doing then you can't be successful.
I feel actor paani ki tarah hota hai, agar woh kissi saanchay mein dhal na sakay tou phir kya faida?
Okay, so not talking about this particular film, but what do you see in general? Do you feel there is this trend of making more entertaining movies and serious films aren't doing as well as the 'fun films'?
Sajal: I watched Jawani Phir Nahi Aani recently and it was so funny I couldn't stop laughing. Yes, the jokes were misogynistic, but yaar it was hilarious. That's a very positive thing for a film.
And I watched Wrong Number as well in cinema and being an actor, I don't just see the film, but audience's reaction as well. The amount of clapping and whistles in the hall was surprising. People were enjoying it and as a media person why wouldn't I want to make or be part of a film that induces such reaction.
So we'll be seeing you in an entertaining film?
Sajal: I won't be dancing to 'Lovely hogayi aan' anytime soon though. My fans think of me in a certain way and I wouldn't want to hurt their feelings. I'll tell you something, I can feel people judging me if I'm wearing jeans in public places like airports. Then how can I expect them to accept me in midriff-baring cholis and showing skin like nobody's business?
Our awam tends to treat us as 'hamari aurat'. They get possessive about us and if they're showing us so much love then we should also respect their opinion. I am always aware of my religious and cultural boundaries. I'm all for creative freedom, but showing too much skin? Not happening.
Is it safe to assume that you won't be heading to India any time soon?
Sajal: I work here with A-grade actors and I wouldn't want to go to India and work opposite anyone less than that. If you cast me opposite Shahrukh Khan or Salman Khan and let me work on my terms, then fine, otherwise no.
There are actors like Mahira Khan and Fawad Khan who are working on their own terms, but that's an exception. And also, will that continue?
I feel we should focus on our own film industry. It's doing so well, so why not encourage each other to work in Pakistan only. If I have an offer from Bollywood and one from Pakistan then I'll go with my own country.
Our drama industry is female-centric, but our film industry is turning out to be opposite. Do you agree?
Sajal: Generally, movies are male-centric, but female-centric movies can do well too. We'll have to experiment and get rid of the fear of producing a flop. Take India for example, they produce a gazzillion films every year and only a few get noticed and even fewer are box office hits.
But because they have become open to experimentation. They produce films like Tanu Weds Manu and Queen where females are the hero(ine) of the film.
That's my contention. People in India boost their own people. They trusted Kangana Ranaut with these films. Salman Khan is launching new actor and actress in his next film who'll soon start getting endorsements and become superstars. Why can't we do that?
Then isn't that the brand's fault that they only sign certain actors or actresses?
Sajal: No, I feel the producers and directors are at fault. They can give our actors that 'celebrity status'. Mahira Khan and Fawad Khan are highly talented actors, but they were not 'Mahira and Fawad' before Humsafar. Sarmad Khoosat and Momina Duraid made them what they are today.
Tell us about your future plans?
Sajal: As I said earlier, I'm going to focus on my education. I'm getting attracted towards direction nowadays, but I want to study it properly before pursuing it as my career. So a bachelors in Media Studies most probably from England is on the cards and of course my debut film.
Owais Khan, the director of Chupke se Bahar Aajaye, is my mentor. He always tells me that you should go and study abroad and I plan to listen to his advice.
Aren't you scared of taking a break from your career? Somebody might take your place? At least that's the general notion.
Sajal: No, I don't feel anyone can take anyone's place. Some people say that girl's have shorter careers, but I don't really believe that. If you grow as an actor and accept your age gracefully then you can always work in the industry, no matter what. I'm sure I'll manage to make a place for myself when I come back from my sabbatical.
Who's your favourite costar and why?
Sajal Ali: Rubina Ashraf. I am in love with her. She plays my mother in Gul-e-Rana and it was like having a teacher around me. She has so many tips up her sleeves and is always eager to share them with the newcomers. And Javed Sheikh is another one of my favourite costars. Koi nakhra nahi ke mein itna bara star hoon.
Do you 'party' and hang out with the crowd that 'matters'?
Sajal: No, I can't go out and party just for the sake of landing roles. That's not how I function. I go out with friends to enjoy and if I'm not enjoying and only 'socializing' then I'd prefer to stay at home.
You share a special on-screen chemistry with Feroz Khan. What do you think is the reason behind it?
Sajal: Feroz actually surprised me because you don't expect a new actor to be so passionate about his work. When two actors are passionate about what they are doing then it always translates well on screen.
Coming back to Gul-e-Rana, what should the audience expect?
Sajal: A very different ending that's for sure. Actually Qasim Ali Mureed [Director of Production for Gul-e-Rana] and I were in favour of this particular end and Feroz was against it, but we won. Let's see if the audience likes what we have in store for them.
You shot in the picturesque Murree, would you like to share any memorable experience?
Sajal: The experience was quite liberating I must say. It wasn't like aap kaam kar rahe hain. Also, the director gave Feroz and me so much freedom to portray the characters however we wanted, that the shoot became effortless.
As I spoke to Sajal Ali, it slowly began to dawn upon me that this 'little' girl has one intelligent head on her teeny tiny shoulders. She understands the dynamics of the industry, compares artists' flexibility with that of water (most flexible of all matters on earth), and would never settle for less. Her real life proves that Ali is one strong girl and Gul-e-Rana will prove the same in her reel life. We wish her all the best for her studies, upcoming film and Gul-e-Rana.