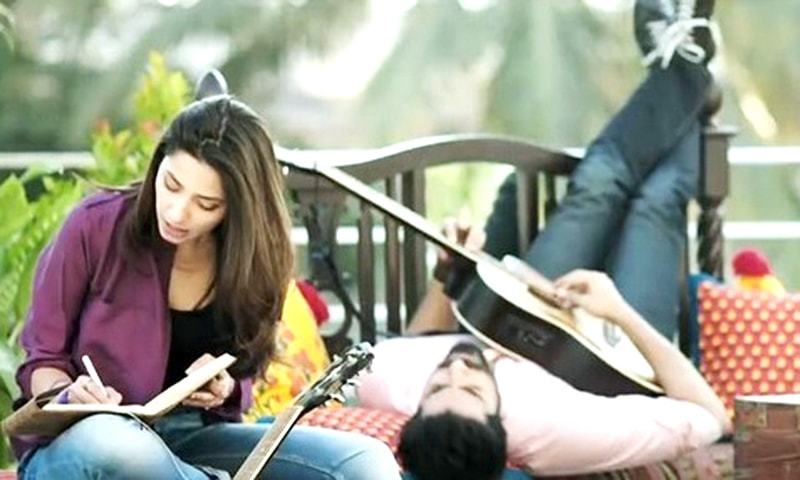 Munawar will marry a 'police wali', Khan uses creams for 'gora rang' and Hussain will have 8 kids, says the public.

It was actually a very good morning for Pakistan (or whoever was tuned in to ARY Digital at least) yesterday. Adeel Hussain, Sheheryar Munawar, Mahira Khan, and Asim Raza started Ho Mann Jahaan's promotional campaign from the sets of Good Morning Pakistan.
Speaking of sets, GMP set has been given a complete overhaul. The sofas have gone dainty and floral and the whole set yells spring.
Every morning, Nida Yasir (the host) introduces the 'topic of the day'. The topic of discussion, yesterday was - "whether we should be competitive in our lives or not." She gave examples of newspapers and magazines that have voting polls for various politicians and celebrities to see who's on top of the list.
The well known 'FHM Magazine' also started a poll for males as well as female stars of Pakistan, by the name of 'Hottest Him' and 'Hottest Her'. Imran Abbas is leading the male category with 71%, Hamza Ali Abbasi is second with 67%, Fawad Khan is close third with 65%, and Fahad Mustafa grab the fourth position with 54%. Mahira Khan tops the female list with 65% votes, then Mehwish Hayat with 59%, Humaima Malik with 50%, and Ayesha Khan with 49% votes are ranked second, third and fourth respectively.
The biggest treat of the day revealed upon us when Nida Yasir announced that Ho Mann Jahaan's cast will be joining her on the show. The music release has increased the anticipation of the audience who are eagerly waiting for Asim Raza's HMJ.
It was the perfect time for them to be her guest in Good morning Pakistan. The tunes of HMJ were playing in the background and I too couldn't resist singing along to the dosti song!
It was nothing short of an adrenaline rush to see Nida Yasir invite Asim Raza and the gorgeous Mahira Khan dressed in a black jacket and brown high heel boots, in front of the camera.
Then she announced the arrival of the male leads of HMJ; the handsome and talented Adeel Hussain and Sheheryar Munawwar - who is also the producer of the film. Oh! one has to see it to believe how dapper both of them looked.
As everyone settled on the floral sofas, Nida Yasir said what we've all been thinking,
"Ho Mann Jahaan looks so Pakistani and we're eagerly waiting for it. Look at these three 'khoobroo naujawan', who would want to miss a film which has such beautiful talented actors. Also, the story looks very fresh."
Asim Raza replied,
"The viewers make a film, we're just the instruments who are trying to come together to make something, but the people are the one running this machine. So if the audience keeps supporting us, then definitely a lot of positive things will happen in this country."
Raza, the ad-man, explained how he came up with the idea of this movie. He said that in his mind he always wanted to make such a film. He took these awesome, young, and talented actors because he feels that people are too influenced by the neighboring country's stars and that influence should be broken.
HMJ is Mahira Khan's third film so she's the most experienced of the lot. Nida Yasir asked Khan if acting had become easier with time. Mahira Khan gave her signature throaty laugh and said,
"Actually I feel at ease being with these three [Asim Raza, Sheheryar Munawar and Adeel Hussain]. Coming to playing Manizeh, obviously every role is different, so no matter how many movies you do, you can't say that you're a fully experienced actor."
Nida Yasir further enquired, how different was this role for Mahira Khan? She replied with full zest that when she read the script, she felt, "yeh to merey bayen haath ka khel hai," but actually it was very different from what all the characters that she had played in the past.
"I didn't realize that I had gotten used to acting in a certain way. Manizeh was this confident, independent girl and I had to learn to deliver the dialogues in her style," Khan added.
The talk took really a witty turn when Mahira Khan revealed that Raza literally directed the actors by acting himself first. Sheheryar Munawar endorsed this too by saying that whenever he'll make a movie, Asim Raza would be in it for sure.
Adeel Hussain was referred to as a "Gapoora", the talkative one and Nida Yasir asked for his comment on the matter. He said that he took some time to adapt to the director and co-actors and once he's ccomfrotable, he opens up. on the sets. He says,
"It's a weird thing that as an artist you need to be open as well as reserved."
Adeel Hussain has also done dance numbers, in spite of his sober personality. He gives full credit to director Asim Raza for that. Asim Raza interrupted and said that among all the stars sitting here, if there is one person in full rhythm and form, it's Adeel Hussain.
"Thiraktay huai tou yeh [Adeel Hussain] daakhil hote thai sets per but we had to coerce him into dancing."
Coming over to Sheheryar Munawar, Nida Yasir addressed him as "Producer Saab" and commented on his mustache, "Producers wali moochein bhi rakh li aap ne." He shared something really important that whatever these three actors knew, they had to deconstruct it first. He further added,
"We did HMJ the right way. We did this acting workshop for almost two months. Ali Sheikh, did the coaching. He used to make us walk like ducks and what not! And Arshad Mahmood used to come for the reading. We also took tutions. I had to learn to play guitar and Adeel Hussain needed drums training."
Asim Raza said that it's a movie for every strata of the society and jokingly remarked that if it was a TV serial, it would have been named "Har ghar ki kahaani".
Why the name, Ho Mann Jahaan?, asked the host. Asim Raza explained the reason in detail,
"I've done everything in this movie whatever I wanted to do. I have acted quite selfish while making the movie. I believe whatever I do from my heart will definitely reach the people. Hence, the name Ho Mann Jahaan. It signifies my heart is in the movie."
How can a morning show be without any tits bits of the gori rangat and its raaz. Nida Yasir and her team asked some pretty embarrassing questions about Khan, Munawar and Hussain from the public and showed the vox pop on the show.
When the general public was inquired about Khan's fair complexion, the answers were hialrious (and slightly embarrassing). The winning answers were 'Zubaida apa ke totkey' and 'Sabun se moon dhoti hongi'. Mahira Khan made a point to voice her distaste regarding the 'gora' 'kaala' scale that exists in our society. She said that I've met many beautiful people in life and they're not dark, fair, short or tall. they are confident, intelligent people.
The question for Sheheryar Munawar was that what kind of a girl will he marry. If they would have come to me with this question, I would've simple said, "Go ask the guy. How would I know?" But our public has an opinion on everything so they gave their suggestions. Some said, he'll marry a model because 'aisa hi hota hai' while two females, for god knows what reason, said he'll marry a 'police wali/wala'.
Munawar's reaction to this was expected, "My mother is probably watching the show so I don't know what to say. But yes, she should have a good heart and doesn't matter if she's dark or fair or whatever but...police wali? Where did that come from?"
Mahira Khan made a polite correction to Munawar's question, "Police wali nahi police wala!"
And of course laughter erupted from every corner of the set.
If you think this is where it ends then think again. The public gave their opinion on how many children Adeel Hussain will have. As I sat and stared at the screen, totally flabbergasted, Hussain said that he'll have eight kids to a tumultuous applause. Asim Raza even came and shook his hands. But sanity prevailed and Adeel Hussain said,
"Having children and making sure they turn out responsible citizens is a very big responsibility. One should always look at their capacity and resources and then decide on the number of children."
The team was joined by Zeb Bangash and Jimmy Khan too, which was icing on the cake. Bangash has sung three songs together with the composition in HMJ and has also done the background score. and Jimmy Khan has composed and sung the song Baarish, and also wrote its lyrics.
Another one of Asim Raza's talents came to surface. Apparently, the man is a poet as well. He made correction to Baarish and has written all three of Bangash's songs - Dil Pagla, Ho Mann Jahaan and Dosti.
I could not have wished for anything else this early in the morning, Zeb Bangash sang the 'Dil pagla' with Mahira Khan's lip sync. She and the whole crew present on the set took the morning show to another level when they all started singing 'Dosti' together.
Jimmy Khan too mesmerized us with his song 'Baarish' as Munawar lip synced. Baarish is indeed a soothing number and can mesmerize any one.
The mazedar chit chat continued with Bangash revealing that she did face a few objections from her (very) extended family when she decided to enter the music field but her immediate family was quite supportive.
"I didn't even realize that I was doing music or singing. It was part of my childhood and as I grew, it strengthened, and no one in my family discouraged me," Bangash said.
Munawar said that his character in HMJ, Arhaan, was inspired by Jimmy Khan's real life and to this Nida Yasir was quick to quip, "Jimmy, you weren't good in studies?" Jimmy said yes, everyone else appreciated Nida Yasir's wit.
Mahira Khan revealed the secret to her figure saying she eats three eggs, cheese slices, biryani, nihari, everything, and likes chawal the most. She also discussed the slap she got from Samia Khan and its strength. It all was such a fun dose.
Sheheryar Munawar eats healthy, porridge with almonds, mom's prayers, and Raza's daant. That's all that he eats. Running is one routine of his.
Adeel Hussain is very diet conscious. He eats cereal, fruits, eggs in breakfast, more fruits in lunch and he has a proper protein-infused dinner but he takes it early, at least three to four hours before going to sleep. How can he survive without junk or fast food? He doesn't. Hussain has weekends to cheat and treat himself.
Asim Raza frankly stated that if the purpose was to get some health tips, then Nida Yasir had chosen the wrong set of people. Raza revealed that he eats anything and everything, but has a real liking for spices, "Put lots of spice in a pudding and I'll eat that too."
Wow, today's Good Morning Pakistan really was a breath of fresh air as the host actually had a proper conversation with the guests instead of making them play games. In the end, everyone stood up and danced to 'Shakarwandane', adding that must-needed masala to the morning show, but guys, the dance was such a treat to watch and it was justified here because the cast was there to promote their music.