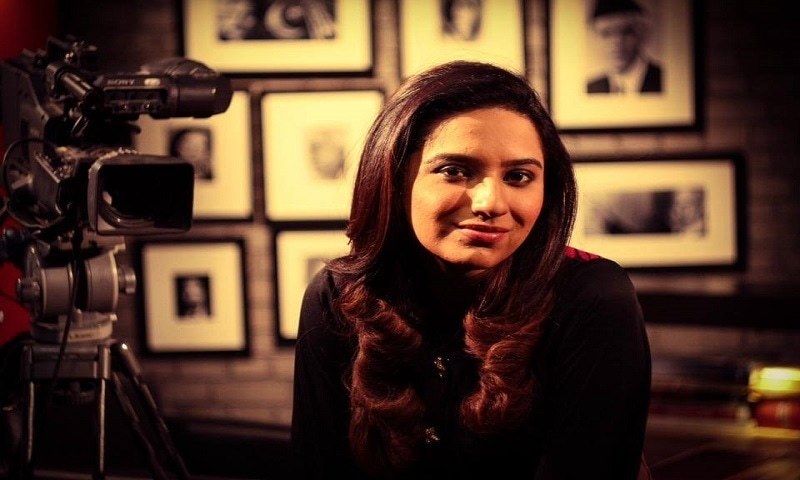 "You can not afford to miss balls, you have to hit sixes," Maria Memon says.

Maria Memon is a leading Pakistani journalist, news anchor, and an opinion leader currently working for ARY News as a Senior Anchor/ Content Manager.
Born to a military family, Memon draws inspiration from the empowered women in her life, particularly her grandmother who instilled in her the value of education. An avid reader, Memon's current reading list includes Indian Summer and The Works of Manto.
Memon took a giant leap of faith when the opportunity to join Geo English as a coordinator for Najam Sethi's show came by. That marked the turning point in her career. But the project got shelved before it was even launched. Subsequently, she was offered a position as a field reporter for Geo. Reluctant at first because of her inexperience in field reporting, Memon trusted her mentors, whom she gives the most credit for her quick ascend to success, and went ahead with the new job at hand. Her hard work and enthusiasm paid off; she received an offer to host her own show and eventually made it as a regular news anchor for Geo.
"You can not afford to miss balls, you have to hit sixes," she says.
She is talented and confident and has been working for Geo TV since 2008 and now she is one of the anchors. Maria Memon has high aims and wants to do something for the people through her job. She worked as a field reporter for four years on Geo TV, and hosted the famous shows Meray Mutabiq and Lekin.
Hip recently got in touch with Memon for an interview and here what she had to say:
Tell us something about your journey to journalism; how did you end up being a news anchor?
It's a very commonly asked question. Actually, I'm a software engineer with no formal education in journalism. I just applied randomly on website for GEO TV. What an odd thing that I actually ended up being called for an interview and got hired as a coordinator at GEO English. It got shelved however and never took off. Then I got moved to GEO Urdu where they asked me to report and I had no background or experience what so ever. I learned the ropes and worked my way up to the seat of anchor-ship. It took 7- 8 years. I take pride in saying that I've started it all from scratch.
Was GEO your first stepping stone or you did something else before that?
After doing software engineering I knew I wasn't inclined towards my field. I was an HR consultant at some Lahore based firm for less than a year. Then I randomly ended up in GEO. I joined GEO on 15th February 2008 and left in first week of January 2015, nearly 7 years after. In February I joined BOL, which didn't work out so I joined ARY in August 2015.
Why were you missing for quite some time? Anything worth sharing?
I was off screen for 8/9 months, because my show started on 12th of October on ARY. I was about to join BOL, but the launch was delayed and you know how it got all controversial; and the program never took off. There was some copyright or bonding type of thing with BOL so I couldn't appear during that time.
Who has been your inspiration in this field?
Absolutely, one is Amanpour and the other is Nick Robertson. These are two giant legends I always got inspired from. I think they are phenomenal and they are the "lambi race ke ghorey". They're not over the surface or temporary; they've gone up slow and steadily. Nick Robertson started off as a cameraman, can you imagine? Amanpour is a correspondent for CNN and she also climbed up the ladder. They are very phenomenal people. Amanpour is one full "Ehad", three decades you know. She's very well groomed and her mind is agile, at the age of 52.
How did these inspirations help you in building yourself professionally ?
I've always kept my mind on the larger goal and I also followed their journey, keeping in mind that they didn't strike gold overnight. They also struggled a lot; they had their ups and downs, highs and lows, their successes and disappointments. I'm pretty sure they had a more challenging life than an average person, yet they overcame it. They keep on reinventing themselves, pushing the bar for themselves. I don't think they are ever happy at whatever stage they are. They want to keep on exploring, keep doing more, and that's how they keep going on professionally. So all this really inspires me. Also I don't feel I'm an amused by stander, I'm actually in the middle of the action, there are news breaks and there's a lot happening with myself being there. I'm part of the history and probably we can pass it on to our next generation that I was there and I saw it happening and broke the news on TV. For example, the day when earthquake shocks were felt, I was there and I was in the news room for 4 hours. Somewhere down the line I will be able to narrate it better since I was there when it happened and I have dealt with all the information. So this is the very very exciting part of my job.
How was News @3 born?
It's a very brave and bold move by ARY network. They actually asked me which slot I want to do. They had two options for me and I chose the 3 pm slot. Their concept of my show is totally new as it has never been attempted in the 3 pm slot like this. Usually the news presenters in Pakistan do not get to decide their content, they are just somehow given the script to read with little bit of improvisation and cannot decide the content.
This is the first time that a news bulletin is controlled solely by a team and headed by an anchor who's presenting it. I'm also the content manager at ARY, which is one of my designation as well, with being an anchor too. This has never been attempted before in Pakistani media. It's the first time this move has been taken; you know you're sort of empowering the anchor. I would agree that I feel quite empowered, no editorials at all. Of course we do get to seek approval or guidance par more editorial experience that we have, but I've never felt so empowered like this before in any role. I've worked on documentaries, field, news bulletin feed program. I think that we are starting a new trend and we hope others would follow. I'm proud to say that I'm the first one to do it and my management has been kind enough to trust me with my capabilities.
I think it's the way every one should operate. The anchor shouldn't be just the reading puppet you know.
3 pm is not a common time slot - would you have preferred a prime time slot. Why? Why not?
They gave me two options, one of 3 pm and other of 6pm. I chose this one because this is the time most of the news is coming and breaking in. The chunk of news is pretty high, because a lot is happening and all sort of news start breaking around that time. So I love to be the center of attraction, lolz. At 3 pm, a lot of people would want to know what all happened during the day. Maybe sometimes we go one step ahead, we not only give the news to you, we give analysis too. Whereas, I didn't choose prime time slot because this 3 pm slot hasn't been explored too much. There is alot of uncanned potential in it. If it works, it's going to start a new trend. Prime time slot was something, been there done that, so why trying something new. It's midday slot and all the offices are watching the news, like foreign offices, stock exchange, other institutions are there to view. Then in foreign countries as well ARY has good viewership too.
How are you bringing fashion and current affairs together? What sort of image are you looking to make for yourself with the audience now?
I'm trying to break the shell over here in Pakistan. If you see normally these presenters have that long curly hair, back combing, overly dressed, over makeup, embroidery on outfits. I wear very cautiously and selectively in this regard. For example, only solid colors, no embroidery, I don't do that "bari wali" back combing, I don't wear extensions, I keep my hair short and neat, just like the presenters of CNN or BBC because that's the model I want to follow eventually in my news and appearance as well. I got some very interesting feedback, generally people like it but still some ask me, "aap itney simple kaprey kiyon pehenti hain, koi karhaiyan kiyon nahin pehenti?". I also wanted to reinvent myself in that way because I was appearing on a new screen after a long gap. I wanted to be in a totally different avataar. It might sound a little boring to some people, but I thought I might go ahead, why not? Let's make a drift.
How will your role be different from what we have seen you before in? How do you plan to play a more responsible role as a media personality?
Pehley I was presenting the news, I was not much in charge of anything related to content. Here I have sole responsibility of whatever I put on screen. Like I said it has never been tried before, anchor being mainly responsible for her content. Har lehaz se its breaking stereotypes of the network. The trend is much more robotic here as compared to the presenters abroad. I write my own script basically for screen, so it's like you are mouthing your own words. Here the sole responsibility lies primarily on me and then the team. Woh kehtey hain na higher the risk, higher the game.
So there you have it; an informative one on one talk with the star of news room currently at ARY studios. Hope you all enjoyed it. Do watch news @3 only at ARY news!