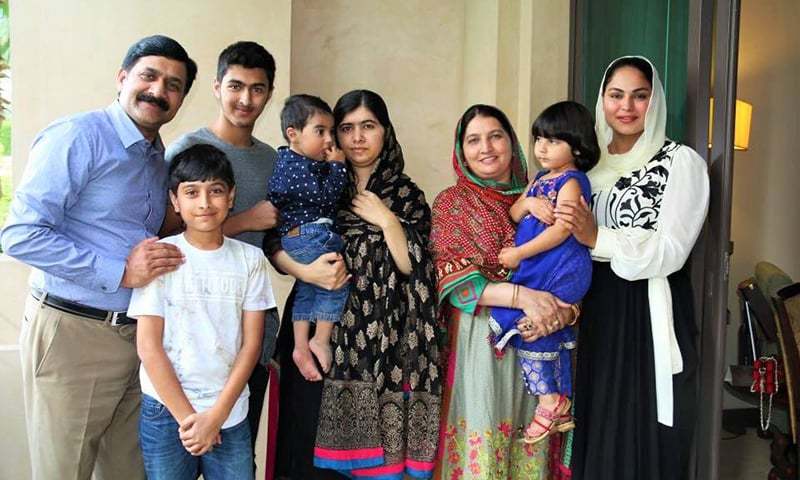 The two met at the preview of Malala Yousufzai's documentary 'He Named me Malala' and then at Malik's home.

Veena Malik - a well known figure in Pakistan's entertainment industry - met Nobel Peace Prize winner Malala Yousufzai in Dubai and it looks like the two families - Khans' and the Yousufzais' got along pretty well.
They first met at Dubai's Grand Hayat Hotel for the preview of the documentary, He Named me Malala and later Malik invited Malala Yousufzai and her family to her home.
Malik was all praises for the young girl. She posted her pictures with the young activist on Facebook with some heart warming comments.
Malik married Asad Bashir Khan and took a turn for all things positive. One year later she had a baby girl and now she's a mother of two.
Yousufzai was in Dubai for preview screening of her documentary He Named Me Malala. The Nobel prize winner has rubbed shoulders with the likes of Barack Obama, Michelle Obama, David Beckham, Queen Elizabeth, and Bollywood film star such as Arjun Kapoor. Even Justin Bieber said he couldn't wait to meet the young activist from Pakistan via FaceTime.
Read: He Named Me Malala: A story of hope, resilience, and humility
Yousufzai is the youngest person to receive the Nobel Peace Prize and this Pakistani girl has won many hearts with her pro-education stance and her charity work for girls' education in Swat. She first came to public attention through her diary, published on BBC Urdu, which chronicled her desire to remain in education. She related her fears in that diary and eventually had to flee the Swat valley when army started their anti-militant operation in the valley.
In October 2012, Yousufzai was shot by militants and was taken to England to undergo proper treatment. She has been living in Birmingham with her family since then and attended the Edgbaston High School.