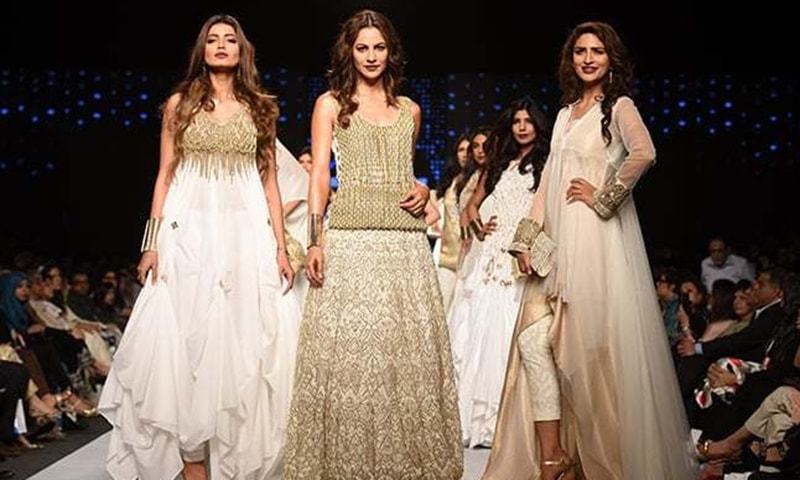 The Fashion week will be held between November 28 to 30th.

'Fashion Pakistan' has collaborated with Urdu1 as its exclusive event and media partner this year, ending its association with Hum Network, stated a press release issued by Fashion Pakistan – a platform for fashion designers.
The Fashion Pakistan Week Winter/Festive 2015 (FPW) will be held in Karachi on 28th, 29th, and 30th November 2015.
Previously known as the Autumn/Winter show, this year's FPW Winter Festive promises to showcase everything, from luxury prêt, to bridals, to formal wear. This year also marks Fashion Pakistan's first collaboration with Urdu1.
Mr. Faraz Ansari, CEO of Urdu 1's parent company Alliance Media, said,
"Urdu1 is delighted to be supporting Fashion Pakistan as its event and media partner for the Fashion Pakistan Week Winter Festive. We are extremely proud to be partnering with the Council on what is sure to be an incredible event. With amazing talent on show, we are excited to help introduce Pakistani fashion to new international markets and expand our latest commitment to fashion"
Fashion Pakistan introduced the concept of fashion weeks in Pakistan in 2010 and since then have been holding bi-annual fashion weeks to support Pakistan's growing fashion industry.
While announcing the schedule, Ms. Sanam Chaudhri, Chairperson of the Council, said,
"This year, Fashion Pakistan Week Winter Festive, has grown bigger in terms of design philosophy to incorporate winter festivities such as weddings, balls, and parties. We want to demonstrate the latest trends and innovation across the broad spectrum of fashion in Pakistan. Fashion Pakistan is committed to developing fashion as an industry and will continue to highlight its growth and success."
List of designers participating in the show
The designers carefully selected by 'Fashion Pakistan' to participate in this year's Winter Festive include some of the most prominent names in Pakistani fashion.
Showcasing this year are Shehla Chatoor, Toni&Guy Trend Show (featuring Sania Makatiya and Deepak Perwani), Ayesha Hashwani, Tena Durrani, Hisham Malik, Sana Safinaz, Wardha Saleem, Maheen Karim, Obaid Sheikh, Elan, Nida Azwer, FnkAsia, Deepak Perwani, Umer Sayeed, Zaheer Abbas, Delphi by Nida Tapal, Zainab Chottani, Faraz Manan, and Nauman Arfeen. Also showing for the first time at FPW will be renowned couturier Nilofer Shahid, who will be closing the event with the grand finale.
Wardha Saleem, CEO 'Fashion Pakistan,' also expressed her views on the occasion,
"We are really looking forward to this year's Fashion Week. This will be our first ever collaboration with Urdu 1, opening up new avenues with local and international viewership, while also bringing a brand new outlook and vision to the show. Fashion is a burgeoning industry in Pakistan, and adds immense value to our economy."
The event will be managed by 'CKO Events Architecture,' and backstage will be managed by 'Production 021.' Saba Ansari and Samiya Ansari of 'Sabs' will serve as the official styling partners for the event. Show direction and choreography will be by the suave, Frieha Altaf of 'Catwalk Event Management and Productions' and 'Latitude CRS' will once again be handling event PR.
The official hash tag for the event is #FPW15 for Instagram, Twitter, and Facebook.