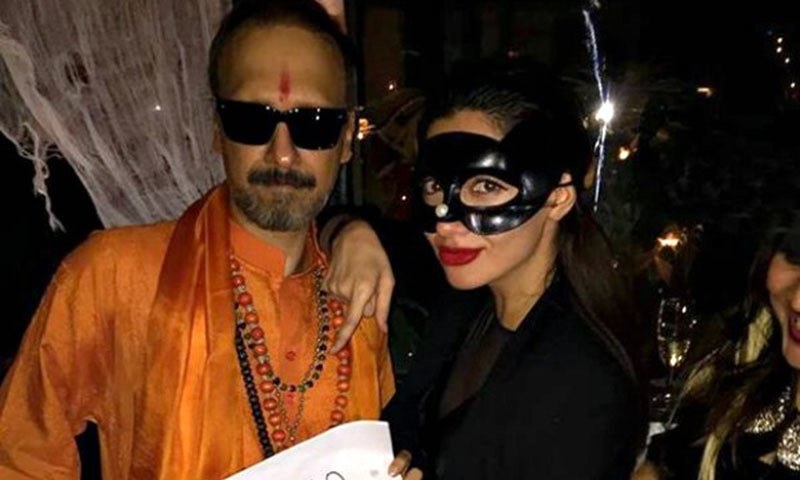 'Mahira ko Bahar Nikalo' joke by Asim Raza was not Mahira Khan's answer to Shiv Sena; it was just a joke.

One Halloween eve, Pakistan's renowned ad-maker and now filmmaker Asim Raza decided to dress up as a Shiv Sainik – worker of Indian political party Shiv Sena – holding a placard that read, "Mahira ko Bahar Nikalo". Raza was taking a dig at the Indian political party that had threatened Mahira Khan and Fawad Khan, asking them not to enter India.
Read: Mahira Khan and Fawad Khan are Shiv Sena's latest targets
Quite naturally, Mahira Khan found this amusing, stood beside her director, pointed at that placard, and gave a million dollar smile. A cameraman somewhere in that dark and dingy place was waiting for this exact moment and made sure the moment went down in history.
Read: Celebs celebrate Halloween with Nabila
While we in Pakistan had a good laugh and praised Asim Raza's wit because it was he who decided to come dressed as a Shiv Sena worker (or founder nobody knows for sure yet), the Indian news sites gave all the credit to Mahira Khan.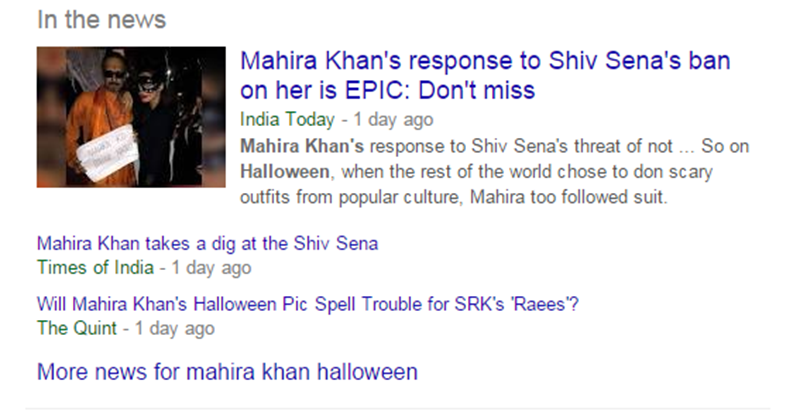 The fun incident was taken totally out of context. The headlines on Indian sites made it look as if Mahira Khan had gone through the pain of planning this with Asim Raza and then they had executed this on Halloween to give an answer to Shiv Sena. However, even the Indian sites reported the event as a unique and witty reply to uncalled for threats.
Khan decided to come out on Twitter to explain that this was all in 'good fun' and she wasn't responding to anyone's threats. She also urged to keep politics (or politicians) away from artists.
Earlier, Shahrukh Khan also had to face some music because of his statement in favour of Pakistani artists and against the increasing intolerance in India. The Indian actor didn't shy away from admitting that there was a sudden rise in intolerance in India and said it should be controlled.
Read: Salman Khan and Shahrukh Khan support Pakistani artists
This didn't go down well with BJP leaders as Sadhvi Prachi and Kailash Vijayvargiya, BJP MP Yogi Adityanath. They demanded that Khan should take back his statement and said that if India wasn't a tolerant nation then how had they made Shahrukh Khan - a Muslim - a superstar.