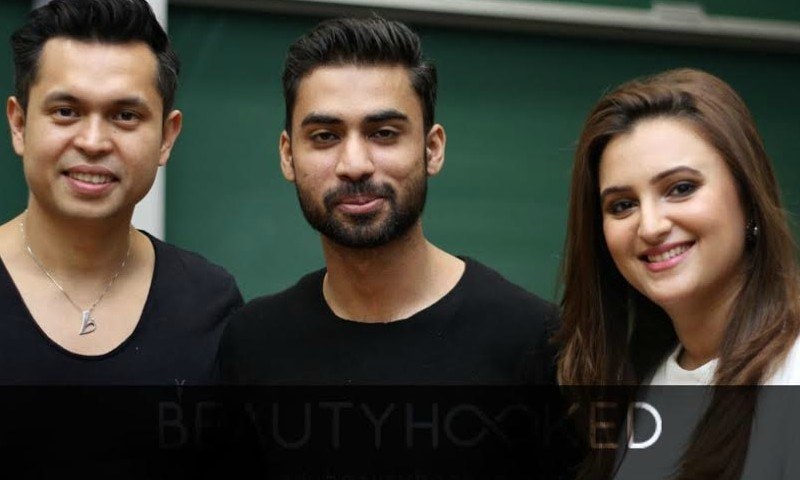 For the first time in Pakistan you can now search, review, and book beauty appointments at top salons and spas online,
Pakistan's first online beauty services marketplace that connects women to Salons and Spas, introduced its platform to the LUMS students this Friday. BeautyHooked.com teamed up with the students of the 'LUMS Dramaline Society' and two of the biggest names in the beauty industry, Redah Misbah, owner of 'Depilex Group' and Shammal Qureshi, owner of 'Toni & Guy', to bring to the audience the first ever beauty event in the history of LUMS. The idea sounded exciting and turned out to be a riot of comedy with a professionally done in house make over presentation by the industry's powerful duo.
It was a house-full theatrical performance, with a live on-stage makeover by the experts, Misbah and Qureshi on stage. While commenting on the event, Sahr Said, the CEO of BeautyHooked.com said,
"We are building Pakistan's first online beauty service marketplace. And for the first time in Pakistan you can now search, discover, review, and book beauty appointments at top salons and spas online, and get exclusive discounts on all services for online beauty bookings. We want to bring the beauty services industry online, and become trend setters in the online beauty space. Keeping with our commitment to being the first, BeautyHooked.com has arranged an evening filled with many firsts."
This was the first time ever that an external event of this scale took place at LUMS. This was the first time Misbah and Qureshi performed in a skit with the actors for a live audience, this was the first time ever that top beauty experts in the industry gave a live demo to the LUMS students, and the first time ever that the crew at LUMS Dramaline society came together with BeautyHooked.com and beauty industry experts to put up a tremendous performance at LUMS.
We spoke to Co-founder & chief marking officer, Sundus Amjad and asked her why LUMS was chosen as the ground for this event, LUMinites as their target market & beauty & tech industry experts as the guests to which she replied.
"Beauty Hooked' is a technology product. We're trying to shift an entire industry from the traditional pen, paper, and visits in and to salons to bookings & purchasing online. As witnessed, globally millennial and mobile-savvy consumers are the ones driving the shift in the beauty tech industry - capturing the attention of younger adults and, in particular, millennials can lead to a long-term market advantage for Beauty Hooked. But capturing their attention is not easy," she claimed.
Millennials are bombarded with information and connected throughout. They are tech-savvy, who grew up with technology and rely on it in their personal and professional lives. They're constantly multi-tasking with ongoing partial attention, in a world where 140-character tweets seem lengthy.
So how do you as 'Beauty Hooked' get them to pay attention to a technology product in an ever growing technological world?
"Because their devices are so personal to them, we tread lightly with our marketing efforts. They want to interact with brands/us on our terms. Algorithms are great at knowing about them, but they have to be comfortable with us in order for us to be effective. Reaching them requires more than posting our banner and telling them where they can find us. If they voluntarily opt-in and ask for us to communicate with them, they expect us to use a direct, simple message that speaks their language. So keeping these key characteristic in mind, Beauty Hooked designed an entire event in their territory with their people so that they can be reached in a more personalized manner, in a setting they're comfortable with," She said
The event was planned & executed with 'LUMS Dramatics Society' so that we could spend time and work with LUMites to spread inside their communities, build bonds with them, and make their lives convenient by introducing 'Beauty Hooked' as a solution to their ever growing beauty needs.
The beauty experts were invited on the pretext so that they could connect with these students in a more casual setting. While the performance was hilarious to say the least, Misbah and Qureshi played their magic makeup tryst to perfection. While talking to hipinpakistan, Redah Misbah said,
"The event at LUMS was a very unique event planned by Beauty hooked that brought together Beauty and theatrics. It was amazing to work with the 'Lums Dramaline Society' and put out a brilliant show to promote beauty and grooming amongst students."