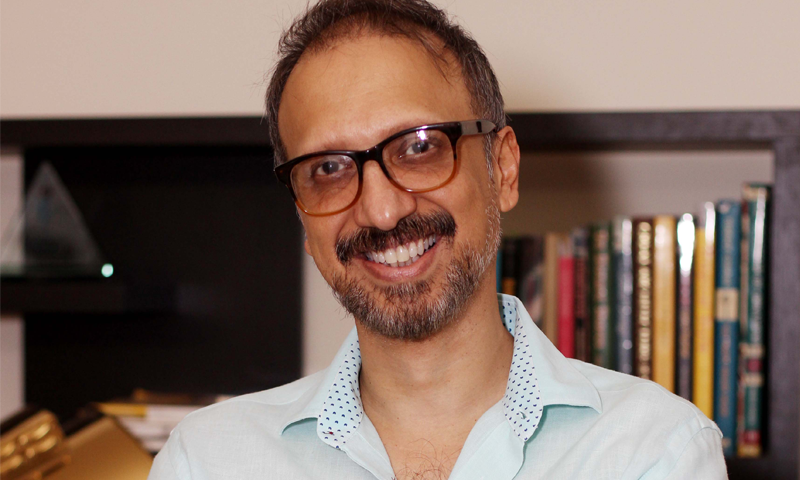 "The scene where the three friends get into their first conflict was the toughest to shoot," says Raza
Advertising genius Asim Raza's directorial debut film Ho Mann Jahaan is undoubtedly the most anticipated release of 2016; not because of its cast (Mahira Khan, Adeel Hussain, and Shehreyar Munawar), but its idea of following your will while overcoming obstacles in life.
When I first saw the film trailer, I immediately got the impression that it must be made by someone who himself walked a difficult path in achieving big dreams in his life; and Asim Raza is definitely one such person.
Read: Music review: 'Ho Mann Jahaan' has something for everyone
Known as Mr. Perfectionist in the advertising field, Raza never compromises on anything less than perfect. And when he announced that he was making a film, the expectations were nothing less than a masterpiece. The response received from the film's trailer and music from the audience proved that he has complete command over his craft.
Raza was an architect before entering the world of media. In a career span of over twenty years he has uncountable award-wining TV commercials and music videos to his credit. Before trying his hand on a feature film, he directed a telefilm, Behadd starring Nadia Jamil, Fawad Khan, and Sajal Ali.
Now that he is in the director's seat for his first feature film, HIP spoke to him to about this particular experience.
Read on to see what he has to say:
How did Ho Mann Jahaan happen? How did it all start?
Well, honestly speaking this idea has been cooking in mind for the longest time. I wanted to tell a story which wasn't just close to me, but also to a lot of people around me.
In life, we sometimes make choices keeping in mind the societal norms and materialistic standards, but completely forget about the needs and demands of people we love and care about. In fact, sometimes we force our family members to make decisions based on societal approval, rather than following their hearts. Ho Mann Jahaan details the experience of youngsters adhering to society approved standards rather their own will. So today when I got the chance to make a film, I immediately started with this idea.
What is the USP of Ho Mann Jahaan as compared to other Pakistani films released this year?
Human emotions are for sure going to be the main highlight of my movie. I am a firm believer that emotions add a lot of value to our lives. Ho Mann Jahaan is a story of emotions and I am sure that the audience will connect to my movie on the basis of those emotions.
As human beings we all different and Allah has given us this opportunity to be novel than other. We are nobody to put them in brackets and stereotype them in certain categories. My movie will convey the message that every individual is different so he/she should be given equal opportunities to live life on the basis of their set standards, rather than the ones defined by society.
Read: 'Ho Mann Jahaan' team on 'Good Morning Pakistan'
What made you decide to make your directorial debut with a musical when usually Pakistani audiences prefer comedy or action (looking at box office numbers historically)?
As I said my story is of emotions and music is incorporated into it as an analogy and not to bring any kind of masala in the film. It is there because it is needed and is a part of those emotions. It's a story of three youngsters who want to make it big in music as that is their passion; hence we have to include a heavy dose of music in it so that people can understand their equation with music.
Various musicians have been asked to partake in the film to get that real feel. The songs will make more sense when you watch on them on screen and in the context of the script.
What kind of response have you received about film music so far?
It has been incredible! When I was working on the music, I didn't want to get comments like bade maze ka gaane hai, rather I wanted my audience to develop a certain connection with it. Fortunately, so far the responses I have received have proved that I was successful in my attempt. I have received comments like 'the song has brought tears to my eyes' and 'it was such a nostalgic feeling watching the video.' Hearing all this has been an amazing experience.
Does directing commercials help you in becoming a better story teller?
Definitely it does because we have been trained to tell stories in 45-60 seconds and at times we haven't been allowed to use dialogues. So it was a great help and it enables me to visualize things better and present them in a nice imagery. Having said that, now that I have done both, I know that these two belong to completely different genres. One really needs to study them properly; by studying I mean actually observing people, watch movies, and read about it a lot.
Personally, I am observant and often draw inspirations for my stories from the real people in my life.
Unfortunately, our movies are unable to give that larger than life cinematic feel. What do you think could be the reason for it?
One of the reasons could be that our stories are quite different than Bollywood's larger than life stories. They are more realistic and often picked from within the society we live in. I think it's an added advantage and it may be the reason our dramas have become so popular in India because people find it realistic enough to believe.
Similarly, when I was making Ho Mann Jahaan, I tried to strike a balance between telling a realistic life story, but at the same time trying to give a cinematic feel to it. It's up to the audience now to decide whether I have been successful in my attempt or not.
At the trailer launch you mentioned that you first chose the actors than wrote roles for them; so when Adeel Hussain and Shrehyar Munawwar decided to swap roles, did you easily accept it?
At the very start of the interview I told you that this story has been with me for a long time so there have been several people who I initially considered apt for my script. But as the time progressed those people moved on and I kept making changes in my script.
When Adeel and Shrehyar decided to swap roles, I gave permission to do so, but on the condition that they had to prove to me that they would do justice to their roles. They worked hard to polish their skills and had to go through screen tests again before the final shoot. Once they cleared the test, I amended the script to make necessary changes.
Why did you choose Mahira Khan as the leading lady of the film?
I actually have known her personally for a long time, so when I decided to make a movie, she was my first choice. I believe she has been typecast on television by certain kinds of roles that were especially written for her. She is much more than just a 'good' girl. There are elements in her personality that I think even she doesn't know about herself. I wanted to present her in a completely different light which is why I chose her for the role.
Was Sonya Jehan's character included in the script at the last moment or was she part of the film from the day one?
Sonya was very much in the film since the first day. Her presence in the movie was initially kept under wraps because at the very start we wanted to introduce the audience to the three main lead characters of the film. To show their association with music, we designed the posters in a rock star avatar.
When I finally launched the official poster of the movie, Sonya Jehan was very much there as after the three leads, she plays the most important role.
In fact I was really honored that she accepted the role in my film because she always does very selective work. She started with a modeling career with me so I believe she had that trust factor with me and immediately gave her acceptance for the role.
Initially HMJ was expected to release on Eid and after several different dates, it was finally locked for Jan 1st; why so many delays?
Initially, we were aiming for Eid-ul-Azha, but since Jawani Phir Nahin Ani was also releasing at the same time, I decided to delay the release of my film.
At present our film industry is in an infancy state and we can't afford to be in conflict with each other; it's better to support each other for the overall growth. Personally I know that if you do something for another, they will also end up doing something for you too. I knew that Humayun was ready much before me and he had certain agreements with his sponsors so I decided to hold my release for some time. Afterwards the holy month of Muharrum came and I didn't want to hurt our Muslim brothers so I again delayed my film release. Finally when I was thought to release it at the end of the year, three big Indian films of Bollywood Khans also announced their release dates at the sametime. Again I knew it would be silly for me to release on those dates, hence we kept delaying till the New Year. Plus, I believe that har cheez mai Allah ke bethri hote hai, so I am waiting for something good to happen to me too.
Branding in films has been a subject of major discussion this year; what is your take on it? '
It is vital to understand the importance of branding in present scenario. Film making in Pakistan is not a very profitable business because we have limited screens and it's hard to bring the audience out of their homes. So whoever is investing today is putting his life-long savings at risk. While we want to explore the genre of film making, we cannot afford to put the lives of our loved ones at stake for it. So, it's a viable option to bring sponsors on board. They can really help aspiring filmmakers to make their dreams come true.
But the sensible way of doing is through product integration. The filmmaker has to integrate the product in the script in a way that it should look like part of the story rather than being in the audience's face.
With Coke sponsoring the movie, the buzz is that Ho Mann Jahan is just another 3 hour long commercial; what is your take?
I promise you won't get that impression at all. Coke is there as a lead sponsor, but I have made sure not to compromise on the aesthetics of the film for it.
Even in the famous Coke commercial song with Ho Mann Jahaan, the actors have done is totally different from the actual story.
Producer or Director - which was the more difficult hat for you to wear while making HMJ and why?
It was more difficult to be both at the same time. Being a director I have to be true to my craft, but as a producer I have to remain honest and loyal to the kitty I have been carrying. So to balance between my craft not suffering, without giving unnecessary pressure to my pocket, was the toughest of all.
What was the most difficult scene for you to shoot in HMJ?
There was a scene where the three friends were getting into their first conflict. Before that scene, the story was more about the maza and masti they all had together, but when a disagreement came, how they all reacted was difficult to translate on screen.
In the first attempt we recorded the shot as everybody put their 100 percent to it and it went really well. But when when I sat on the editing table, I didn't find it magical enough to communicate the main idea, so we re-shot till I got the required feel.
If the film doesn't succeed at box office, will you stop making them?
Obviously it will be a lesson to learn. I will try to concentrate on the reasons of its failure and study market trends in depth again. I am sure that will not happen though because I have made this film with pure intentions. Honestly whenever you put your heart and soul into a project, it never fails to touch hearts; so I have high hopes from the film.
What is next after Ho Mann Jahaan for Asim Raza?
If the film is a hit, then we'll definitely come with yet another exciting project. If that doesn't happen, I will try my hands on something that will not disappoint my fans again.
There you go guys...hope you enjoyed the read about the making of HMJ by the man behind the film, Asim Raza. Keep reading HIP because the next interview from team HMJ, will be of Adeel Hussain!