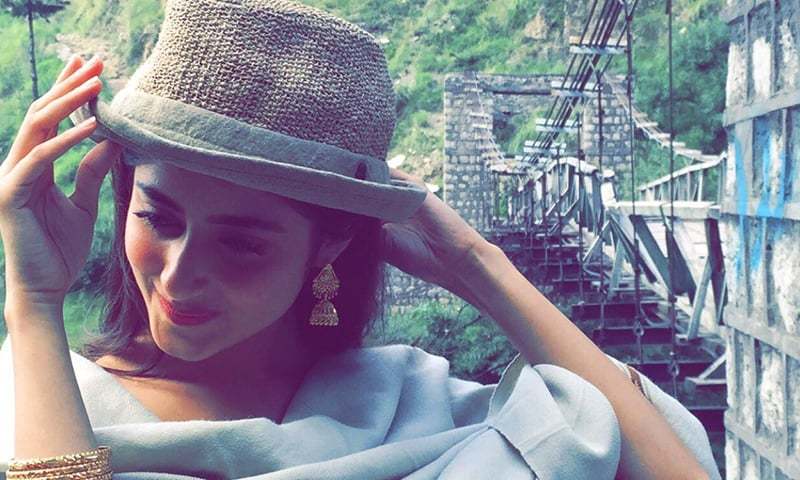 Feroze Khan and Sajal Ali don't meet, dad dies, and the scholarship looks a bit dodgy, but the ratings were sky-high!

It was sad for viewers because Feroze Khan and Sajal Ali didn't get to meet in the first episode, and sad for Gul-e-Rana (the heroine) because her father dies a sudden death.
But hero and heroine seldom meet in first episode. Also, a death or death-like situation in the first few episodes is the backbone of any story because if all remains happy and smooth, then how would the conflict of the plot arise, how would the protagonist try to overcome it, and how would the story progress?
Read: 5 reasons why we're desperately waiting for Gul-e-Rana
Leaving the death part for later, let's first focus on Sajal Ali and Feroz Khan and why was there no interaction between their characters in the first episode. There was no aankhen-chaar moment because the two don't even know about each other's existence yet. Yes, they're probably cousins, but they don't know this yet and neither does the audience, but we can make a smart guess, can't we?
The serial turned out real good for 'Six Sigma Productions' and Momina Duraid because according to reports the serial clocked quite a bit of ratings. So, high five team Gul-e-Rana!
Gul-e-Rana , played by Sajal Ali, is a studious, baba-ki-achi-beti and is all for women's rights while Adeel (Feroze Khan) likes to sit on a couch (not really) and get smothered by his phuppo's huggian te kissiyan. He lives in a city (the makers haven't specified the city) and she lives in Hyderabad and goes to her college in a boat. How poetic! He has zero interaction with his father (atleast in the first episode) and she's her father's girl. And of course, he's a male and she's a female.
I hope you've gotten the point that these two characters are poles apart in every possible sense. So naturally, they'll fall for each other when they meet or rather Adeel will fall for Gul-e-Rana as shown in the promos.
Coming back to the first episode, it was an introduction of sorts. Samra Bukhari, the writer, and Farooq Rind, the director, sketched each and every character in this episode, so there wasn't much time left for progression but a major turnaround happened in the end. Gul-e-Rana, who's living happily with her parents and one younger sister is now left with the responsibility of the entire household on her tiny shoulders because her father Abdul Aziz (Behroze Sabzwari) meets an accident and dies after reaching the hospital.
And why does his car crashes? Because he is thinking about his daughters' education and ghar ka kharch. This man is adamant on giving the best education to his daughters, and one of his daughter Gul-e-Rana is fulfilling his dreams successfully. She wins debate competitions, is a position holder, and wants to earn a scholarship. A perfect daughter in short.
Before his death, the audience sees him speaking to a man (Mehmood Akhtar) on phone. Now, this man is insistent on meeting Abdul Aziz, but Aziz turns him down. I could guess that the man on phone is his brother (and I was proven right later on), but there is some history to this rivalry which we, the audience, don't know yet.
Meanwhile, Adeel is busy bossing around in his home. He treats his aunty, played by Farah Shah, (I'm guessing, she is his step mother)...well, like an aunty not his mother. He shows no warmth towards her and asks her questions like, "Phuppo se baat hui aap ki? Woh log aye kyun nahi itne dino se?"
It looks like Adeel is convinced that aunty is trying to keep his phuppos - bari and choti - at bay and if she is, then she's definitely doing the right thing because Adeel's phuppo and her daughter are quite greedy and not only in the monetary sense.
Once again Feroze Khan plays the role of a single-minded person with much conviction. What I like most about Khan's acting is that it doesn't look like he's acting. I most certainly started hating him for being such a one-dimensional person in Chup Raho and had to tell myself time and again that he's just playing Azir's role convincingly.
My most favourite laugh-out-loud scene was when Adeel's phuppo is showing him a supposedly funny movie - he's sitting there with a dead-straight face and she's laughing her head off - and the topic turns towards marriage. As if on cue, his phuppo's daughter arrives and then immediately departs in a coy manner. Upon which Adeel's phupoo says what all mothers say, "sharma gayi", but it was Adeel's reply which made me laugh so hard that my sister almost toppled out of her chair. He said, quite innocently, "Baat tou meri shaadi ki ho rahi thi. Isko kyun sharam agayi?"
And this is how Adeel successfully trolls his phuppo. But he doesn't or cannot say no when she reveals the real reason behind her arrival. She had arrived at his doorstep in search of money and it looks like she's a pro at it. Anyway, phuppo's motives are clear that she wants Adeel's money and she wants Adeel for her daughter. And Adeel's motives are clear that he will support her financially, but he won't marry her daughter.
In Hyderabad, Gul-e-Rana is trying to persuade a woman (who sells clothes from door-to-door) to file an FIR against her abusive husband, but the woman refuses. Even Rubina Ashraf, who plays Gul-e-Rana's mother, says, "Choro, woh aisa nahi kar sakti." The way Ashraf delivers these dialogues proves that she's a veteran actor. She's so effortless with her dialogue delivery; she didn't have to tilt her head a certain way or over-exaggerate the tone of her voice. She just simply said 'choro' and it made me think that's how my mother would say it.
Apart from Rubina Ashraf's brilliant acting, the scene also provided us an insight into Ashraf's character and Sajal Ali's character.
Another insight that I found out was that Gul-e-Rana and her sister are immensely impressed by a certain Mr. Asher. Asher bhai calls from I don't know where, and these girls start to yell and jump around in excitement and nobody finds this suspicious. Come on! two young girls (sisters) dying to talk to a young man is a recipe for a very shady love story and it looks like Asher has that in mind because he's all, "Mein apni ammi ki saath araha hoon Gul-e-Rana," but Gul-e-Rana doesn't miss a single chance to call him 'bhai'. This proves that she just idolizes Asher bhai and nothing else. Poor Asher.
The serial started with Sajal Ali (Gul-e-Rana) delivering a speech on women empowerment. Very obvious way to convey her personality trait, but I've never seen Ali give a speech so it was a nice change. Ali is such a seasoned campaigner that she fit into Gul-e-Rana's role like second skin. Sajal Ali and Behroze Sabzwari's scene, where he tells her that she should definitely go for scholarship, did blatantly hint towards something sinister (like death of her father), but nevertheless, established the relationship between the two, thanks to Ali and Sabzwari's perfect portrayal of their roles. Even Sajal Ali's younger sister fit in nicely with all these seasoned actors.
The only con in Gul-e-Rana was that there was too much guess work involved. Who is Abdul Aziz talking to on phone? His brother, a villain or a purana qarzdaar? Why is Adeel's dad (the phone guy) living in Murree while his son lives with a certain 'aunty'? Is he Adeel's dad? Are Adeel and Gul-e-Rana related by blood? We don't yet know.
Read: In conversation with Sajal Ali on 'Gul-e-Rana', studies, and India
May be Farooq Rind wanted to create this air of mystery in the first episode but I ended up a bit frustrated and wanted the episode to last a good thirty minutes more. Then again, that's a good sign, at least I wasn't cancelling Gul-e-Rana out of my 'must-watch list'. Have a look at their beautiful OST as you and I desperately wait for Gul-e-Rana's second episode.