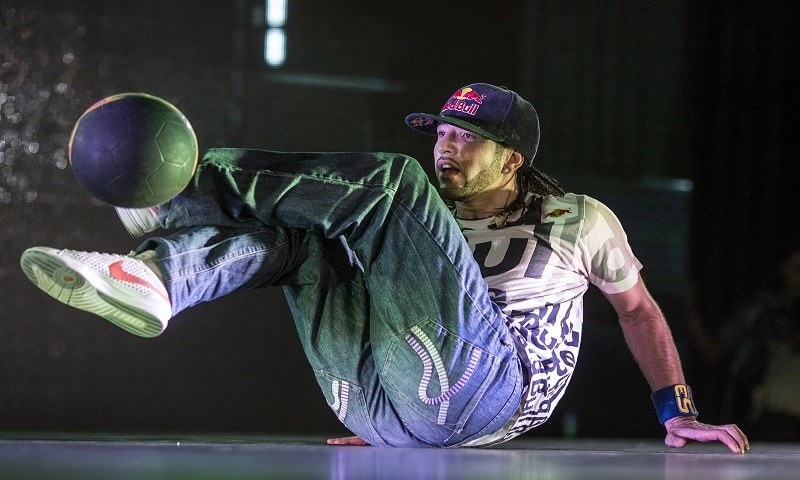 Séan Garnier discovered a new passion that combined break dancing with football and termed it 'freestyle football'.

After inspiring millions of freestylers across the globe with his unique style, world's greatest freestyler and Red Bull Street Style Champion (2008), Séan Garnier is all set to showcase his extraordinary skills in Pakistan.
One of freestyle football's most original and creative talents, Séan Garnier's tour is aimed at exploring and understanding the local freestyle community of Pakistan that has been growing in numbers over the years.
Hailing from France, Garnier has wowed audiences from around the world with his unique set of freestyle skills. Starting from the 17th of November Séan Garnier will travel to four cities; Lahore, Karachi, Islamabad, and Peshawar.
Most people can kick a football, while some can do a kick-up or two, but Séan Garnier is known for his unique freestyle tricks that have indeed made him one of the most followed and respected names in the international freestyle community.
He can do what many freestylers had never thought of i.e. he can make a football dance. In addition to football freestyle, Garnier also practices this sportive discipline in matches, specifically in the form of soccer variations such as street soccer, futsal and panna.
Garnier's style is more than just kicking the ball; he combines music, break-dance, and basketball in his many winning routines. With a host of French Championships and podium finishes under his belt, Séan Garnier is committed to develop and further enhance the creativity of freestyle football along with his team, 'Street Style Society.'
Séan Garnier discovered a new passion that combined break dancing and football; the urban art of freestyle football while studying as a football instructor in Paris. Within no time he found his groove and developed his own style and unique set of skills.
Within a span of two years he went from demoing on the streets of Paris to the world stage. In 2008 was crowned World Champion at the inaugural Red Bull Street Style World Finals in São Paulo, Brazil, the spiritual home of freestyle.
The freestyle living legend is looking forward to his first trip to Pakistan. And while interacting with Pakistani freestylers, he will also take this opportunity to explore the vibrant culture of Pakistan. Sean Garnier is slated to reach Pakistan on the 17th of November and during this time will travel to Lahore, Karachi, Islamabad, and Peshawar.