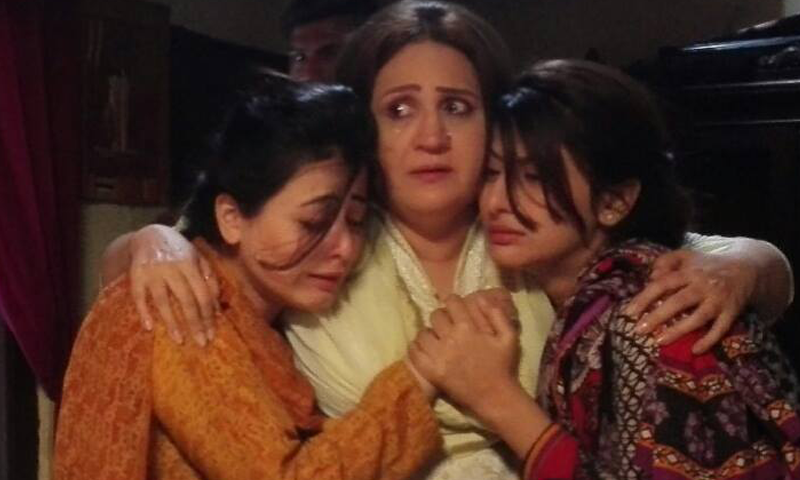 In the 'contract,' young girls are married off to & transferred to various old men in a vicious cycle in 'Chandan Haar'

Akele aurat maidan mai pare lash ke tarah hoti jis ke khoon ki bou soong ker charon taraf se gidh ajate hai, noch dalte hain usay
This intense dialogue from A-Plus's upcoming Chandan Haar is indicative of a very harsh reality in our society. No matter how liberal we claim to be, we always prefer to bind woman in confined limits. A girl is not safe until she has been accompanied by a male member of the family (be it father, husband, or brother). What happens if that (male) support all of sudden vanishes from her life?
The upcoming play Chandan Haar on A-Plus actually narrates the tale of three women who are at the mercy of each other after the sudden disappearance of their only male supporter. The promo of the play was recently aired.
Written by Irfan Mughal and directed by Nain Maniar, the play is to start on A-Plus from November 30.
The lead cast includes Fariya Waseem, Asma Abbas, Ayesha Javed Butt, Syed Talat Shah, Rashid Farooqui, Ghulam Mohiuddin, Asad Malik, Sofia Ahmed, Rasheed Ali, Yasmeen Haque, Naima Khan, Nayyer Ejaz, and Fawad Jalal.
Asma Abbas, who plays the majboor maa in Chandan Haar, said the script was different from many run-of-the-mill dramas produced these days.
"Being an actor we often get fed up playing glamorous roles in saas-bahu sagas and serials like Chandan Haar serves as a platform to come out of our comfort zone," Abbas said.
Revealing the drama's story, Abbas said it is about a mother of two young girls whose husband ( a rich nawab) disappears all of sudden due to immense pressure of paying his debt. She then goes to Lahore where an old friend of her husband (Ahsan) lives and asks for some help.
Abbas added meeting her husband's friend will be the turning point of the story. Ahsan runs a marriage bureau and in the disguise of it he runs another business of contract marriages. He arranges marriages of old aged men with young girls. After about two to three months, the old men leave the poor girls, who then are transferred to another ameer budha.
"Ahsan sells Nawab saheb's daughter to one of his rich, but old aged clients ruining the life of the poor girl and damaging the trust of Nawab saheb's wife," Asma Abbas added.
Will the poor girl of nawab saheb ever be able to escape this vicious circle and save her honor? To know this and more, watch the drama serial on A-Plus from November 30.