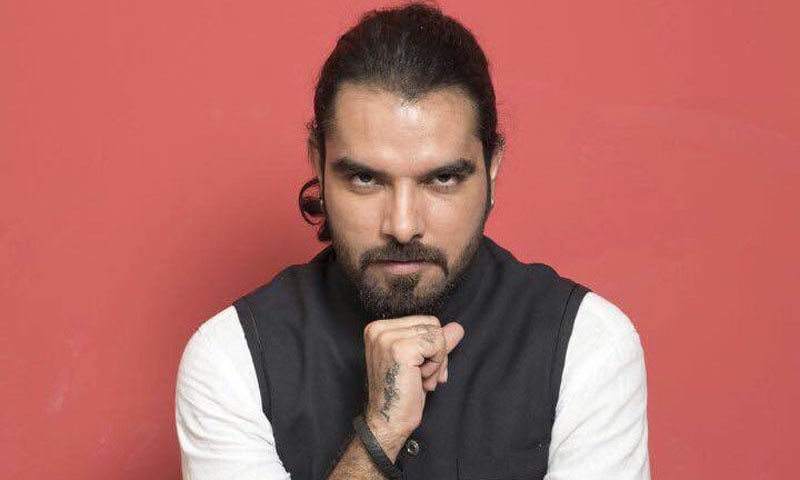 "Karachi Se Lahore 2 revolves around Moti and his interaction with a female rock star" says Yasir Hussain.
We got a chance to chat with the immensely talented Yasir Hussain and oh boy, is he in demand or what!
With his beyond perfect comic timing, his witty and highly controversial jokes at the Lux Style Awards, and that incredibly natural stammer in Karachi Se Lahore , it seems like everybody is in awe of the talent of this young lad. He has worked with Asim Raza on Ho Mann Jahaan and is set to do the Fahad Mustafa starrer Band Tou Ab Bajega next which will be directed by Anjum Shehzad.
Read: Fahad Mustafa to produce his first film 'Band Toh Ab Bajay Ga'
Starting the conversation with the most awaited film of this year (or next) Ho Mann Jahaan, he tells us how he ended up on the sets of HMJ.
"It was Mahira Khan who referred me to Asim Raza. She loved Karachi Se Lahore's script, so she suggested Asim Raza to get the dialogues written by me and that's how I became part of the project".
"I also got to travel with the team, because I believe if the director is with you during the writing process, there is no need to re-write and there's no confusion either. All of them were incredibly professional to work with and I'm looking forward to its release," he further commented.
Read: The Real Winners of Lux Style Awards 2015
The discussion then steered towards his current projects. The all rounder revealed, to my extreme excitement, that Karachi Se Lahore 2's script has been finalized and the shooting will start in January.
The sequel of Karachi se Lahorerevolves around Moti and his journey from Lahore to the Northern Areas and how he meets a female rock star at a concert. This rockstar will be the female lead of the film.
Read: Romancing the road with Karachi se Lahore
"It doesn't star Shahzad Sheikh or Ayesha Omar, but Aashir Wajahat and Ahmed Ali might make a guest appearance. It is being directed by Wajahat Rauf and we are currently in the process of signing the heroine," Hussain said.
Hussain's schedule is definitely chock-full at the moment as he's also writing the script for Fahad Mustafa's production house Big Bang Entertainment's debut film Band Tou Ab Baje Ga, which will be directed by Anjum Shahzad. We'll also see Mustafa playing the main lead in the film.
Revealing the main plot a bit, Yasir said that it basically revolves around a band wala who gets married to a notorious girl of the area he lives in.
Other than these exciting projects, Hussain also plans to do a biopic of renowned poet, Jon Elia and a theatre play on one of Pakistan's popular film actor, Waheed Murad. The theatre play will be produced by 'KopyKats' and will be titled Koko Korina (after Murad's most famous song from the film Armaan). The play will be written by our favourite Anwar Maqsood and will be directed by Dawar Maqsood.
Wishing the super awesome actor-writer all the best for his future endeavors and may we see him grow with each and every project!