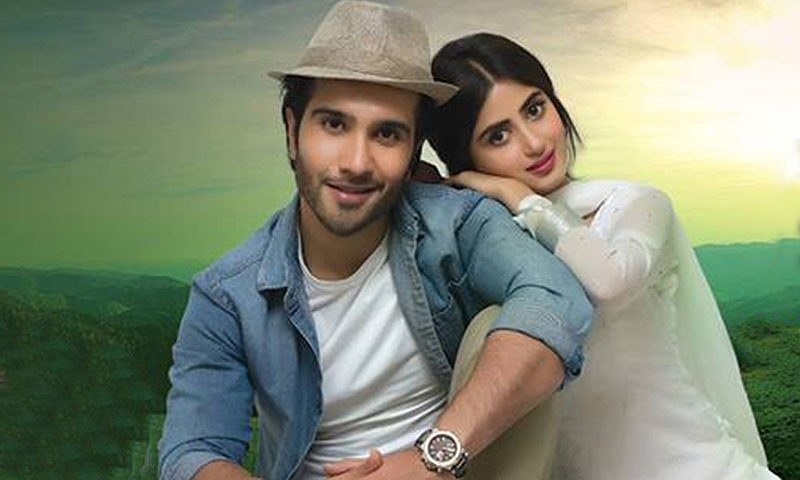 Phuppos are torturing Adeel and Gul-e-Rana is trying to cope with her abbu's death; [copy+paste] 'break' [copy+paste].

Following conversation sums up what happened (or didn't happen) in the second episode of Gul-e-Rana.
Person A (who missed Gul-e-Rana): What happened in today's episode.

Person B (who watched it): They were all very upset on Abdul Aziz's death; the wife, daughters and that uncle on phone is indeed Abdul Azziz's brother!

Person A: Oho, they revealed that in the promo only. What else?

Person B: And yeah poor Adeel! Phuppo tries to squeeze money out of him and wants him to marry his daughter.

Person A: But that happened in last episode, no?

Person B: No, in first episode it was choti phuppo and her daughter Laila. This time it was bari phuppo and her daughter Maria!

Person A: Aur?

Person B: Bas.
I understand that Farooq Rind, the director, and Samra Bukhari (the writer) had to establish bari phuppo's (Samina Ahmed) character in this episode and the problems faced by Gul-e-Rana (Sajal Ali) and her family after Abdul Aziz's (played by Behroze Sabzwari) death, but in my opinion, the first half of the episode was enough to establish these two things. The second half could have focused on how they cope with the tragedy and move ahead.
Read the review: Gul-e-Rana starts on a sad note
Gul-e-Rana remembering her badminton match with her father, and the moment where he assures her that he doesn't for a moment feel bad that he doesn't have a son were a bit unnecessary. This could have been done in the first episode (and it was) and not so explicitly. Gul-e-Rana asks her father, "Aap ko kabhi dukh nahi hota ke aap ka koi beta nahi? Betiyan tou parayi hoti hain na?"
"Ye sawaal tumne mujhse kyun kiya? Kya merai rawaiye se tumne kabhi aisa mehsoos kiya hai?" Abdul Aziz asks her a question in return and assures her that he's not a conventional son-loving father. "Agar mujhe kuch hua bhi tou meri Gul-e-Rana sab sambhal legi." Upon which Gul-e-Rana gets upset and the flashback ends.
My pet peeve, when it comes to drama serials is that the characters shouldn't need to spell out each and everything. The situation should convey the message writer is trying to give.
Take Ankahi for example, Shehnaz Sheikh was fulfilling the role of a son in that serial but did you ever see her mother having an elaborate discussion with her on 'who the man of the house was' in the first few episodes? No. The audience got to know that from the way she stopped random people on road for a lift, took her brother to the hospital, or stole chickens from neighbours for that matter.
In Gul-e-Rana too we didn't need this flashback to prove that Gul-e-Rana will eventually become the caretaker of the house.
Another instance which reminded me of another PTV classic was when Gul-e-Rana is assuring her sister that once she completes her studies, she'll make sure her sister gets whatever she wants (like clothes for the school fun fair which is taking place at theyounger sister's school). This moment reminded me of a scene in Tanhaiyyan when Zara is stopping Saniya from going with Aani after her marriage.
Unfortunately, in Gul-e-Rana the chemistry between two sisters was not as effective. The issue here lies with the makers because they don't focus on side characters like siblings, best friends, and neighbours. This may change in the future episodes, but right now everything looked quite scripted.
While the sisters' emotional scene wasn't as tear-inducing as I wanted it to be, Rubina Ashraf's acting stole the show. Her portrayal of a widow, who's trying to fight the circumstances and stay strong but breaks down in weak moments (like the dinner table), is natural. She then control herself, like every mother does, and asks Gul-e-Rana to call the neighbor who paid for Abdul Aziz's surgery and now wants his money back.
She decides to sell the car to pay his debts and arrange for another house because the land lord has also suddenly realized that he wants his house back.
As Gul-e-Rana and her mother are trying to convince the landlord that they'll soon vacate the house as soon as they find another place, Taaya abbu decides to drop by and witnesses the embarrassing situation. This is probably the moment he decides he'll take Gul-e-Ran and co to Karachi.
The second episode did answer a few pertinent questions though. Aunty (Farah Shah) indeed is Adeel's (Feroze Khan's) step mother. The person who used to talk to Abdul Aziz on phone was his elder brother; Rubina Ashraf recognizes him too, so that's that. The reason why these two brothers' weren't on talking terms is not known. Taaya abbu is Adeel's father and they live in Karachi. Why he was talking on phone from Muree is still a mystery.
In previous episode, it looked like Adeel was sincerely in love with his phuppos, but the current one proved otherwise. First, he avoids Maria's (his bari phuppo's daughter) call. Then he visits bari phuppo's place where she asks him for money, but evil Adeel reveals this little secret in front of the choti puhppo, who decides to crash the party at bari phuppos' with her daughter Laila.
While Adeel may prefer his phuppo over his step mother, he isn't the one to be taken advantage of. He knows that bari phuppo has been given her monthly allowance by his father, and he makes sure he conveys this to bari phuppo when she demands for more money.
Also, he defends his step mother in front of his phuppo when she says, "saara ghar uske hawalay hai"
"Woh dad ki wife hain tou usme koi harj bhi nahi. Mujeh iss se koi problem nahi hai," he replies to phuppo.
This proves that Adeel doesn't really bother about people (be it phuppo or his step mother).
His interaction with his step mother was my favourite scene. They're sitting and having breakfast when Adeel's father (Gul-e-Rana's taaya) calls and says he won't be coming to Karachi soon.
Step Mum: Adeel meri bhi baat karwa detai?

Adeel: Unho ne kaha nahi aur iski zaroorat bhi nahi

Step Mum (leaves the table with solemn expressions)

Adeel: Aap kahan jaa rahi hain? Breakfast nahi karengi?

Step Mum: Nahi dil nahi chah raha. Acha ek baat suno tum shaadi kyun nahi karletai

(Adeel laughs so hard, I'm surprised he didn't spray the table with scrambled eggs.)

Adeel: You're joking right?

Step Mum: Nahi, tumhari dono phuppo aas lagaye bethi hain tou tum decide kyun nahi karletai.

(The laughter vanishes from Adeel's face with the speed of light.)

Adeel: Ye mera, meri phuppo-on ka aur unki betion ka maamla hai. Aap beech mein na bolein tou behtar rahega.
I didn't like this conversation because Adeel was being a brat; I liked it because it revealed Adeel's personality traits. And I am going to share the revelation with you guys. Adeel is a nice person as long as you don't try to dictate him or interfere in his issues. And yes, there was one other revelation in this episode; he is a party animal and likes to party in smoke-infested places.
You must be wondering did Gul-e-Rana appear for only two seconds in this episode. Well, she was very much there, supporting her mother and giving accusatory looks to her Taaya abbu who suddenly shows up out of nowhere after their father's demise.
Read: In conversation with Sajal Ali on 'Gul-e-Rana', studies, and India
"Aap ka aur abbu ka koi jhagra hua tha? Kyunke abbu ne tou kabhi ka aap ka ziqar nahi kiya," she says and walks out from the verandah where the younger sister is busy saying stuff like, "Taaya abu mujhe aap mein se abbu ki khhushboo aati hai."
That was one emotional scene.
The most interesting part of the episode was the promo for next episode which showed that Gul-e-Rana and her family will come to live with Taaya abu and guess who Gul-e-Rana will finally meet? Of course Adeel and his phuppos who are surprisingly unaware of their brother's death (if Abdul Aziz was their brother that is).