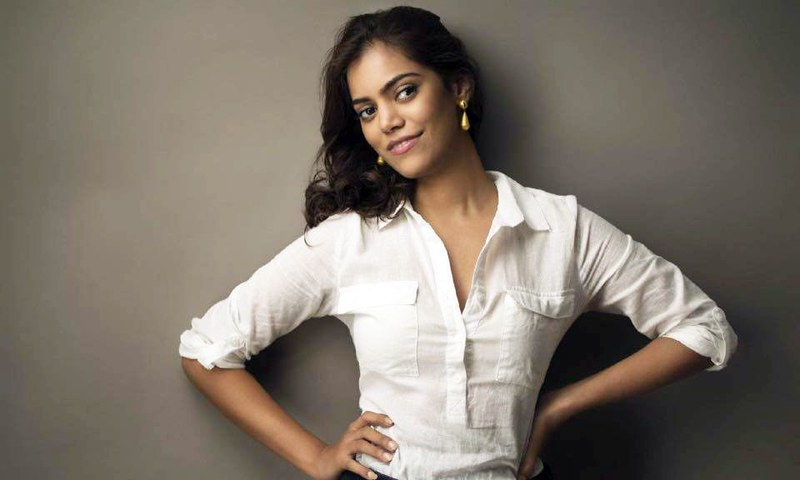 'Harmonia' is about coming together and 'ghungroo' explains it best because it cannot produce sound on its own.

Kiran Aman, the founder of 'Kiran Fine Jewelry' (KFJ); a brand synonymous with luxury (not the monetary kind, but the spiritual kind), is a down to earth woman whose aesthetic sensibility managed to make a place in my heart within the 15-minute conversation I had with her.
HIP decided to talk to Kiran Aman about her latest collection Harmonia and the latest brand ambassador Sara Haider.
When asked what made her select Sara Haider as the KFJ woman for the Harmonia collection as she is much younger than the women who have represented her brand in the past, she explained,
"I felt Sara Haider was all about sound and harmony. Her personality is in line with our collection, and if you've been following us, you'd know that each and every one of our collection has a different face/woman. It all depends on which personality has similar traits to our collection. Like, we used Sonya Batla in our collection 'Time Scripts Man. Man Scripts Time' [in 2010] because it was all about turning traditional elements into something modern and I think Sonya Batla symbolizes that."
What exactly is the Harmonia collection? The explanation given by Aman was so poetic and at the same time so obvious that I wondered why hadn't I thought of this before. The primary element of Harmonia is ghungroo and have you ever seen a ghungroo alone? Does it produce the symphony/melody when it's singular in existence?
I bet you've never thought about a ghungroo in so much depth despite enjoying its melody for ages. This is how Kiran Aman explained the collection to me and I listened spell bounded,
"Harmonia collection is all about coming together and what best explains it is a ghungroo. A ghungroo cannot make the sound on its own; it has to attach itself to another ghungroo to produce a melody, a sound. It cannot exist independently; it needs help from other ghungroos."
We then again moved towards the topic of Sara Haider posing (for the lack of better word) for KFJ, and like an annoying bug I persisted with the question, but why Sara Haider and how did the collaboration take place.
"I just saw her, wanted her for my collection, and called her up and that's that," Aman simplified the whole process.
"I just felt Sara would be the perfect fit. Her features, the way she carries herself was in sync with the Harmonia collection," she further added.
Did Sara Haider come to her notice because of Coke Studio and how she's suddenly gained so much popularity, I asked. She was quick to deny.
"No not at all. I chose her because her image resonates with Harmonia."
So, Harmonia is about young and trendy women because Haider is all that. Aman again corrected me,
"No, it's not about being young and hip. [That is not why I chose Haider]. My collection is about someone who understands sound and symphony. And she looked the part too."
Providing us with more details about the bespoke collection, she said, "Harmonia essentially means harmony and concord. The central motif for Harmonia is the bell, also known as ghungroo, and in essence ghungroo has always been we and not."
She further said that it was how co-existing was much more favourable than exiting as one. In my opinion, Kiran Aman's collection teaches us more about life than a Paulo Coelho book.
Coming back to the design element, Aman said that her pieces or collections aren't based on concepts like paisleys, triangles, etc. Her brand is more about essence. She said that if a person wants to wear a heart, then she has a reason for wearing it; the heart symbolizes something.
'Kiran Fine Jewelry' is about symbols and the essence attached to those symbols and not just concepts. Same goes for Harmonia collection which features pieces like the Twin Flame necklace; a ring inspired by Sara Haider called the Sahara. The Sahara basically has Sara's initials 'S' and two ghungroos surround it.
On collaborating with Sara Haider in the future, she explained that it all depends on what collection comes up next, "We had Sonya Batla as ambassador for two collections Time scripts Man. Man Scripts Time and Meet Your Void, because I felt she symbolized these collections. We did this event at the Planetarium and it was an amazing experience."
The conceptual event held at PIA Planetarium included a series of jewelry and fashion based displays across the venue and a unique audio-visual presentation narrated by Naad-e-Ali Zaidi with text by Kiran Aman, highlighting the basic inspiration for KFJ's collection 'Meet Your Void' and Sonya Batla's clothing line titled 'Stellar Collection'.
For 12 years now, we've seen Aman style celebrities from Sharmeen Obaid Chinoy in Oscars, Mahira Khan for almost all the award functions that Khan attends, Sanam Saeed for 2nd Hum Awards, to a lawyer. When asked which celebrity she'd like to style next, she said,
"That's not me. I'm not trying to sound humble or anything, but styling celebrities doesn't really matter to me. I met Sharmeen Obaid Chinoy, designed a piece for her. [At that time she wasn't an Oscar winner]. She might not have won an Oscar, you see.
"You don't see me doing red carpets that much, do you? That's because my jewelry is more about the essence. If a person understands the essence and wants to wear it then it doesn't matter if she's a celebrity, a housewife, a doctor, a lawyer, or someone else," she further added.
KFJ recently did a campaign where they featured women from various walks of life.
The conversation then steered towards future plans, as it always does, in the end. Kiran Aman said that she plans to start a silver collection next year and then of course there is the 2016 collection which will be revealed next year, and something with Sara Haider may happen.
"She's someone I'd want to dress."
KFJ is not restricted to a certain SEC group; Anyone who feels the pieces resonate with them can buy it. Since it's gold jewelry, the range starts from 30k and goes above.