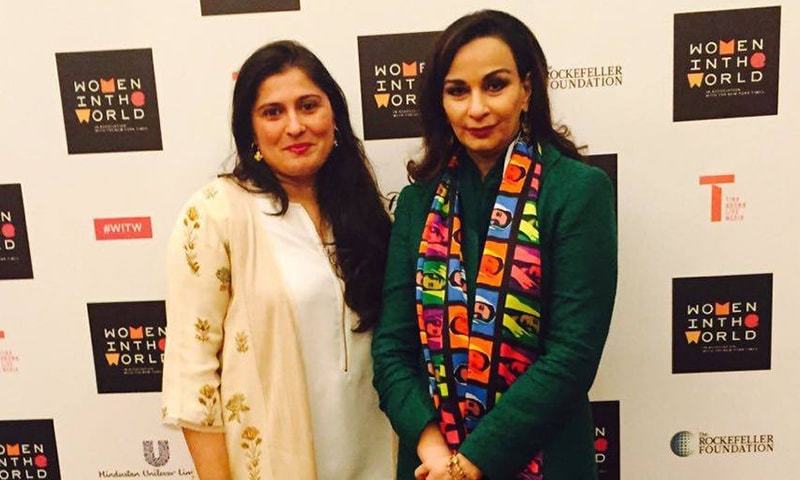 The 'Women in the World' event was founded by Tina Brown seven years ago.

Pakistan's Oscar winning filmmaker Sharmeen Obaid Chinoy and PPP politician Sherry Rehman attended the Women in the World India Summit that took place on November 20 at the Taj Mahal Hotel in New Dehli.
Sharmeen Obaid Chinoy live tweeted the event.
Sherry Rehman was one of the speakers at the event.
The event was co-hosted by Anand Mahindra, Barkha Dutt, Nita Ambani, and Shabana Azmi.
Chinoy shared quite a few pictures from the event on her Instagram account.
The event saw was star-studded to say the least. There were women from Nigeria, Palestine, Iran, and so on.
Academy Award winning actress Cate Blanchett was also present at the event. There was an Iranian female race car driver, Laleh Seddigh. Then there was the founder of Nigeria's 'Bring Back Our Girls' campaign and former World Bank Vice President for Africa Obiageli Ezekwesili. An Israeli and a Palestinian mother working together to find peace, Robi Damelin and Bushra Awad. And of course Indian stars such as Madhuri Dixit, Nandita Das, and Smriti Zubin Irani.
Madhuri Dixit later wished best of luck to Chinoy for her Oscar nomination.
The purpose of this global initiative is to share inspiring stories of how women and girls are bringing about change across the globe. Tina Brown, the founder of Women of the World, said,
"Since we began hosting our summits seven years ago, we have seen a step change across the world. Now more than ever, women are leading culture, political and economic change and making their voices heard. Women in India are playing vibrant new roles in every aspect of society, so it's only natural that we bring the live journalism of Women in the World here."
Women in the World is in its seventh year and Brown picked a South Asian country this year because she felt that it is in the 'middle of a very exciting gender conversation'. She further explained the key focus of the event,
"One of the key areas of focus of this year's summit is women as peacemakers. In world full of chaos and terror, women, mothers, daughters, siblings, spouses can play a critical role in stabilizing the madness."