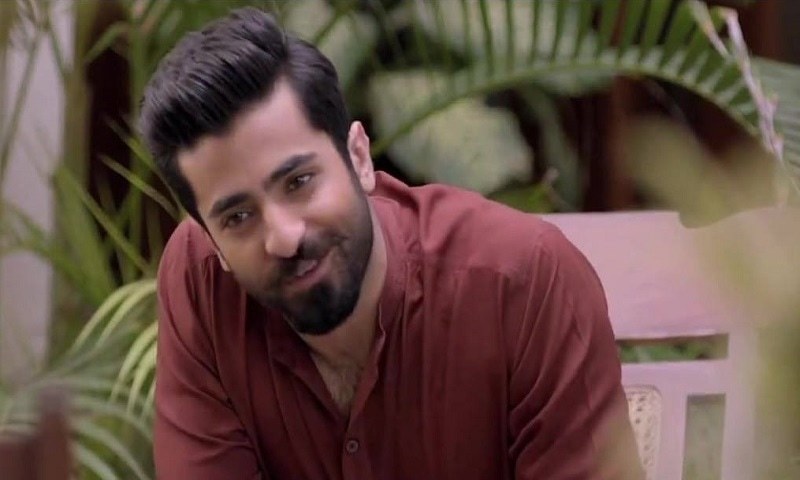 His 'Mann' is super busy these days as he juggles production, acting, direction, and of course his personal life!

Sheheryar Munawar, one of the lead actor and producer of Ho Mann Jahaan, is busy expanding his portfolio. He made his directorial debut with Sprite's recent advertisement after assisting Asim Raza on various projects.
HIP decided to sit down with Sheheryar Munawar and talk about Ho Mann Jahaan which is set for New year's day release. HMJ is primarily about friendship, experiences, family, and love for music.
HIP: How did you come into acting? Does it run in the family or it was your own choice?
SM: No, no...my family is all about finance! My father was an Air Force pilot, but after his retirement, he ventured into the field of asset management and is now a finance person through and through.
My sister is a business graduate as well. My elder brother who passed away two years ago was also an investment banker. I myself majored in finance from IBA. Lekin kehtey hain na, ke Ho Mann Jahaan!
HIP: Okay, so you started acting and then producing, but then direction too? Where did that come from?
SM: I always wanted to direct and believe it or not, I started acting only so that I could learn direction. But I soon realized that dramas aren't going to teach me anything; neither acting, nor direction.
It's a bit painful, but that's the state of affairs of our drama industry.
I got really lucky and started assisting Asim Raza two to three years back. I worked as a producer for him as well and this really helped me as an actor. When you're working behind the camera, you understand the whole process of creation and this consequently helps you become a better actor.
The idea was to show my hard work of those two and a half years on screen, hence, the Sprite ad.
HIP: Your best drama serial so far? The role that you enjoyed doing the most?
SM: To be honest, I wasn't happy with anything that I did in any of those drama serials. As an actor I'm very happy with Ho Mann Jahaan and I'm really looking forward to it. I think I've put in a lot of effort in terms of getting the homework done, learning the tricks of the trade, and getting under the skin of the character.
Who knows when you come for the next interview of mine for some other movie, six or seven months later, I would be saying Ho Mann Jahaan was the best! InshaAllah.
HIP: How did Ho Mann Jahaan happen for you?
SM: I was working with Asim Raza as an assistant director and producer since two years and everyone in the industry wanted Asim Raza to make a film, so, I sort of approached him and asked him that why don't we do a film?
Twenty years back, when The Vision Factory started, its main aim was to make films.
Anyway, things proceeded and then when the script was being read, Asim Raza asked me to act in the film too. Initially I was not supposed act in it, I was only going to be the producer of the film.
So I was chosen for the role of Arhaan. He's a hot headed guy, very ambitious youngster who has a few insecurities of his own, but he manages to overcome them through his confidence and attitude. HMJ, as you know by now, is a coming of age story. How Arhaan makes mistakes and then learns from those mistakes. It his journey of becoming a man from a boy.
HIP: Mahira Khan has a certain star value and has made a name in the industry; how was your experience of working with her?
SM: Mahira Khan is wonderful. We've grown to become very good friends. All three of us actually became really good friends. Two years ago we did a talk show TUC the lighter side of life, which was hosted by Mahira and me and Adeel went as guests. Even then, we three had great chemistry.
And over the course of this film, "hamari dosti buhat achi ho gai hai". We keep checking up on each other after a day or two. The great thing about our friendship is that it's translated on screen.
Coming back to your question, it was great working with Mahira Khan. She's a wonderful actress and a human being. She's got such positive energy on the sets. It's nice to have positive attitude around you, so on days when you're down that person cheers you up. And when they are down, you should be able to pull them up. That's the kind of relationship that the three of us had with each other.
HIP: How was your experience with Sonya Jehan, especially since this was her first film in Pakistan?
SM: Sonya is wonderful! She's a beautiful woman. The whole crew was in awe of her beauty. And when you meet her upfront, you realize that she's beautiful from the inside as well.
"Haseena to woh hain hi, lekin shakhsiyat bhi buhat haseen hai"!
She's very confident and strong, and I really appreciate strong women. She was such a breeze to work with. It didn't seem that we were working; we enjoyed every moment.
HIP: You have been working with Asim Raza for some time now? How would you describe your relationship with him?
SM: He is my mentor, my teacher, and my guru. "Aajkal sikhaney waaley ziada nahin miltey".
Not now, but 10 years from now, when I manage to become a big actor/director or a big name in any capacity, I would definitely look back at him as a person who inspired me.
He's just like a father figure to me and not just to me, but the entire team. "Daanthey bhi hain aur sabko pyaar bhi bohat detey hain".
I think not only me, but all three of us had a very fatherly relationship with him; although he's a tough boss and a very serious person when it comes to work. He's a perfectionist. We've worked 12 to 16 hours a day and MashAllah his energy never faltered. If I become a big director and producer in future, I will proudly say that I learnt from the best.
HIP: How did you join him as a producer?
SM: When I started working on advertisements with Asim Raza as a producer, there came a point when I really got on his case to do a film. He said yes, we'll do it, but it's a lot of work, and I agreed that it's a lot of hard work. I said, I can't do it alone and we'll have to share the burden. Asim Raza said, "Yeah, lets do it". And we did it!
While most of the time, I listened to him, there were instances when he agreed with me as well. I think when like-minded people come together then they automatically build up good understanding. In terms of taste and work, we both had the same kind of influences, so it was easy for us to work together.
HIP: Most memorable experience during the making of this film?
SM: I wasn't just an actor or a producer of this film. For the past one and a half year I was married to this project. So you can say during this time, I was in a relationship with this film. Due to HMJ, my own personal relationship suffered a lot because I was working 12 to 14 hours a day.
So I literally slept, I woke up and remained with this film. We celebrated each and every moment of this film.
When the script was written, we celebrated. When casting was done, we celebrated! When we started making music, we celebrated! When we made the first song, we celebrated! yeah, so we celebrated a lot!
Without this, neither the team would have stayed motivated nor me. This movie is made with lots of love and there's a lot of love amongst the team members.
HIP: What is Ho Mann Jahaan?
SM: The story is actually based on the same line. "Jis ka dil Jahaan per hota hay woh wahin pey hi kuch Kar sakta hai". Otherwise he/she stays mediocre the whole life. You can only achieve excellence and greatness, if you have your heart into something. That's the idea of the film.
HIP: HMJ is a story of three friends, what kind of friends? How can we, as audience, relate to them?
SM: They're inseparable. All three are the only child of their parents. They're just like siblings. Within that friendship there's 'jhagrey' and 'laraiyan', but at the end of the day their friendship comes out as the winner.
There'll be several instances when girls would relate to Maneezeh. Some would be able to relate with Arhaan, if not with Nadir. Each person who's watching the film will at some point or the other feel that this has happened with them or this is about to happen with them.
Youngsters would aspire to be part of the college life shown in HMJ, whereas, adults will have tears in their eyes as they'll remember the golden period of their lives.
HIP: You have worn the actor, assistant director, and producer's hat for HMJ; was it overwhelming for you as this was your first outing on the big screen?
SM: As far as direction is concerned, I only assisted Shaan Sheikh in Ho Mann Jahaan's Coke commercial. Shaan Sheikh has assisted in the overall direction of HMJ.
Wearing different hats was not at all overwhelming for me. See "agar karna hai to dil khol kar karna hai". You know I become a total "khabti" when I'm working. The craze of learning more, doing more, and that too quickly, motivates me. There were days when I went without sleep, without giving time to my family.
Every job [acting, producing, directing] has a different appeal. Production is the business side of this field and direction is the creative side.
HIP: Which of these three was more difficult for you to handle?
SM: Production! It's very difficult. Producer has to keep the whole shoot together. In films, everything happens simultaneously; shoot is happening, then there is music being produced, and the edits are also going on. Apart from managing all this, the producer has to handle the budget too. He's basically the project manager, just like a COO of a company.
HIP: Did you feel your work as an actor suffered because of other responsibilities?
SM: No, I don't think so. I did my homework. I was already in character, and I had that trust and faith in Asim Raza as director that he wouldn't let anything ordinary go forward. He's a perfectionist. I have that faith, I worked hard and left it on my director. Once he said it was okay, it's okay.
Also, I feel that a film is the director's medium. It's not an actors medium. Actors are puppets and puppet master is the director. Doing these things together in the movie is not something difficult when you have a mentor and teacher like Asim Raza. You'll see that on screen. I'm very blessed to have my parents, siblings, teachers, and my whole Ho Mann Jahaan team. God has been really kind to me.
HIP: What's next for Sheheryar Munawar after HMJ? Any other projects in the pipeline?
SM: I believe in doing one thing at a time. Right after this, I'll get back into advertising. Then there are couple of scripts that I'm reading. I plan to do one or two films this year.
I had a pleasant time chatting with the man with many talents. Hope you all enjoyed it too! If only we could fast forward the time and bring the calendar to 1st January, 2016.