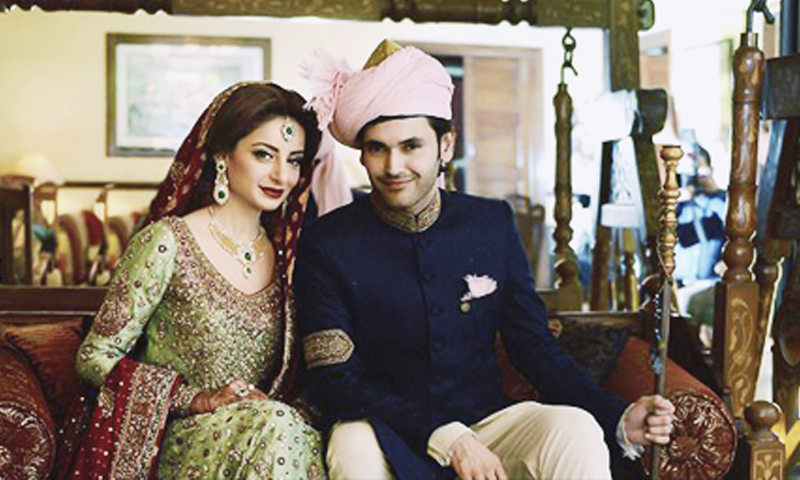 Fahad finds his wife beautiful and organized whereas Sarwat likes him in dari wale roles

Renowned actress Sarwat Gillani married her old friend and colleague Fahad Mirza in a high profile wedding in 2014. The birth of a baby boy earlier this year made their relationship even more special.
The celebrity couple talked to HIP and shared the best moments of their love story. Read on.
Where and how did you meet?
Sarwat: At a theatre play through a friend. Fahad: At a now extinct Sheesha bar, Damascas
How long have you been together?
Sarwat: Almost five years. Fahad: Around six years.
What do you call your partner?
Sarwat: Janu Fahad: Janu
What's the craziest thing you have ever done for him/her?
Sarwat: Spray painted on his house walls when we were dating. Fahad: Slept in a mosque.
Read: Sarwat Gilani and Fahad Mirza welcome a baby boy
Who gets up early in the morning?
Sarwat: We both do, after he goes to work, I go back to sleep . Fahad: I do.
What's the best gift you have ever given to him?
Sarwat: Myself. Fahad: My son.
What is the one thing that annoys you most about him/her?
Sarwat: I just hate seeing him getting busy with his cell phone all the time. Fahad: Tend to get worked up sometimes.
Who makes up first when you guys have arguments?
Sarwat: Mostly he does. Fahad: I do.
Favorite performance of your partner?
In the dari Wala role (the beard one). In drama serial Maat-e- Jaan Hai tu.
Three words to describe your partner?
Sarwat: Hardworking, romantic, and in love. Fahad: Beautiful, sexy, and organized.