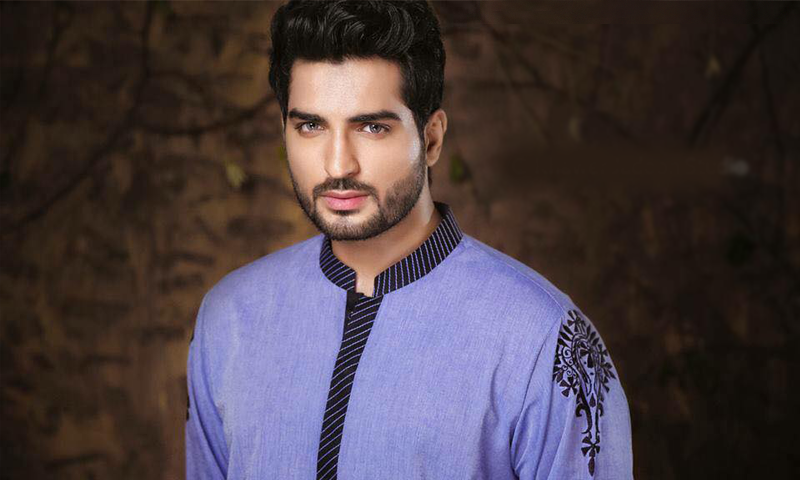 He is also a trained classical singer and loves to sing

A couple of weeks ago we reported that Agha Ali has been roped in as a lead actor in veteran Iqbal Kashmiri's next movie. We have now confirmed that the antagonist of the film is the ramp model Omer Shehzad. He is all set for a debutante performance as a villain in the film.
Shehzad told HIP that his role in the film involves a transition from positive to negative.
"I have been shown as a middle class struggler who couldn't win the love of his life because of poverty. Later, in an attempt to win her heart with money he gets involved in some bad business thinking big bucks will bring loads of luck to him, but whether it gives him desired results or not you have to go to cinema," said Shehzad.
This is going to be first appearance as a lead antagonist as so far he has done positive roles on television. The actor started his career as a model and soon became the preference of leading brands with his looks and charm.
Read: Agha Ali to play action hero in debut film
Kashmri Saheb noticed the Karachi based model in a recently released Mobilink commercial and offered him a negative role in his upcoming action thriller. The film also stars Shamoon Abbasi, Agha Ali, and Mathira.
The first spell of the film was recently been shot in Karachi where Shehzad shot some scenes with Mathira in a friendly environment.
The two also uploaded a video on Instagram singing a classic song and when Shehzad asked about it he said that singing was his passion.
"A lot of people must have not known that I am a trained classical singer and love to sing. As far as that particular video is concerned, Mathira forced me to record it with her and it became so popular that everybody was asking about it," he added.
So are there any chances that he would sing a song or two in the movies, especially when Agha Ali has already confirmed to us that he has a solo number in the film?
"No, I haven't sung any song for this film, but in my future projects my fans will see me lending my voice for OSTs and filmi numbers," he added.
While Shehzad shared this exclusive information with us we wished him all the best for all the future projects, but for now check out his singing abilities in these two videos: