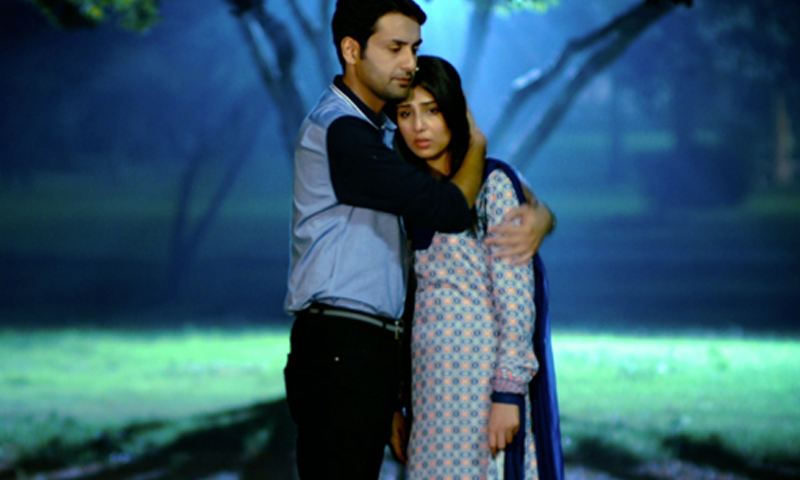 Two episodes down, 'Bheegi Palkein' is another 'nand-bhabhi larari' story

Two episodes down and I'm still waiting for something dynamic to happen in A-Plus Bheegi Palkein. The drama starts on a filmi note with a hero meeting the heroine in a rainy scene outside the medical store and rest follow a jhat phatt shadi and us ka anjaam.
Directed by Furqan Khan and written by Nuzhat Saman & Mansoor Ahmed Khan, the lead cast includes Faisal Qureshi, Ushna Shah, Affan Waheed, Faryal Mehmood, Shamim Hilali, and Ismat Zaidi.
My reason to opt for serial was obviously the Bashar Momin jodi – after a successful serial Faisal Qureshi and Ushna Shah have teamed up again for Bheegi Palkein and joining them in lead is another terrific actor Affan Waheed.
Read: Faysal Qureshi and Ushna Shah reunite in A-Plus's 'Bheeghi Palkein'
Two episodes down however, I wouldn't be wrong to say that this looks like another nand-bhabhi larari serial than anything else. Before saying anything more l let me give you a brief synopsis into the two episodes.
A quick recap
It is a story of Mehrbano (Ushna Shah), a young and gharib larki who lives with her mom (Shamim Hilali). The first episode starts with her dramatic meet-up with a stranger, named Umer (Affan Waheed) at a medical store in a stormy night when the girl doesn't have Rs 100 to pay for her mother's medical bills. The boy comes and rescues her by offering her a petty loan of Rs 100. Later, the two coincidentally meet at different places including a bus stop and at the same medical store again.
Umer is an ideal brother and a son who lives with his ladli behan (read spoiled cum materialistic) Fareeha, play by Faryal Mehmood and mother Ismat Zaidi.
Fareeha has a rich friend Ayesha whom she plans to make her bhabhi, but her brother has fallen in love with (according to Fareeha) asarak chap larki which she doesn't take easily.
Umer proposes to Mehrbano on one such coincidental meeting and eventually sends the official proposal with her mother's consent. Despite several attempts made by Fareeha to not let the wedding happen, they finally get married
Now finally Mehrbano has entered the home as a bhabhi and Fareeha's only mission is to send her back to her mom's home.
Another run-of-the-mill serial hits home
Although the drama is moving with a fast pace due to the shadi happening in the very second episode, the overall script is way too familiar. Ushna Shah is once again playing a masoom larki and who according to her mother, has 'chirya ke jaisa dil.' Waise she might be masoom, but does that mean not having any brains? She readily accept a roadside marriage proposal and sends "love you too" messages to a one night old fiance; are you serious?
Now comes the chalakian of Fareeha – this lady is totally unbearable at times; in fact at one point I couldn't resist wanting to give a tight slap to such a materialistic girl who doesn't mind setting aside her brother's wishes just to fulfill her own selfish demands. her mother wanted Fareeha to marry Hassan – a feudal lord and her cousin, but no, that was unacceptable to her. Instead of concentrating on her life, she'd rather make plans to destroy her brother's marital life.
Acting wise Affan Waheed undoubtedly looks convincing and is in character completely. This is the first time I have been watching any of his dramas and I totally love his performance. Apart from Ushna Shah, all other actors perform well too. In the first episode Shah appears to struggle a bit, but in the second one she is much better.
The main UPS of the play, Faisal Qureshi's entry, has yet to happen. So far the story is flowing smoothly so let's see how the story unfolds in the next episode.