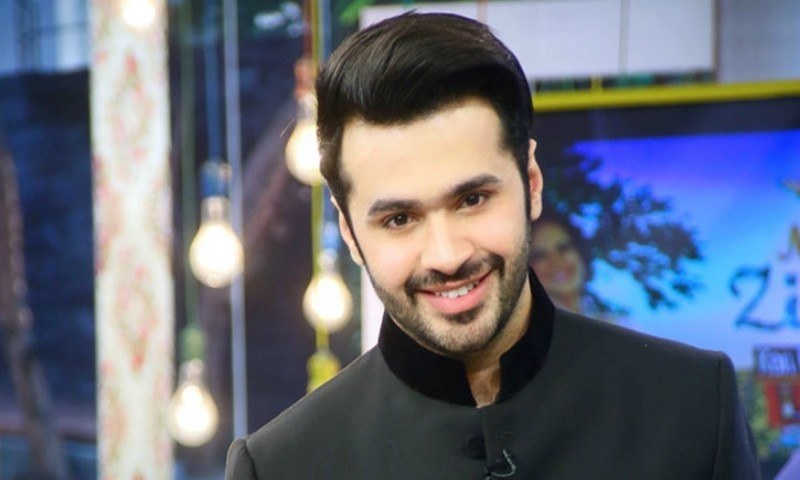 With 3 films under his belt, the actor wants to focus on quality films.

Saim Ali made waves with his song and dance with 'the' Meera Ji on his morning show with Noor Bukhari and later became part of Pakistan's Bigg Boss, or better known as Madventure. He is one young lad who is going places. In an exclusive exchange of ideas with the man of all trades, I spoke to him about his debut film Tum Hi Tou Ho opposite Danish Taimoor and Mathira, along with his thoughts on entering the showbiz industry and more.
Tell me about your debut film Tum Hi Tou Ho and what it is about; what expectations should we have?
It's a soft love story with lots of fun elements in it; glitz, gloss, and glamour. You'll get to see several dance numbers and comedy scenes as well. The story which involves me starts with a dance party where I'm high and love a girl called Lucky who has a crush on me, but looks like a Pushto heroine; she is over-weight, speaks in a hilarious way, and has blonde hair. Sangeeta Aapa cast her specially for the comical portions in the film as she later starts seducing me and tries to commit suicide when I ignore her.
On the other hand Mathira plays a negative role in the movie; she happens to love Danish Taimoor, but he loves a girl called Qurtulain who works in the library belongs to a middle class family, whereas Danish is incredibly rich. So all the drama is interconnected in a college, I won't be able to reveal anything else but you'll have to wait until it releases on Eid-Ul-Fitar next year.
Do you think this kind of genre will be welcomed in Pakistan, considering the drunk scenes and item songs?
Of course; people are now very liberal. The local cinema has become very commercial and Jawani Phir Nahi Ani is a very clear answers to all such questions - people are getting drunk and dancing with women on the beach and look at the way it has performed at the box office; it broke all the previous records becoming the highest grosser in Pakistan. And it's about time we attract our audiences to local productions. They might as well watch a very masala filled Bollywood film, because that's what people want to watch! But films like Manto are also doing great so I'm really very happy to see the Pakistani film industry boom like this.
So tell us something about your upcoming projects; what are you currently up to?
Well obviously I'm shooting Tum Hi Tou Ho right now and it will be released sometime next year. I did a promotional club song with the new girl on the block, Uzma Pervez for Farouq Mengal's film Hijrat, it is sung by Ali Azmat and has a very catchy tune. As the film has been bought by HUM TV, my song would go on air soon and Hijrat will release on the 7th of January. Then there is the drama serial Heer for Geo TV which will go on air on the 25th of November and stars myself along with Seemi Pasha among others. I also did a couple of commercials which would go on air this week. I'm happy with what I'm up to,
My plate is full and I'm concentrating on my work and my looks, I go to the gym after pack-up, so I'm very satisfied with work at the moment.
What sort of films do you intend to do in the future?
Well I won't be able to discus my second film right now, but all I can say is that I will be venturing the intellectual and serious side of acting for the first time. The film that I've just signed is being directed by Farouq Mengal and is based on a true story of a young politician. We'll start shooting in the mid of January once Hijrat releases. The character I portray is the total opposite of the one I'm playing in Tum Hi Tou Ho and I'm keeping my fingers crossed for the both of them. hopefully I'll do a good job.
People loved you as a morning show host and reality show contestant; would you continue doing that in future or you'll be focusing on acting?
That was all part of growing up in the industry, I was venturing into everything to see what works for me, but I'm very passionate about acting, that's what I've learnt now and I think I'll pursue it as a career. Though if I get a good opportunity to host another morning show I'd love to do it. My fans haven't seen me act yet and they have given me a lot of love as a host, but right now my main focus is on doing quality films.
What would be your message to the HIP readers on an ending note?
Be Pakistani, be yourself, and have faith in yourself. Respect your parents and I have a special message for the youth; say no to drugs, Pakistan needs you so try presenting a softer image of our country. I'd also like to thank team HIP for letting me speak my mind and share my thoughts, it's truly my favourite blog!