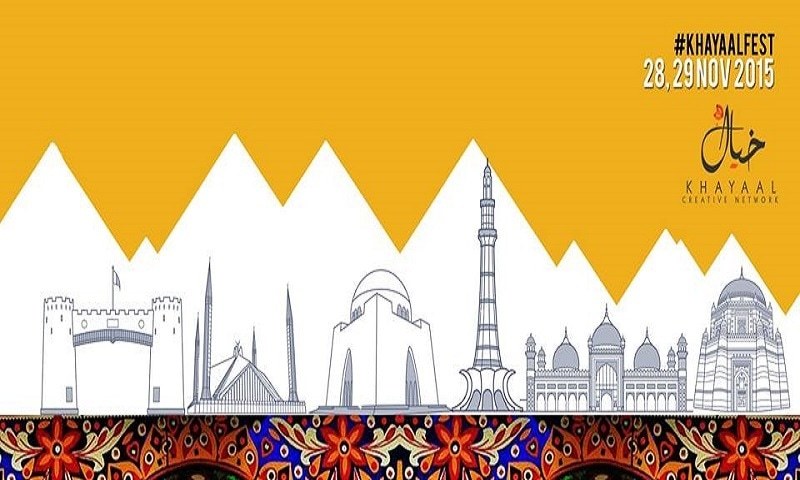 Ahmed Ali Butt, Jibran Nasir, Samina Baig, Sarmad Khoosat, Vasay Chaudhry, and Tahira Syed will participate in talks.

The Khayaal Festival 2015, in collaboration with the Alhamra Arts Council in Lahore, is scheduled to take place from Saturday November 28th to Sunday November 29th.
The core theme for the Khayaal Festival 2015 is Pushing the Boundaries; a theme which will be reflected in all sessions and performances.
The festival aims to promote dialogue through a series of talks, performances, and documentaries ranging from politics, culture, economy, art, dance, music, literature, empowerment, identity, and sociopolitical issues.
The festival will explore various topics including, but not limited to, talks on Punjabi poetry, women writers and writing, Pakistani literature over the years, and the concept of boundaries. Furthermore, they will also hold discussions on Afghanistan and the challenges of Central Asia, revisiting the new world order, the topics of exile and asylum in today's world, the post revival of Pakistani cinema, art in public spaces, and Lahore's drastically evolving socio-cultural landscape.
The festival will include performances by Nighat Chaudhry, Mekaal Hassan Band, and Khumariyaan. Documentaries will also be an integral part of the festival, featuring the works of renowned documentary filmmakers including Samar Minallah, Mina Keshavarz (from Iran), Lubna Dajani (from Jordan), and Nisar Malik.
There will also be a live reading session of letters from prisoners through the years.
The two-day event is open to the general public and the complete schedule for the event is as follows:
This year's participant lineup is diverse and includes foreign speakers, drawing on literature, poetry, film, drama, language, documentary, art, music, and current affairs. Some of the well-known participants are Ahmed Ali Butt, Jibran Nasir, Samina Baig, Sarmad Khoosat, Vasay Chaudhry, and Tahira Syed.
Rest of the participants are as follows:
Aamer Hussein (UK), Abdullah Qureshi, Abdur Rauf, Adnan Sarwar, Afiya Sheherbano, , Ajmal Kamal, Ali Akbar Natiq, Dr. Ali Cheema, Ali Habib, Ali Hashmi, Allahditta Yunawala, Dr. Andrew Small (UK), Anum Husain, Dr. Asad Hassan, Dr Asad Sayeed, Asif Farrukhi, Anum Zakaria, Atta Ul Haq Qasmi, Atif Khan, Ayesha Amir Ahmed, Ayesha Jatoi, Dr. Ayesha Siddiqa, Aysha Raja, Aziz Sohail, Bidishah, Bishakha Datta, Bilal Hasan Minto, Bushra Gohar, Ehtisham Zahid, Erfan Khoosat, Ejaz Haider, Fahd Hussain, Fahd Mallhi, Dr. Faisal Bari, Farida Batool, Farjad Nabi, Dr. Farrukh Khan, Dr. Fatima Hassan, Harris Gazdar, Haroon Khalid, Hussain Naqvi, Imrana Tiwana, I. A. Rehman, Iqbal Qaiser, Jamal Rehman, Jami, Jawad Sharif, Kamil Mumtaz, Kashif Baloch, Krishen Beel, Lubna Dajani, Madhya Leghari, Mariam Hussain, Marvi Memon, Marvi Sirmid, Maryam Wasif, Meeran Karim, Mehreen Murtaza, Mina Keshavarz (IRAN), Mina Malik Hussain, Mira Hashmi, Mobeen Ansari, Major (r) Muhammad Nasir, Mujib Shami, Munib Iqbal, Musharraf Ali Farooqi, Mushtaq Sufi, Mussarat Masshadi, Nadia Afgan, Nandita Das, Brig (r) Naeem Ahmad, Naeem Tahir, Naazish Ataullah, Nour Aslam, Justice (r) Nasira Iqbal, Nayyar Ali Dada, Noor ul Huda Shah, Dr. Osama Siddique, Qasim Jafri, Quddus Mirza, Qudsia Rahim, Rakea Jamil, Raniya Hosain, Rashid Rana, Reza Mohammadi (Afghanistan), Riaz Kokhar, Risham Hosain Syed, Saba Eitazaz, Saba Farid, Saba Khan, Sabir Nazar, Sajid Durrani, Sara Kazmi, Shaanzae Shahid, Shahid Malik, Shahrbanou Tadjbakhsh (FRANCE), Shakila Haider, Shehla Sanwal, Shekhar Gupta, Sonu Rehman, Surraiya Multanikar, Taimur Rehman, Vladimir Boyko (RUS), Walid Iqbal, Zar Aslam, Zeba Sattar, Zulfiqar Ali.