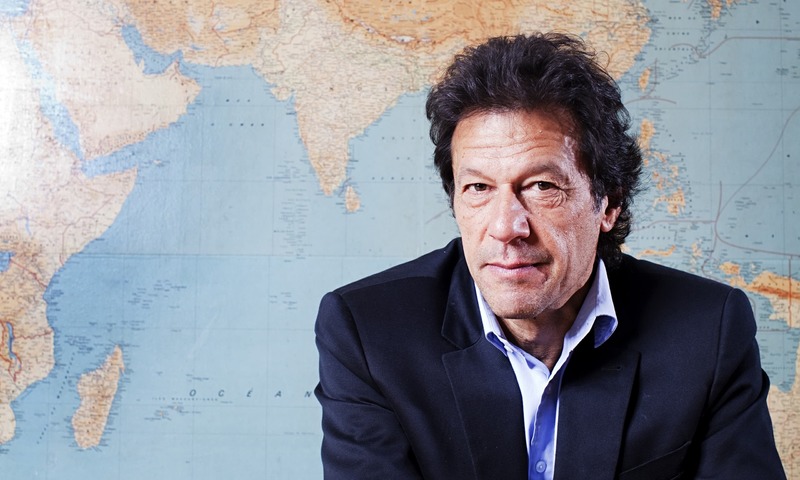 Khan's 'Sunehray Din' turned into 'Gulzar', but dharna turned out to be 'Lahasil' and finally 'Tanhaiyyan' crept in.

While Imran Khan is busy thinking how to pre-pone elections and collect 80 crores to complete Shaukat Khanum Hospital in Peshawar, we at HIP feel he needs to sit back and have a look at his life and make it better.
To make this process easier for him; I have summarized major milestones of his life into drama titles. He can thank us later.
Let's begin.
---
Sunehray Din
Those were the days. Khan was studying at Oxford University, playing county cricket in England, and we had a great captain in the making. Although he was an underdog compared to his cousins like Majid Khan (according to Khan in many interviews), but his din certainly were sunehray.
We won the world cup in 1992 and he started building Pakistan's first cancer hospital Shaukat Khanum Memorial hospital.
---
Ulloo Baraye Farokht Nahi
A clip of Nawaz Sharif offering Imran Khan a place in his party did rounds a few months ago and Imran Khan's smile says what Amna Mufti's hit drama's title said.
---
Humsafar
In 1995, he found the perfect Humsafar in Jemima Goldsmith. He, a handsome (retired) cricketer who had recently led his team to become world champions, and she, a young girl in her 20s'; the age gap did disturb a few, but Goldsmith and Khan were in love! And Pakistanis welcomed Jemima Goldsmith as bhabhi with open arms.
---
Jeena Dushwar Sahi
In May 1996, Imran Khan launched his political party Pakistan Tehreek-i-Insaaf and his jeena became way too dushwar.
---
Khuda Dekh Raha Hai
In 1996, Imran Khan won the case against Ian Botham and Allan Lamb who lost their libel action against him over allegations of race, class, and ball tampering in London's High Court.
---
Firaaq
Jemima Goldsmith left for London and the two filed for a divorce in June 2004, putting an end to the fairy tale, resulting in two beautiful people spending the rest of their lives in firaaq.
---
Rehai
In 2007, Imran Khan faced his first house arrest when he protested against then president Pervez Musharaf's rule. He soon got rehai though.
---
Zindagi Gulzar Hai
The Lahore rally set the pace for Imran Khan's election campaign for the 2013 general elections. His party emerged as the second most popular party (in terms of votes) in the elections. Khan accepted the results and formed a coalition with Jamat-e-Islami in Khyber Pakhtunkhwa. Zindagi certainly was gulzar, but little did we know a chaand girhan (lunar eclipse) was on its way.
---
Rubaru
Imran Khan decided 'enough is enough' and he had to come rubaru to Nawaz Sharif and his political party. After pondering on the issue for a good one year, Khan had decided that rigging had indeed taken place and something had to be done about it. He called his supporters on streets and staged a dharna in Islamabad.
---
Sadqay Tumhare
Imran Khan and his party members, who had made it to the parliament decided to send in their resignations. Senior political leader Javed Hashmi insisted this wasn't democratic at all (although he resigned too), PTI supporters said, "sadqay tumhare." So, Hashmi's sadqa was given, he left PTI and the rest parliament.
---
Lahasil
The PTI chairman may say that the dharna was successful and it certainly was, in terms of longevity, but did any major change come out of it? I don't think so. Electoral reforms could've taken place in parliament also, so the dharna was a wee bit lahasil.
---
Saat Pardon Mein
Rumours regarding Imran Khan's marriage to Reham Khan surfaced, but were turned down by the PTI spokesperson. Finally in January 2015, their relationship came out of the saat pardey and the couple decided to announce it publicly.
---
Zidd
Once the protest was over, everyone thought that was the end of it, but Khan had other things on his mind; he entered the parliament, but said he would only stay there if the election tribunal investigated the four constituencies. His zidd continued.
---
Tanhaiyyan
While Khan was busy trying to de-seat, PML-N leaders Ayaz Sadiq and Khwaja Saad Rafique; rumours regarding disagreement between him and Reham Khan started doing rounds. Nobody wanted to believe this, so nobody did. But it turned out to be true.
Khan is now all alone in his house in Bani Gala, and we wonder why can't kaptaan live a happy life? He surely deserves one, after all the effort he puts in to make Pakistan, Quaid-e-Azam and Allama Iqbal's Pakistan.