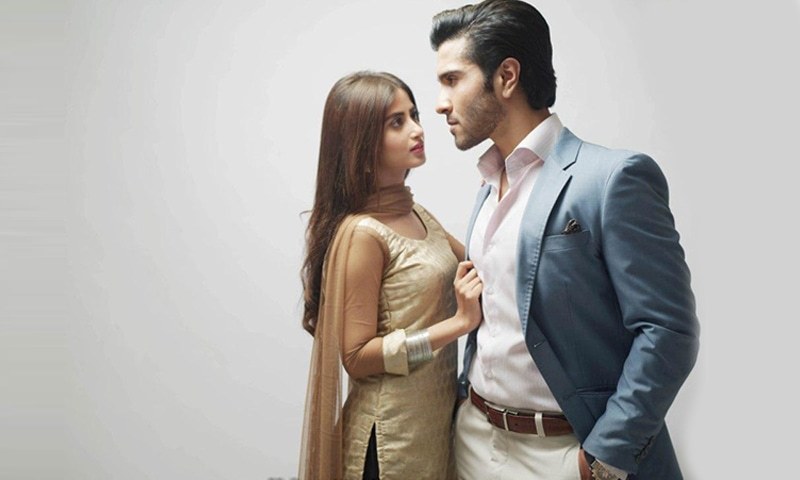 Adeel's "Chup, chup ill-mannered larki" was the highlight of the episode, but came at the very end.

It still hasn't broken into a run, but I'm expecting it to go all out from next week.
The biggest factor to support this prediction is that Gul-e-Rana (Sajjal Ali) and Adeel (Feroze Khan) finally met at the very end of the third episode. Now we'll get to see how their story proceeds, and how phuppos and their daughters play the zaalim samaj. I expect the pace of the drama to increase (or else my interest in the serial will decrease).
Read: How was 'Gul-e-Rana's' 2nd episode? Umm..
Let's first discuss what happened in the episode and then we can go on to analyse the acting, direction and script.
The episode started on a sad note with Gul-e-Rana and her family deciding to leave their home and Abdul Aziz's memories behind in Hyderabad and moving to Karachi with Taaya abu (Mehmood Akhtar). Meanwhile, Adeel, very conveniently decides to go all the way to Murree to have a cup of tea. So the cousins don't get to meet.
Maria – bari phuppo's (Samina Ahmed's) daughter finds a way to spend a few days at Adeel's place and annoys him with her chipkoo-ness. Laila and choti phuppo, on the other hand, plan on how to divert Adeel's attention away from Maria and towards Laila.
But as soon as Gul-e-Rana and her family reaches Karachi; bari phuppo and choti phuppo's forces unite against them and they arrive to throw some warnings like, "ye mat samajhna ke tum aur tumhari yahan qabza karlogi" at Gul-e-Rana.
Maria and Laila were their usual annoying selves, so full marks to Sundas Tariq and Sadia Ghaffar for portraying their characters perfectly. Samina Ahmed plays the cunning elder sister with her usual ease by delivering dialogues like, "Tum ya adeel hote ho tou alag baat hoti hai. Tum nahi hote tou bas…khair tumhara khuamakha dil kharaab hoga," to her brother.
The brother also gives the desired reaction by saying, "Mein bardasht nahi kar sakta meri bowo meri behno ke saath bura sulook kare." But he says this without emotion as if it's his duty. I feel he knows deep down how cunning his sisters are and he even berated their useless children in last episode. Mehmood Akhtar is a pro so he conveys his distaste by a slight arch of an eyebrow or an odd look, while maintaining an even vocal tone.
Sajal Ali is portraying the role of elder sister (although she doesn't looks like one) expertly. There's no screaming and crying when her father dies. She's buys being strong for her mother and sister. I almost cried when Gul-e-Rana hugs her mother (Rubina Ashraf), as the realization dawns upon them that now this room in Taaya's house is their life and Abdul Aziz is not coming back.
But Gul-e-Rana is not the one to sit and cry; off she goes, with Asher bhai, the next day to apply to a university. The surprising thing is that this very 'prestigous university' doesn't have an admission test or anything. You visit with your mark sheets and you get in.
Leaving the technicalities aside, I'd really appreciate it if Asher bhai stops talking like PTV. If PTV was a person then it would definitely be Asher bhai. He has his own set of issues with his father always creating noise pollution and blaming his mom, who by the way is Gul-e-Rana's khala.
Gul-e-Rana visits her khala after the admission and witnesses the war-zone-like atmosphere and thanks the lord that her Taaya abu and his wife (Farah Shah) are nice people. Never mind the phuppos; they're only visitors.
So, while she's being thankful in front of her sister, Adeel decides to call home and guess who pick up the phone? Gul-e-Rana! Here is the conversation:
Adeel: Hello Adeel baat kar raha hoon.

Gul-e-Rana: Taaya abu ke betai Adeel baat kar rahe hain?

Adeel (ignoring the question totally): Aunty ya papa hain wahan?

Gul-e-Rana: Nahi who bahar gaye hain. Aap un ke cell pe call karlein. Aap kaise hain? (She takes another stab at polite conversation)

Adeel (again ignores her effort at small talk): Okay, bye.
This person (the hero) is straight forward to the point of being rude. He is also kaano-ka-kacha. Maria gives him a call (when he's in Murree) to backbite about how Gul-e-Rana is trying to take over his house, and he listens and even says, "Mein wapas aakar sab theek kardunga."
The way he openly berates Maria and realizes that his phuppos are just being greedy; I don't understand why he's keeping up with it. And not just keep up, he defends them in front of aunty (in first episode) and looks like he believes in their shoddy accusations against Gul-e-Rana and her family. Adeel and his dad are intelligent people running a successful business why don't they keep the negative influencers at bay?
That is a question which Farooq Rind and Samra Bukhari will answer in upcoming episodes. Also, they need a few negative people around to create misunderstandings between the lead pair.
If you guys are waiting for me to narrate the 'Chor Chor' scene then forget it because it was shot very clumsily.
It's the middle of the night. You are standing all alone in the dim-lit kitchen. A total stranger suddenly pops up out of nowhere. What do you do? Scream at the top of your lungs and zoom away from him (even if he is quite good looking).
Or, in worst case scenario, you stay rooted to the spot and your vocal chords refuse to produce a single vibration (sound). But Gul-e-Rana did nothing of this sort when she spotted Adeel standing there in all his handsome glory.
She ran towards him. A flimsy belan was her weapon of choice. She did yell, but not too convincingly. It looked as though she was amused at the idea of seeing a handsome chor. I don't blame Sajjal Ali for playing an unconvincing scared girl. It is the director or writer who didn't give her the right instructions.
Ali gave her best by widening her eyes and looking scared. Feroze Khan was awesome with his, "Chup, chup, ill-mannered larki!" But that's about it. The scene had margin of improvement. Loads of it.
Maybe, the makers were going for the 'fight or flight' theory and Gul-e-Rana chose to fight…with a belan. Not a knife or a meat tenderizer. A belan. I agree that dramas don't really need to be realistic. Saniya (in Tanhaiyaan) wasn't being realistic when she shut Qabacha up in a cage. Neither were Zoya and Anji, when they headed to that supposedly empty house in faraway land in Dhoop Kinarey.
In both these serials, the director had established that these characters (Zoya and Saniya) were fearless. In Gul-e-Rana, Farooq Rind hasn't yet established this yet. Yes, we often see Asher bhai and her abbu (in flashbacks) telling Gul-e-Rana that she needs to be strong. But we need the director to establish this through situations, not through other people's dialogues.
It is a good story line and the characters have layers. I'm hopeful that the drama serial will pace up and I'll enjoy watching other characters too (Phuppos, Asher bhai,etc) except for Gul-e-Rana and Adeel.
Read: Gul-e-Rana starts on a sad note