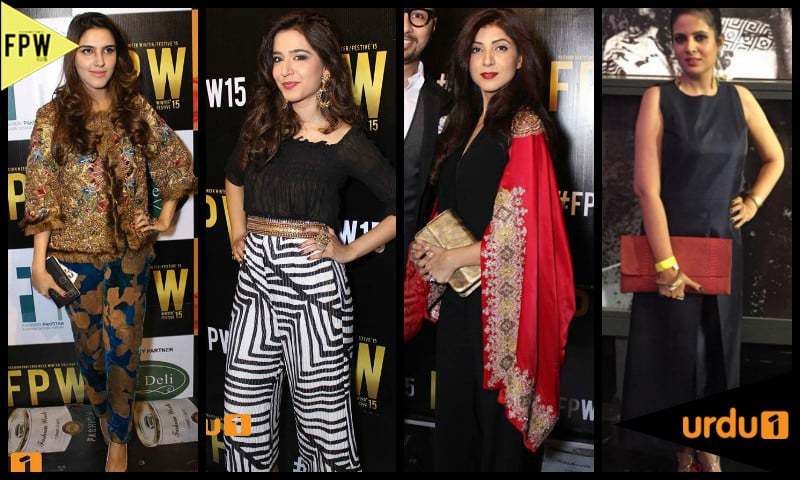 While red carpet of day one was all about Shehla Chatoor, day two had a mix of designers and trends.
The fashionista inside the attendees finally woke up. The style quotient was definitely high on day two of Fashion Pakistan Week Winter/Festive 2015. But most of the style statements came from journalists or design house people, not our regular 'fashionistas'.
From statement pants, culottes, to fur coats; we saw some serious trends on the red carpet. Here are our top picks.
Read: Guess who are the showstoppers for Day 2 of FPW15?
Sahar Zafar
Elan girl Sahar Zafar wore Elan. While sheer pants were quite the thing back in 2012, but Zafar made it to our list by pairing sheer pants with a colorful, embroidered crop top and a black blazer. Her no nonsense list was quite a hit at the red carpet.
Nikhar Riaz
Nikhar Riaz of Sunday Times wore Sana Safinaz. She paired her statement pants paired with a fully embellished coat which was lined with fur. The ensemble yelled winter/festive and some might consider pairing a printed pant with embroidered jacket too much, but I loved her overall look.
Mansha Pasha
Her monochrome look in Maheen Ghani Taseer was total win. Her exquisite jewels added the oomph factor while the black and white printed culottes are now on my lust list. She walked the ramp for Nida Azwer and there too she rocked the dhoti pants with a peplum-cut kameez. Her trend game was on-point throughout the event.
Sonia Khan
Sonia Khan looked fresh as ever. She decided to pair a black jumpsuit with a red embroidered cape. Sounds good? It looked great too. She made an appearance in this attire and the prefect blow dry with Nomi Ansari.
Natasia Khalid
The off-shoulder Greek-goddess gown is one classic style which never goes out of style (even if it's in black instead of white). Natasia Khalid paired this Ayesha Farooq Hashwani gown with cigarette pants and made use of the peak-a-leg style of the gown. I just wish she had worn a bright lip colour.
Sadaf Muneer Jalil
Uff! I loved her look! The statement Sana Safinaz pants stole the show and her decision to pair them with a muted top and a dull-gold belt was good strategy. She accessorized to perfection too with Louboutin shoes and a Louis Vuitton mini briefcase clutch.
Anam Mansuri
The grey Delhpi crocheted long shrug clenched at the waist with a belt is definitely making to many wardrobes this season.
Nina Kashif
Urdu1's representative looked fabulous in her fashion-meets-business attire. She wore Wardha Saleem' white pants and paired it with a turquoise jacket. The intricate stone work on the pants and the jacket add a little bit of drama.
Alizeh Pasha
She's on this list primarily because of that funky Sana Safinaz clutch and that fur gilet. Maybe she could've replace the black maxi with an off-white one to kill the dreary-ness of that grey.
Amna Niazi
Siddy Says Managing Editor, Amina Niazi wore Saira Shakira, but the hihglight of her look were her Sophia Webster heels. These heels remind me of our pom pom kohlapuris which were all the rage a few years ago. Outhouse jewels completed her look.