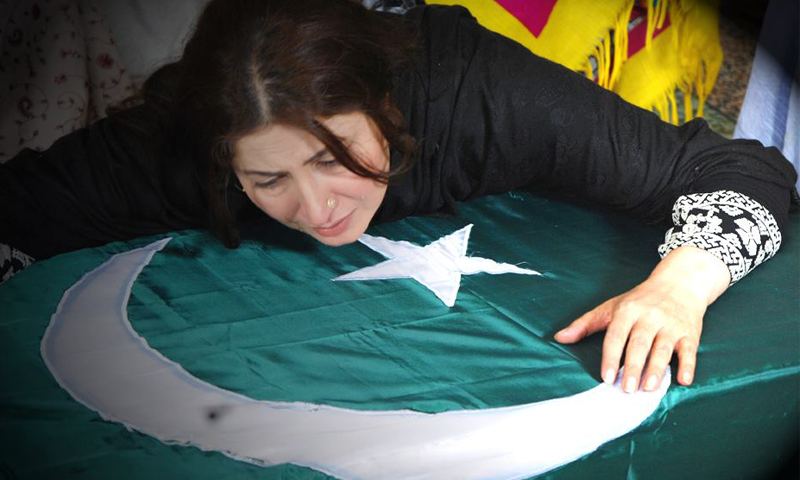 The shoot of Shaheed Atizaz Hasan's biopic Salute is almost complete and the film is slated to release in early 2016.
Directed by Shehzad Rafique, the film stars Ajub Gul and Saima in the lead roles. The film's Assistant Director Hasnat Afridi told HIP that the last spell of the film will begin in the coming week.
"Almost 90 percent of the shoot is complete and we are now heading to Dubai in three to four days to complete the remaining scenes," he said.
Talking about the cast of the film, he explained that since Salute portrays the life of people living in Peshawar, they opted for people who fit the role.
"Ajub Gul is a seasoned actor and is well aware about the language of the region. He is familiar with the norms too, so obviously he's the perfect perosn to play Aitzaz Hasan's father in the film. Film actress Saima again is a big name of our industry and her acting prowess doesn't need any introduction, so we took her on board to play the role of an emotional mother in the film," he said.
Afridi also told HIP that the film's post production will be done by state of the art studios in America or Bangkok.
According to a press release issued earlier, the director Shehzad Rafique shot an important sequence in Lyari, Karachi under Rangers' supervision, a few days ago. The four-day shoot schedule was action-packed and intense as the cast and crew roamed the streets of Lyari which was once a no-go area.
Read: Shehzad Rafique's 'Salute' honors Aitzaz Ahsan
After the shoot in Lyari was complete, Shehzad Rafique expressed immense pleasure and relief:
"I am exhilarated. I had a dream to shoot in Lyari as the dynamism of this area fascinated me. But some of my peers said its not possible due to security reasons. But here we are ! Thanks to Pakistan Rangers , we have successfully wrapped up the sequence in four days", he said.
He also thanked the people of Lyari for their immense co-operation during filming and also his crew for working with utmost dedication after a tiring schedule in Hangu.
Salute is actually an effort to pay homage to the Pakistani affectees of the ongoing war against terror. The movie particularly follows the tragic tale of a brave young martyr Aitzaz Ahsan - a ninth grader who lost his life while trying to stop a suicide bomber from entering his school in KPK, saving the life of 2000 students. The film is primarily shot in Mirpur and Kotli in Azad Kashmir.