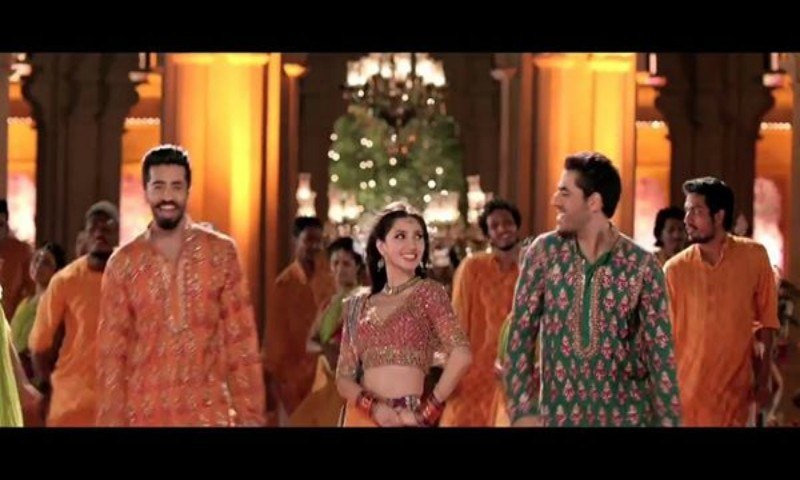 Still haven't recorded your own dance video? Well, about time you did!

Shakar Wandaan had been my go-to song whenever I would be in a festive mood ever since Asrar sung it in Coke Studio Season 7. Add to that some uber gorgeous looking people with those nazar na hatne wale ensemble and of course those amazing moves, and I just knew that this 'Ho Mann Jahaan' soundtrack is going to make it big and boy was I right!
As soon as the makers of the much awaited movie released the grand promo of Shakar Wandaan Re, the star studded cast and director started doing everything possible to promote their baby. One of their innovative strategies included a Dubsmash dance contest which almost the whole country is going crazy over; some of the most popular celebs too mind you!
What do the winners get you must be wondering? Well, a chance to meet the team of Ho Mann Jahaan and attend a special concert with them. How awesome, no? The prize aside, the whole Dubsmash episode has more to do with the stir this contest has created on the social media and nobody, I repeat, nobody wants to feel left out (honestly, even I myself am thinking of making my 2.5 month old baby groove to the moves, no kidding)!
So, we decided to let our readers take a look at some of the most impressive Dubsmash videos. And yes, all those who haven't recorded one of your own yet, consider it a motivation post on our part and do it at the earliest, who knows, you might end up being the lucky chap!
In the meantime, enjoy this supercool video compilation:
Ali Azmat does it 'Movember' style
The rock icon who is is probably now celebrating Decem-beard with Movember over, decided to flaunt his overgrown 'stache moving to the tunes of Shakar Wandaan and honestly we are enjoying it quite it a lot.
Anwar Maqsood's thumkas are the bomb!
Move aside Mahira, Shaheryar, and Adeel because the legendary Anwar Maqsood's moves are giving the spirited number an even more fantastic feel.
Javed Sheikh doesn't hold back either
Sana feels she can do it even better than Mahira
No, promise we didn't make the caption up; it's her Dubsmash video, which the actress has taken a tad too seriously, which is saying it all.
Mathira adds more flavor to it with her 'muah'
Yes, the mommy made sure she didn't miss out on this excitement too and her graceful moves aside (for the first time) we loved how she ended it with her flying kiss.
Since the industry stars aren't the only ones having fun with this, here are some videos from across Pakistan;
And the best one yet...even cats like to dance to the song!