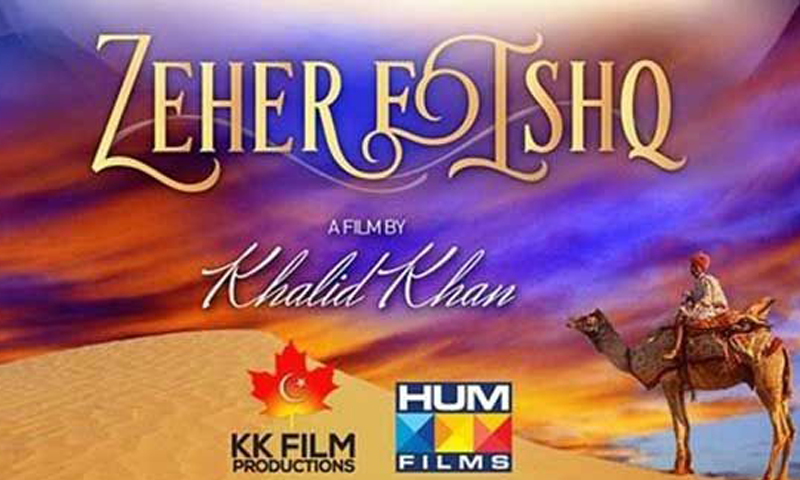 'Zeher-e-Ishq' is the second film after 'Bin Roye' releasing under the Hum Films banner

The luxurious Marriott Hotel was been beaming with lights as actors gathered to extend their support to television director turned filmmaker, Khalid Khan for his upcoming film Zeher-e-Ishq.
The event was graced by the presence of Turkish Consul General H.E. Murat M. Onart, who welcomed the prospect of collaboration between Pakistani and Turkish artistes. President Hum Network Sultana Siddiqui and Vice President Hum Films Badar Ikram expressed their delight at being associated with yet another cinematic venture after the success of the Network's previous film. Also present on the occasion were the film's music director Waqar Ali, writer Muhammad Asif and director Khalid Khan. The event kicked off fashionably late with celebrities making late arrivals on the occasion. However, the director Khalid Khan was the first one to reach the spot on time, so taking advantage of the situation we spoke to him.
"It is based on teachings of Maulana Rumi. The script has been written by Mohammad Asif whereas my wife is producing it under KK Film Production", he said.
It is going to be Khan's debut film project, but he has worked on several dramas including ARY Digital's Bhar Day Jholi, Geo's Shikwah and ATV's Anokha Bandhan. Apart from directing dramas, he has also written OST lyrics of Anokha Bandhan and Kunwari Mariyam - both sung by ghazal maestro Rahat Fateh Ali Khan.
The director preferred not to reveal the film's main cast, but did add that it would be a character based film and hence involved a lot of actors including Dainsh Taimoor, Maira Khan, Sana Nawaz, Tipu, Shabbir Jan, and many more.
Here are five reasons to look forward to this wonderful film
1. It is based on sufism
Zeher-e-Ishq is based on the teachings of Maulana Rumi and its main plot is around sufism. The film will be shot in Konya where the shrine of Maulana Rumi is located. Turkish government has also extended their support in this regard.
"Turkish government is supporting us because of Maulana Rumi's association with it. The film will be shot in different locations in Pakistan and Turkey. The shooting will probably end by March 2016," the director said.
Television actor Shakeel stated that it is an engaging topic which will surely touch audience's hearts.
"It's a tough job to work on this path and make a movie on the teachings of a great Islamic scholar, Maulana Rumi," he said.
2. Maira Khan plays Chambali in the film
Television actress Maira Khan made her debut with a political thriller Chambali and now she is all set to play a character with the same title in Khalid Khan's Zeher-e-Ishq.
Read: Maira Khan plays rape victim in 'Revenge of the worthless'
"The film is a love triangle and I play one of the people in it. It is a story where someone loves, other dies and someone loves somebody while that person gives his heart to someone else," Khan reveals the complicated plot.
The actress also said that she will perform a special song in the film and the Indian choreographer Saroj Khan has been called in to choreograph it.
"Let me make it clear that it is not an item number at all. In fact it is an important song and to looks great in it, for which I am also losing some weight," she said in a light-hearted tone.
3. The film will be shot both in Pakistan and Turkey
The event was graced by the presence of Turkish Consul General H.E. Murat M. Onart, who welcomed the prospect of collaboration between Pakistani and Turkish artistes. We usually see either the USA or London in most movies, so having a film shot in Turkey will be something new for the viewers; especially since the country has such rich culture and cinematic beauty. It will definitely be a visual treat.
4. Zeher-e-Ishq is a musical movie
Music is a backbone of any good movie and considering it as an equally important element, Khalid Khan has taken the talented Waqar Ali on board as the music composer for the film.
The film will feature seven songs by big names of Pakistan and India, including Sajad Ali, Rahat Fateh Ali Khan, Palak Munchhal, Irfan Khan, and Sunidhi Chouhan. The film also features a Persian song by the late Nusrat Fateh Ali Khan.
The lyrics have been penned by Ali Moen and Sabir Zafar. Speaking on the occasion Ali said that the film's music mixing has been done in a state of the art studio in Turkey.
5. Hum Films association with the project
After Bin Roye, it will be the next big project by Hum Film. Sultana Siddiqui said that the doors of Hum Films are open for everyone.
"We are here to provide all technical and logistic support to those who have a great idea to make a film and needs support in this regard," Siddiqui said.
Read: 'Bin Roye' earns over Rs9 crore in UK
We hope that the film turns out to be a milestone in the history of film making in Pakistan and we wish Zeher-e-Ishq team all the best .