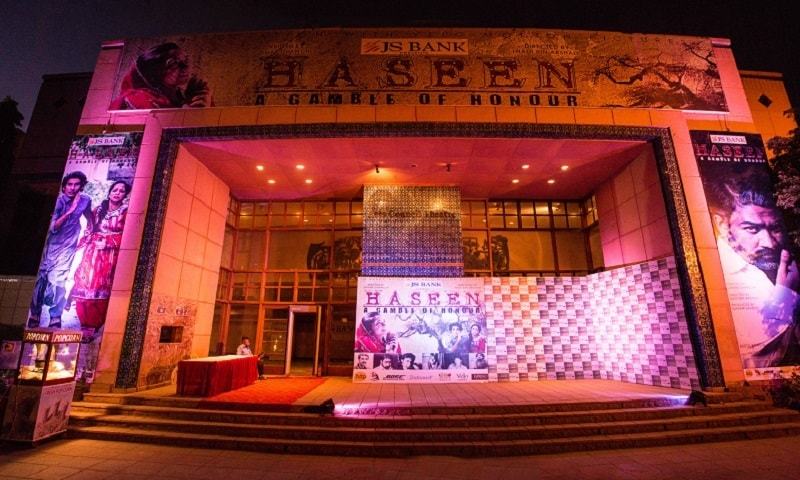 The play is not only a light comedy, but educates the audience on the importance of girls' education
Theatre play Haseen along with being funny, was also educational for the viewers, thanks to the fantastic script by Omar Ghanchi. Produced by 'Velo Motion Picture', it is directed by Hadi Bin Arshad, who not only is making his directorial debut with the play, but also plays the lead character of Dilawar.
Read: 'Haseen' will make you laugh, cry, and think
Haseen's first show premiered on December 2 at the Art's Council Karachi. The play will run till 6th December 2015. The very first show received a standing ovation from the audience because it truly touched their hearts. Haseen – A gamble of honor is an effort to highlight the issues faced by the rural population of Pakistan and the play gives out a message that it's about time they educate themselves.
The story is about a girl named Haseen (Amtul Baweja) who is focused, studious and her dream is to reach college. The story begins with Haseen studying hard for her 10th grade exams in order to receive a scholarship and not be more of a burden on her father who already has debts to repay.
Her childhood friend Dilawar (Hadi Bin Arshad) has been in love with her for the longest time, but hasn't been brave enough to express it yet. Haseen's father Makhdoom (Sumair Saleem) is a gambler and one bad day he loses everything to Dilawar's father Raees (Nabeel Ahmed Khan). This results in Haseen's father telling her that she can no longer continue her education.
This thought makes Haseen very restless and she goes to Raees's house to explain the importance of education. She also tells him that since her father had lost everything to him (Raees), her father can no longer fund her education. Haseen's visit to Raees's place gives the man a very vile idea. During the next session, Raees asks for Haseen as 'prize money' and Makhdoom agrees to it. Like all the previous games, Makhdoom loses and has to take his daughter to Raees's house.
Dilawar finally has the guts to express his feelings for Haseen, who reciprocates those feelings and the two of them tell their fathers, who are ashamed at what they had done in gambling. What happens next is something rarely seen and for the viewers to watch.
Amtul Baweja who played Haseen did complete justice to her role. In fact she played her character so well that she reminded me of Mahira Khan from the scene in Bin Roye when she is crying and asking God for help; Amtul was equally good. Hadi Bin Arshad had command over all the characters and the conclusion of the play.
We've heard such tales before as well, but not with the conclusion that we see in Haseen. The dialogues delivered at the end by Haseen and Dilawar were so powerful that I'm sure they will stay in the viewers' minds for a long time.
Arshad definitely did his research for his characters and Omar Ghanchi's script was sound as the story shows the reality of what happens so matter-of-factly in our rural area. The audience must reflect on what they learned from the play and try to work towards the betterment of society. The first step can be to help educate girls in less developed areas, and second can be to empower females so that they don't fall prey to such heinous crimes.
The cast also includes Kaleem Ghouri, Balaj Khan, Umar Sardar, and Maryam Kazi; all of whom played their roles in holding the play together and leaving the audience in tears with their performances.
The play is a must watch and shouldn't be missed.