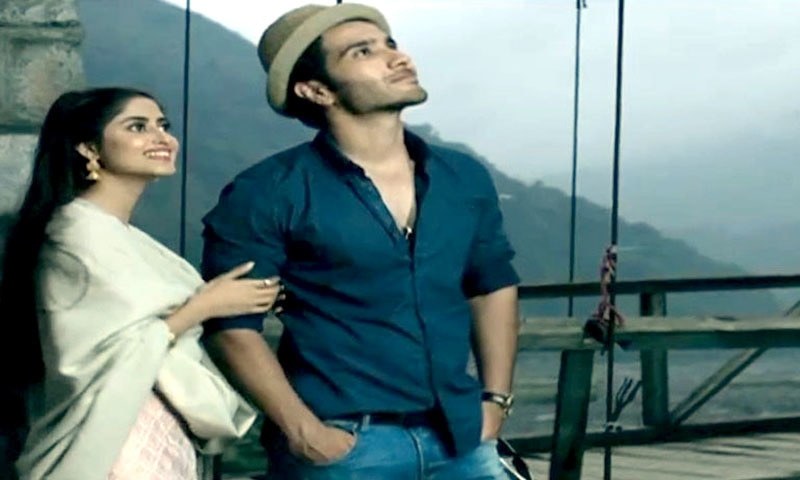 Confusion confusion! Has Gul-e-Rana suddenly morphed into an ill-mannered person or a strong girl?

Not that Adeel (Feroze Khan) doesn't upset Gul-e-Ranan (Sajjal Ali), but his primary targets are phuppos and their daughters.
The third episode of Gul-e-Rana ended on a very chor-ful note with Gul-e-Rana yelling 'chor chor' and Adeel 'trying' to persuade her to keep the unfounded accusations to herself.
I'm sure, regular viewers of Gul-e-Rana were waiting with bated breath to see what happens next.
Here's what happened last week: 'Gul-e-Rana' starts to trot, waiting for it to run
Will Taaya abu come and see his son is manhandling Gul-e-Rana? Will Gul-e-Rana apologize profusely when she finds out Adeel is actually her cousin and not a chor? Will the couple have a little chit chat over a cup of tea once the misunderstanding is over and done with?
Well the build up to this particular scene had put our brains in overdrive, but in actuality, there was an anti-climax awaiting us. This is what transpired:
Adeel: Kaun ho tum ill-mannered larki?

Gul-e-Rana: (after miming to him to remove his hand) Aap ki chacha-zaad behn Gul e Rana.
And off she runs.
"Chacha-zaad behn", seriously? She could have simply said 'cousin', but no, she decided to take the longer route which involved the word behn.
Come morning and Gul-e-Rana isn't the same anymore. Last night's incident (a self-created one that is) has suddenly devoid her of her trademark sweet mannerism and 'achi bachi' outlook.
Poor Adeel, who didn't eat anything last night because of Gul-e-Rana's intervention, sees breakfast on the dining table and starts to eat. Rana arrives on time and saves her bread, butter, and jam, and while she's at it she deliver a very curt, "Ye mera naashta hai."
Why would a sweet and helpful girl like Gul-e-Rana won't let her chacha zaad bhai eat her breakfast or at least propose to make him something if he was hungry? (Because she is the helpful sort). I was baffled and I'm sure so were you. And if you understood the reason behind her sudden behavioral change, then please do explain.
Adeel, on the other hand, is established as a mean guy. He helps people, insults them, and then is sweet again in a matter of seconds. Yes, this is all disturbing and hard to accept, but it's better you don't try to understand why he's behaving like this because their simply isn't any reason. He's just manufactured like this.
Read: How was 'Gul-e-Rana's' 2nd episode? Umm...
What contributed in making Adeel what he is today; biological factors or environmental ones? I hope the writer, Samra Bukhari, will unveil in the coming episodes.
Feroze Khan is essaying the spoiled yet intelligent brat to perfection. He manages to change his expressions and tone in a matter of seconds. Sajal Ali, on the other side, has confused me. Is she supposed to play a nice, sweet but strong girl or an ill-mannered strong girl (like Kashaf in Zindagi Gulzar Hai)?
First three episodes supported the former belief while the latest episode showed another side of Gul-e-Rana. Yes recent occurrences in her life may have morphed her into a cynic and a rude person, but has it? If she has, I didn't see the journey.
The way she handled Zafri, Maria, and Adeel was unlike her. Her denial to sit and chat with Zafri (bari phuppo's son) was understandable and two cheers to Gul-e-Rana for turning him down. Same goes for asking Maria to make tea for her brother (Zafri), because why should Gul-e-Rana serve every aira ghaira in the vicinity. This goes on to show that she's intelligent as was established in first episode.
But her uncalled for behavior towards Adeel is…uncalled for. First, she snatches the breakfast tray right under his nose. Secondly, when he calls the doctor to check Gul-e-Rana's mother, then Gul-e-Rana should've said Thank you without his reminder.
Also, there was no need for "Mujhe haath na lagayen" dialogue. Adeel is a city boy and haath lagana is no big deal for him. But thanks to Gul-e-Rana's OTT reaction, he ends up sitting in a room filled with smoke (and what not) and thinking about 'haath lagana'.
So, if he decides to take revenge, then I'm sorry to say Gul-e-Rana brought it upon herself. She could've expressed her discomfort by her expressions. That's natural, but out rightly insulting a person, who didn't even have any ulterior motive, is no way to go about it.
Adeel also is one complicated person. He loves aunty (Rubina Ashraf) and her daughters' cooking, their involvement in the kitchen, but is pretty upset when Gul-e-Rana asks Gulaab Khan (the servant) to plant roses in the garden.
"Gulaab Khan kya mujhe gulaab pasand hain? Nahi na! Tou jao jo kaam kar rahe thai woh karo zyada baatein na banao," he scolds the loyal servant. Then turns to Gul-e-Rana and says, "Aur aap, jo cheez jaise chal rahi hai waisi chalne dein. Zyada interfere na karein tou behtar rahega."
He even demands Gul-e-Rana make breakfast for him and Maria and she does, but not before giving a disgruntled expression. This scene was properly executed by Farooq Rind.
Gul-e-Rana is displeased at Adeel's command and she shows this by a slight change in her facial expressions, and Adeel is intrigued by her and he portrayed this by following her with his eyes till she reached the bottom of the stairs. This is the kind of subtleness that could've been used in 'mujhe haath na lagayen' scene.
While Adeel and Gul-e-Rana were establishing their complicated relationship, the phuppos were busy plotting and planning on how to grab Adeel for their daughters and get rid of Gul-e-Rana. Zafri, Bari phuppo's son, has also entered the scene now. He likes to sit at home, eat, and ogle at women. Earlier, his target was Laila (Choti phuppo's daughter) and now it's Gul-e-Rana.
But Adeel gets a whiff of Zafri's intentions and dabaofies his tetwa (neck) right in front of Taaya abu, Gul-e-Rana, her sister, and Maria. It was an uncomfortable scene for all because why was Adeel being so protective of Rana all of a sudden?
Read: Gul-e-Rana starts on a sad note
Oh yes, uncomfortable reminds me of the super duper corny scene of the millennium. Now picture this.
Maria, Adeel, Taaya abu, and Zafri are all busy chatting. Gulab Khan comes and takes order for tea and milkshake, but doesn't forget to mention how Gul-e-Rana's managing the kitchen inventory efficiently. Taaya abu leans towards Adeel and says, "Dekha, bilkul tumhari ammi ki tarah khayal rakhti hai Gul-Rana ghar ka." And Adeel – the hypocrite – smiles and agrees. Wasn't he the one telling Gul-e-Rana to mind her own business?
Anyway, the corniness doesn't end her. In come Gul-e-Rana and her sister. The former is wearing a dupatta on her head. Taaya abu, again leans towards Adeel and very audibly whispers, "Dekho isne bhi kaise tumahri ammi ki tarah dupatta liya hua hai." Adeel again smiles, agrees and gives his place to Gul-e-Rana, so that Taaya abu can smother her with his love.
I almost gagged on this extremely obvious hint-game being played by Taaya abu.
I'm still waiting for Gul-e-Rana to become something different it promises to be. The story is moving towards something and that something will be 'different' and interesting, the makers promise, so let's wait and watch Gul-e-Rana involve into a strong girl, but not an ill-mannered one.
Here's the promo for upcoming episode(s).