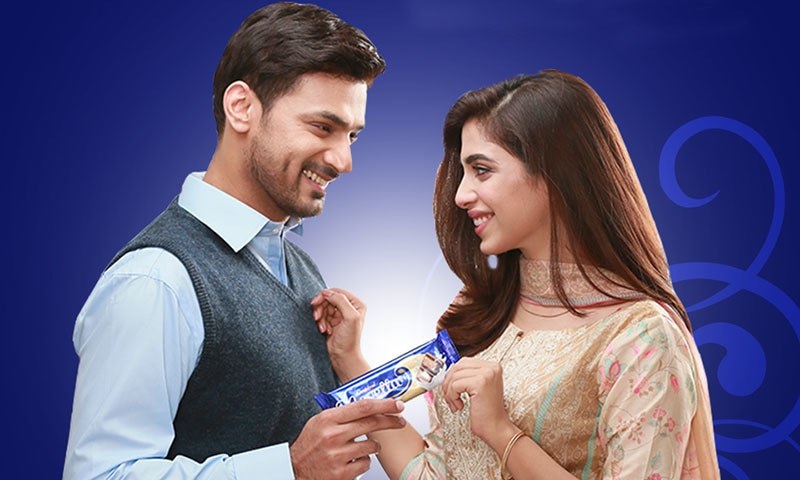 The slice of life TVC featuring Sonya Hussain and Zahid Ahmed uses the age old emotion of love to mesmerize audience.

Jamshed Mahmood, popularly known as Jami, has re-entered the advertising world with TVC of Candyland's chocolate Novella.
Novella's recent TVC is executed just right. Sonya Hussain plays the doting, good wife convincingly and Zahid Ahmed plays the busy husband to perfection. Hussain's narration in the background is done just right as she complains (via poetry) about her husband's lack of emotions.
Jaatay tou har roz ho
Per mil kar nahi jatay
Jab jab paas nahi hotay Dil mein humesha rehtay ho
Read: Zahid Ahmed talks about upcoming play 'Zara Yaad Kar'
It makes you look forward to what Zahid Ahmed will say in reply in his deep voice, but he starts praising Novella instead of saying something equally emotional and poetic. This seems a bit abrupt because wasn't he supposed to cajole his upset wife? But Jami decided that Novella will do the trick, so both husband and wife have Novella and live happily ever after.
Jami has used the age old creative strategy that always works, especially in case of chocolates. Take Cadbury Dairy Milk's TVC featuring a husband and a wife celebrating their wedding anniversary or the one featuring Indian actress Nimrat Kaur for example. Both these ads created the warmth and love, it wanted to create.
Moreover, chocolates have been used for ages to spread the message of love. One just has to take a look at the Valentine's Day sales of chocolate company's to know this for a fact. So the novella TVC gets zero points for innovation.
But the execution was picture perfect. It wasn't boring and it also showed the target audience (SEC B+ and below) of Novella through the house and lifestyle shown in the TVC. We can say that creative strategy used here is 'slice of life' and the advertiser has capitalized on the emotion of love.
The tagline, 'Dil pighil jaye, mun mein ghul jaye', reiterates the message that if you want to melt someone's heart then present the 'silky smooth' Novella to that person. The actors and Jami's direction saved this TVC from being just-another-chocolate-ad. We do wish that confectionery industry finds creative ways to promote their products.
Jami Mahmood, however, is one fine director and his TVC for Zara Sochiye campaign was a big hit.
Read: "Ban on Indian movies was detrimental for our cinema," says Jami