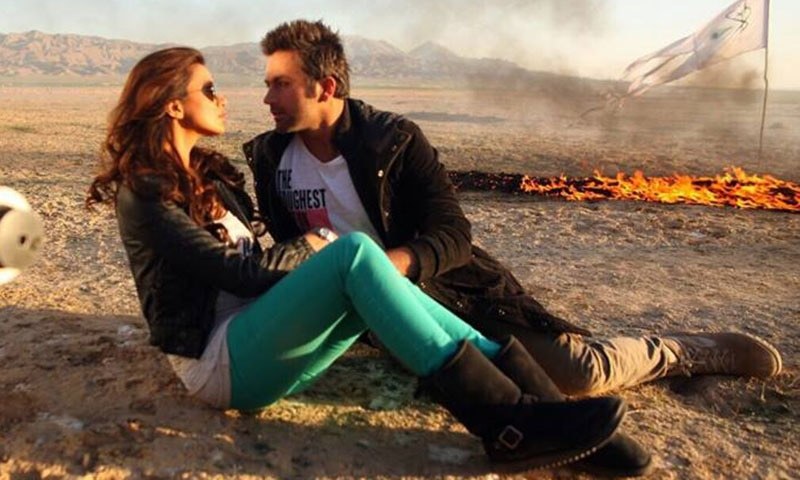 Hum Films is the official distribution and media partner for 'Hijrat'.

The mystery that is Farooq Mengal's directorial venture Hijrat, is finally revealing its self. The official trailer will release in cinemas during the premiere of Indian film Dilwale - starring Kajol and Shahrukh Khan - on December 18.
The film has been bought by Hum Films and they will distribute it. Be prepared to groove to Hijrat's music in between breaks if you're tuned into Hum TV or Hum Sitarey. The trailer, as well as the songs will be promoted on the channels of Hum Network.
Read: First official look of 'Hijrat' is out
Hip then spoke to the male lead of Hijrat, Asad Zaman, to know what was causing the delay in release and what was the exact date for its release. Zaman assured us that all the pre-production work was done and Hijrat was ready for cinemas, but couldn't give us an exact date for the release of the film.
"The official trailer will be released during Dilwale's premiere and the film will release somewhere between January 15 -20, not later then that," Zaman confirmed.
Television host, designer, and now actor Syed Saim Ali, who's performing on a club song in Hijrat, in an interview to HIP revealed that the film will release on January 6, 2016.
Read: In Conversation With Saim Ali
As per the movie's Facebook page, "Hijrat is a love story that plays out in the foreground of an exodus that rendered millions homeless during the Afghan war. Many lives were turned upside down after due to the war, and the movie touches upon the lives of those whose spirits were broken by the homes they lost and whose hearts were broken by the shelter they found."
Legends like Salma Agha, Ayub Khoso, Durdana Butt, Nadeem Baig and Jamal Shah will essay important characters in the film. The leads, however, are model turned actors Rabia Butt, Asad Zaman and Rubab Ali. Apart from the lead cast, Hijrat will also have special appearances by celebrities like Syed Saim Ali, Sana Fukhar, and model and actress Saima Baloch and many others.
Read: Sana Fukher to do an item number in the upcoming movie 'Hijrat'