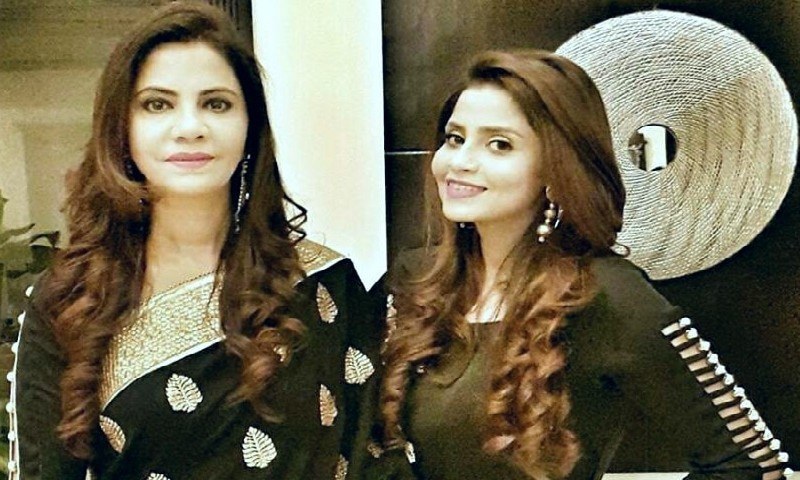 "I chose the cast looking as their individual strengths as performers." says the young producer

Pakistani drama and film industry is doing really great these days. Whereas the film industry is busy reviving itself like there is no tomorrow with films like Jawani Phir Nahi Aani, Manto, and the upcoming Ho Mann Jahaan, the drama industry is seeing new entrants everywhere; be it actors, directors, writers, or producers. One such new entrant in production is the very young and the restless, Sana Shahnawaz.
Coming from the power family of Humayun Saeed and Samina Humayun Saeed, Sana Shahnawaz is here to take dramas to a whole new level. She dipped her hands a little in JPNA, but with her upcoming Hum TV drama Tera Gham aur Hum (in collaboration with Momina Duraid), she is all in. The drama will release sometime in 2016 and has a team that people can only dream of as Shahnawaz has left no stone unturned to make sure it is a success. Written by Samira Fazal and directed by Haseeb Hasan (who's Diyar-e-Dil was the biggest hit of 2015), Tera Gham aur Hum (TGAH) is about to take the audience to a whole new level.
Also Read: Samira Fazal and Haseeb Hasan present 'Tera Gham Aur Hum'
I recently got in touch with Sana Shahnawaz to find out how it all started and what we can expect from not just TGAH, but also from her in the future. Read on to see what she had to say.
How did you get into production?
I have grown up around this environment as my family (Samina Humayun and Humayun Saeed) have been in this business for the last 20 years. Their relentless dedication has been a great source of inspiration for me. It was only natural for me to take up production as a profession. As an individual though, I always use to feel the need to be able to give fresher ideas and stories for our dramas.
One day I was sitting with my family and very close friends talking about textile designing since that is what I do along with wardrobe styling. But I was saying I want to do something else. So they said "whatever you do, you do it with so much passion and heart. You are creative, talented, and organized, and you have the understanding of narrative. With all these girts you should get involved in production." This new prospect really stuck. I started to develop and make my own content and so a few months later, here I am with my first project TGAH.
What's special about Tera Gham aur Hum?
Being a textile graduate, I am a very visual person as well. Trying to put that vision together in a production is an exciting new prospect for me. And every producer's dream is to have the ideal cast, director, and writer. It is an honor and a privilege that so early in my career I'm working with Samina Humayun Saeed and Momina Duraid. The two work individually, but had earlier collaborated on Sadqay Tumhare and we all know how the drama didn't just sweep all the awards, but the audiences' love as well.
So for TGAH, I'm collaborating with Momina Duraid. Haseeb Hassan is one of the top 5 directors in Pakistan and he is directing my first drama. Khalil Ur Rehman is like family, a great advisor, and a father figure. When I told him the story he coined the name and also penned the OST of this drama. I mean what more can a debutante producer ask for?
The cast, can it get any bigger than this? Hamza Ali Abbasi for example is going to appear on television screens after Pyare Afzal playing the character of Salahuddin in TGAH. He didn't even ask me any questions when I, called him for dates e.g. how long it will take to shoot. He just said, "tumhara pehla play hai, bus baat khatam." Ayesha Khan and I have been friends for the past 7-8 years. She plays the character of Jeena and as soon as I called her she said, "it is your first play. Anything for you." When I called Gohar [Rasheed] for dates, I didn't know what time frame to give him so he just said,"let's play it safe and do 5 months; it's you're first play so let's do this. Vasay Chaudary was so busy with JPNA's promotion, but he still came on board and was shooting for this serial too.
Also Read: Gohar and Hamza; Friends who act together, stay together
What a fantastic feeling when your friends come forward to help you take your vision forward; I am truly blessed! This is my first interaction and experience working with Maya Ali, who is such a hard working girl. She plays the role of Manno. Then we have Saba Hameed, Ismat Zaidi, Aiman Khan (plays Hamza's sister), Laila Zuberi, Sheheryar Zaidi, Mehmood Aslam, and Lubna Aslam. And last, but not the least, is to have Talat Hussain working in my drama. I mean he is just so brilliant, I don't know where to begin the praise of his craft as an actor.
What was the deciding factor behind the cast, director, and writer?
I really thought about this story line with Samira Fazal and we developed it together. She not only is a close friend, but has written many hit serials for 'Six Sigma'. I love her style of writing because her stories are both modern and desi. Haseeb Bhai's style of story telling is adding beauty and sensitivity to each frame which I love. That's how I chose the cast, looking as their individual strengths as performers. Shukar Alhumdulillah I did not compromise on anything.
What are your expectations from the drama?
As a team we have tried our best. We have shot at grand locations and Haseeb Bhai has added such depth and beauty to each frame. I, of course have a lot of expectations from this drama. The story is so fantastic, I know the audience will keep wanting more.
How hard is it to be a producer?
It is very difficult and challenging indeed and my biggest challenge is to give it my best. Success doesn't come easy no matter who you are and what your background is.
What can the audience expect from the drama and when is it airing?
I want to leave them asking for more, the storyline is that engaging. It will air on HUM TV in 2016, but the airing date has yet to be finalized.
What's next after this?
I've started to work on my film project and its pre-production commenced the 1st of November. InShaAllah that will go on the floor next year. I'm a bit more experienced now thanks to JPNA. The story has been penned by Khalil Ur Rehman and will be directed by Nadeem Baig. The cast will be disclosed soon.
Apart from that there are 5-6 dramas for ARY and HUMTV that will go on the floor between December and April.
Will there be any item numbers in your film?
Item number is not at all necessary for a film nor is there one in my film. There was no item number in JPNA either and without that, it did a business of 50 crores + at the box office. I'm not objecting to anyone else doing them in their films, but there is absolutely no need for them in my opinion.
Who are your close friends in the industry?
I know the entire industry and have great respect for all of them and their body of work. Having said that, my closest friends from the industry are Gohar, Ayesha, Hamza, Sohai, ZQ (Zaineb Qayoom), Nadeem [Baig] bhai, and Samira Fazal. They say that when you want to really get to know someone, you either work with them or travel with them. Khalil Ur Rehman Qamar, Samira, Nadeem bhai, and Sanam Mehdi are the few that I have not only worked with extensively, but are individuals who're always there for me. They're like my extended family.
Thoughts on dramas these days?
Our drama industry is recognized world over, which is why it's a challenge to maintain this standard and create an even bigger benchmark in order for it to stand out. Also, I'm a feminist, so I don't believe in the negative portrayal of women, nor should we. A woman is delicate and she needs to be respected. You will see the women of TGAH portrayed in a positive light; I intend to maintain that in all of my dramas and films.
Who are your favorites?
Humayun Saeed of course. He is not just a star, or a very versatile and best actor, but he is a gentle, down to earth human being. And this is the quality that makes him a superstar. Anyone who knows him and works with him will say the same thing about him. Ayesha Khan is my favorite actress. She is absolutely amazing at everything she does. Even if she isn't giving an expression, she can emote with her eyes. That's what I love about her. Iman Ali is gorgeous and a superb actress. Whatever she has done she has created a niche for herself.
I love Sohai Ali Abro too. She is so versatile; whatever character she takes up she carves out its own identity. That is a really rare gift. Sajal Ali is also awesome and very hard working.
What do you do to unwind or in your free time?
I love reading books and my favorites are 'The Alchemist' and 'A Thousand Splendid Suns'. I also love listening to music as I derive inspiration from it. Music can give you such wonderful visuals and thoughts.
And that was the last of the conversation. Clearly Sana Shahnawaz is focused and driven about her vision. HIP wishes her team Tera Gham aur Hum all the best and look forward to seeing the drama.