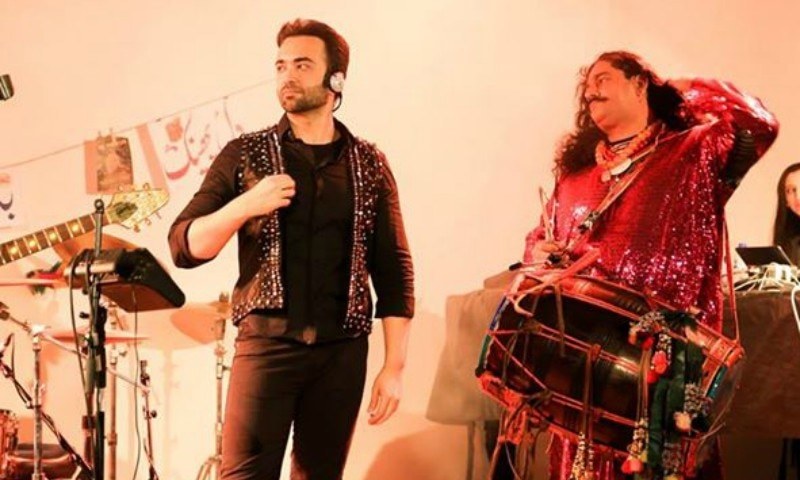 Hoping the band does the same to its fans in K-town too...fingers crossed!

One of the loudest bands of the country formed by Farhad Humayun, Overload was lately in Islamabad and guess what the front man of the band Humayun along with the Dhol king Nasir Sain did to treat their fans there- they gave a dhamakedaar street performance!
Yes, you heard that right.
Also read: "We'll work in Bollywood only on our terms," says Overload
In the wee hours of December 6th, the band's official page had put up a status saying it had a short surprise for Islamabad. Later, we were informed that Humayun and Sain will be at the famous Kohsar Market in Islamabad at 2.15 pm.
We heaved a sigh assuming that was what the surprise was all about- public coming to meet the two and saying hello and getting autographs and a few exciting selfies in return. However, we were caught completely off guard when besides 'saying hello' the band also decided to give a live performance.
Also read: Overload heads to India
The audience which was least expecting such an act was obviously awestruck and atfer realizing that they were in for such an awesome surprise, started hooting a the top of their lungs and using their cell phone cameras to the fullest.
Overload's countless fans on Facebook too fell in love with what their favourite band did to the people of Islamabad and they are being lauded nationwide for spreading such positivity in the country.
Overload is a Lahore based rock band formed in 2003. It is headed by lead vocalist and drummer, Farhad Humayun with Sheraz Siddiq on keyboard, and Nasir Sain on dhol. Their song Dhol Bajay Ga has already featured in Mira Nair's film, The Reluctant Fundamentalist in 2013.