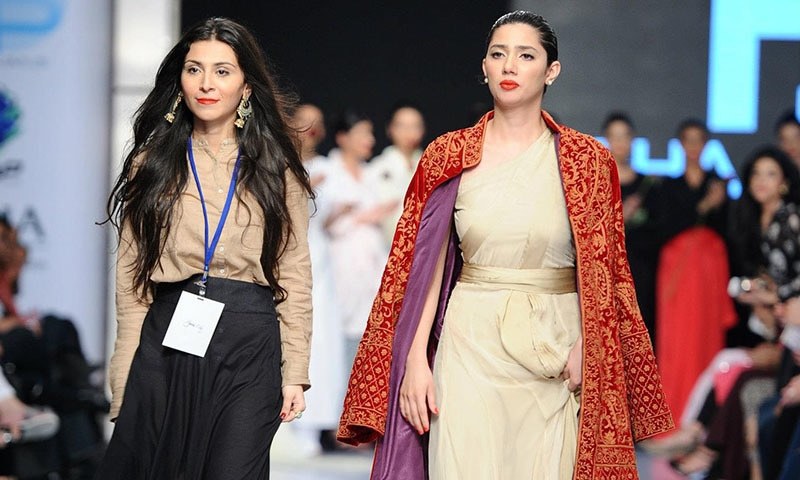 Don't blame us if you grab your car keys and head to the designer's outlet once you are done with this post.

Do you also belong to the lot who can't resist swooning over Mahira Khan's outfits every time you see her on screen? Well then, join the club!
Call her the showbiz industry's favourite beauty, or the reigning queen of all things *haseen; Khan's sartorial choices have always made her stand out. Whether it's the red carpet, live shows, or her movies' promotional events; the diva ensures she makes a statement with every outfit she decides to wear.
Also read: Mahira Khan's advance birthday bash at Sanam Baloch's morning show
However, have you ever wondered who is the brain behind most of her ensembles? Yes, it's the one and only Feeha Jamshed. She is not only one of the finest designers of the country, but also one of Mahira Khan's closest friends.
With Khan making frequent appearances on screen (and off screen to college/universities) lately owing to her upcoming feature film Ho Mann Jahaan, and previously because of Bin Roye, we decided to do a roundup of occasions she rocked her designer bestie's creations.
1.
Balle Balle might not have been what you had expected it to be but we could hardly look elsewhere with Mahira Khan donning that hot lehnga choli. We are sure many young ladies must have asked their darzis to replicate the outfit for them, especially as the wedding season lurks by. And for those who weren't interested in all thatkamdani and dabka, they must have taken notes on the unique color combination.
2.
Khan is one of those rare Pakistani stars who can not only pull off a contemporary outfit, but look equally stylish in traditional wear. Who wouldn't want to be seen in this beautiful vintage velvet kameez shalwar, especially after seeing the svelte actress carrying it so gracefully. And look at all that beautiful kaam on the painchas...haye!
3.
The popular actress wore this vintage oriental clusters in organza to Bin Roye's music launch in Dubai and we bet all the ladies there must have paid more attention to the ravishing beauty in this stunning dress than the movie's music. We also love how airy and comfortable it looks!
4.
This outfit proves how the beauty is always bang on trend. *Lehnga * might have been one of the most ancient pieces of clothing but coupled with that cropped top, it is a guaranteed style statement and that too a modern one. Miss M wore this classy outfit to the third Hum Awards and we couldn't help, but notice how it complimented the Best Actress winner's winning look!
Also read: Get the look-Mahira Khan as the classic beauty at 3rd Hum Awards
5.
A mere glimpse at this beautiful piece of work is enough to make all the ladies out there go gaga, literally. Donning this to the New York premiere of Bin Roye, the leading lady looked absolutely chic in the heavily-embellished beige crop top paired with pleated skirt embroidered with floral patterns.
6.
This beautiful rounded hem kurta looked absolutely unconventional as the style icon paired it up with those sexy heels well-fitted pants and those bold lips.
7.
First that Husk Sari and now this envelope one; Mahira Khan with her inimitable style statement made all the ladies out there a sari freak too. An outfit from the designer's digital print silk collection, this sari is uber classy and adds all the more elegance to the already stylish star.
8.
Looks like Jamshed's collection wouldn't have been selling like hot cakes had her bff, Mahira Khan, not flaunted them with such great elan. She's spotted here wearing this sheer ruffled shirt at one of the Bin Roye's promotional events, the beauty looked every bit modern-day-royalty.
9.
This scarlet number by Jamshed screams gracefulness! An amazing mix of party and formal wear, Khan was seen in this angrakha inspired top paired with well tailored cigarette pants on ARY Digital's show Jeeto Pakistan for the promotion of her upcoming movie Ho Mann Jahaan. The ruffled hemline and the length of the shirt would have seemed tricky had I first seen this outfit at Jamshed's outlet, however, after seeing the star looking such a diva in it, I can't wait to get my hands on it!
10.
This colourful dress by Jamshed is casual, easy-breezy, and yet formal enough for a party, given it is paired with the right accessories and glam makeup. We love how the monochrome pattern is blending in with the colors at the bottom of both the top and bottom. And oh did you see the pockets? How convenient haina!