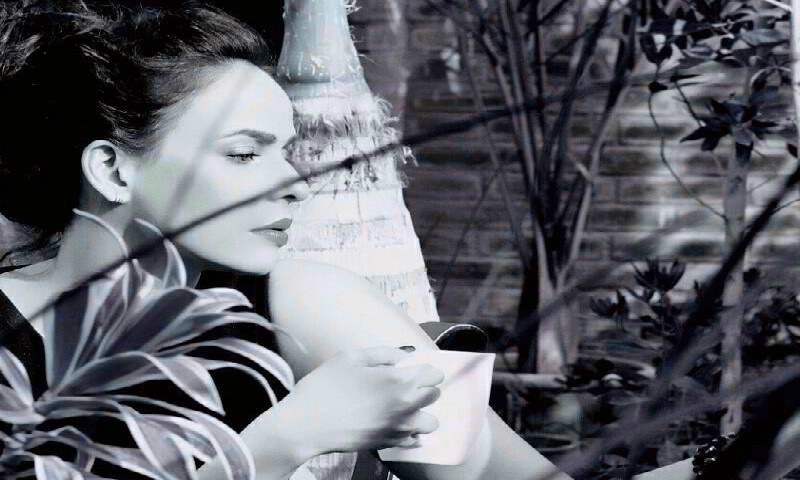 "When soap, tea, and milk are being sold w/naach gaana ads, toh item numbers kyun peechay rahain?" asks the actress!
Zainab Qayoom (ZQ) is one of the most honest and genuine people in the Pakistani showbiz industry. From the ramp, to dramas, to music videos, and her small (yet widely appreciated role) on the big screen (Jawani Phir Nahi Ani), she has, and is doing it all. Considered to be one of the most talented stars in Pakistan, she was crowned the best model of the year 2004 in the Lux Style Awards and was given the 'Most Stylish TV Actress Award' in the Indus Style Awards 2006.
But she is not just a pretty face; she has a master's degree in English literature and taught at the Lahore Grammar school for a year before joining Libas as an assistant editor.
The first time I saw her on television, was 3 years ago in drama serial Chubhan, as the confused, yet lovable, calculated, and the very greedy Husna. There are literally only two negative characters that I have ever enjoyed watching in Pakistan dramas; ZQ as Husna and Ali Kazmi as Sikander in Jackson Heights. Husna was all things evil, but loved her step daughter more than anything and anyone; even more than her own biological son. At the end, she murders her husband and vanishes without a trace. This kind of dichotomy is only shown in Shakespearean plays.
Recently I got in touch with her for an interview and here is what she had to say.
Jee kya haal hain? What is going on these days?
Super haal chaal hai...acting hi acting! Loads of projects with different characters whom I can immerse myself in and slip into.
When did you start in the industry and when did you go from modeling to acting?
I started modeling in 1992 and acting in 2005. Posing for shoots and walking the ramp was a total head rush, but then it started to lose its charm for me. I felt it lacking something and wanted more so I switched from still pictures to moving pictures.
Which is easier?
Definitely modeling was easier and I had a great 18 year innings MashAllah. Winning the Lux Style Award for 'Best Model' in 2004 was a great closure! I had gotten my official recognition & it was time to retire gracefully at the best time & place possible, which was my peak. It was time to move on & diversify. Contrary to popular belief, acting isn't easy; initially I only got super glam leads. I had to work really hard to break the stereotyped 'model turned actor' image. I worked my heart & soul out to be taken seriously. And all the hard work pays off and is so rewarding when you get feedback from your viewers. I live and love the process of shooting itself. I feel blessed I get to do what I am passionate about and also be paid for it.
Why haven't you done any films? Are you open to them?
One of my serials got converted into film called Sultanat. Recently I did a cameo for ARY Films and Six Sigma's Jawani Phir Nahin Ani and surprisingly got rave reviews for my single scene. I actually prefer TV serials now. Films take too long to make & dubbing is excruciatingly painful. When I was 25 I would've loved to do films, but our film industry was lying comatose in ICU then. Now at 40, shooting for serials suits my pace better; 35 days and you're done with a serial that goes on air and you start your next project.
You are one of the few women in the industry that picks strong roles; why don't the rest do that? Why is everyone always crying?
Ok, let me be honest…I never realized how much fun an acting margin one has playing negative roles. I do my share of rona dhona, 'positive nayk bechaari' roles as well, but jo maza strong dominating roles may hain...wah! Also, currently I'm in character limbo these days; too old to be the heroine and too young to play the leads' moms. But I still try to play the 'mean mom' roles convincingly. It's all about how strong my character is when I'm choosing scripts. I have no issues with less makeup or using hair dye. Still, till aaj kal ki 'Ma' waali roles karnay waali awesome actors will not upgrade to naani daadi roles, I'm still going to be in this limbo phase.
I feel like reel ZQ is completely different from the real ZQ; do you agree? Why?
Yes, of course! 'Reel' ZQ is like water taking the shape of whatever character container I'm assigned to. The real ZQ is a shiny, happy, and an extrovert with less issues. I walk on set in character, but at 'pack up,' the real ZQ leaves the set. It's mandatory for an actor to create these boundaries between personal and work space; mentally & emotionally more productive too. Personal & professional growth should go hand in hand, albeit without stagnation or blurring lines.
You have worked with pretty much everyone in the industry; who are your favorites?
The ones I haven't worked with :) Mehreen Jabbar, Sarmad Khoosat, & Sakina Samoo.
Which do you think was your best performance? Worst?
It is a very difficult question as I give my 1000000% to every project. This is something the viewers & critics can answer better.
Taar e Ankaboot was a fantastic play; why did they discontinue it?
It was an all star stellar cast and Mazhar Moin/Faseeh Bari collaboration is always a win-win. Hina Dilpazir & I worked damn hard in freezing Murree shooting in a tiny servant quarter. I almost froze to death in a scene I had to douse myself with bucket water at 3am- another place I almost got burnt in a fire scene. God alone knows the actual reason for it being discontinued.
What are your thoughts on where the drama industry is going these days? Evil saas/bahu, love triangle or extra marital affair, damsel in distress, or the newest, rape.
Plays reflect our social issues. These are unfortunately the rampant issues of our times. The viewers also relate to them. Jaisi demand waisi supply hogi na. Emotions bhi total 5 hi hain that branch out. Yes I agree that aaj kal writers ne wohi pehlu ko naaye zaaviye say dekhna aur naye andaaz may paish karna band kar diya hai. Too much channel interference who are influenced and dictated by their marketing teams. Also, who would want to leave a sure shot formula? Phir Taar e Ankkaboot ki tarah discontinue?
Thoughts on item numbers?
Why not? Just please be tasteful about it. It's a credit to all our film directors that they have succeeded in hit songs as items, done with class & grace. When soap, cooking oil, biscuit, tea and milk are being sold in naach gaana ads, toh becharay item numbers kyun peechay rahain?
What would help the industry?
Our industry is on the right track; now we need more new faces, new directors, and new content to progress further, faster.
What are your current projects and what is next?
Current on air projects are Ali ki Ammi and Mera Yahan Koi Nahin on Geo, Vasl e Yaar on Ary, Aik thi Misaal on Hum TV, Takabbur on A Plus-Ansuni on PTV, and Na Dil Dayti on Hum Sitaray.
Projects that I am working on are Aitebaar for Hum TV and Phir Wohi Mohabbat for Ary
Is there such a thing as 'the casting couch' in Pakistan?
Personally it has never happened to me ever so I can't say. Also waisay kam panchaayat hai kay I allege or claim something I am blissfully unaware of. All I can say is hamesha taali do haath say bajti hai.
You are writing a book; what is that about?
My novel is ready in my mind and titled 'Mostly Mezzanine.' I think it's on the backburner for now since I have no time to give it the attention it needs. Hopefully it will be with a publisher by December of next year. I just need 3 months to finish the first draft but I'm a procrastinator/daydreamer by nature; deadly lazy combination. In a way though that's good as every new day that passes, I go through another experience that will further enrich it. It is partly autobiographical peppered with a whole load of wishful thinking; fiction balanced with Sufism.
Rapid Fire:
Favorite writer: Harula Murakami and Gillian Flynn
Favorite co-star: Farhan Aly Agha
Who would you never work with again: certain production companies not even worth a mention.one project and mein nay sabaq seekh liya aur maine taubah ker li.
Tea or coffee: coffee; black strong & sugarless.
Twitter/fb/Instagram: twitter & insta both.
Favorite time pass: at work during scene shifting & lighting 11am-11pm that happens a lot so best time pass is fb/tweeting/ instagraming & candy crush soda
Favorite food/dessert: Japanese/chocolate fondue
One person you can't live without: My Mother
One thing you own that you can't live without: my optimism & sense of humour.
*Fav song/ghazal: * Faiz Saheb's 'Hum Ke Thehre Ajnabi' sung by Nayyara Noor, Aaj janay ki zidd na Karo by Farida Khanum ji for Coke Studio, Tuttu Fruiti by Aysha Omer, and Jeena Jeena by Atif Aslam
And here you have it guys; uncut and all real, ZQ. She truly is one of a kind!