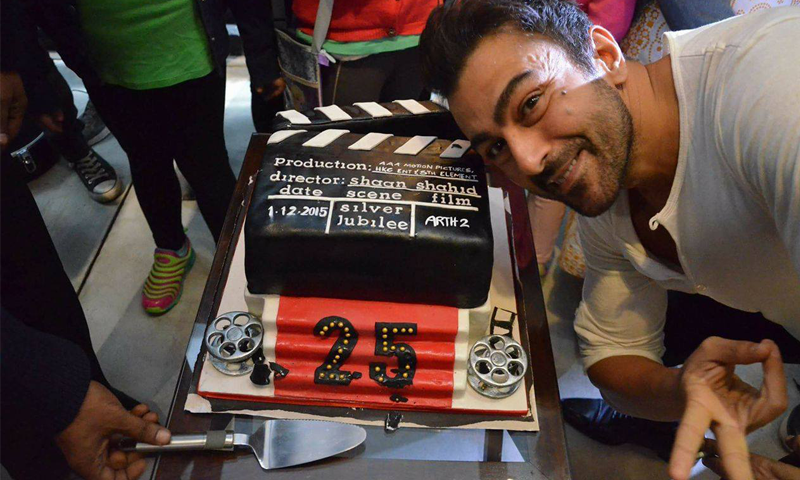 'Arth 2' has same characters as the original film by Mahesh Bhatt, but has a different plot.

We recently found out that Shaan Shahid's long awaited remake of Mahesh Bhatt's Arth, Arth 2 has finally gone on the floors in Lahore.
One look at the pictures that flowed in of Shaan Shahid celebrating the beginning of his shoot with a fun filled party, told us that there were a few changes in the cast.
The film is being produced by AAA Motion Pictures, 5th Element (Shaan Shahid's production house), and HKC Entertainment. As we all know the story, script, and screenplay is by Shaan Shahid who is also the director of the film. The movies music has been done by Sahir Ali Bagga.
Also read: Shaan celebrates 25 years in cinema with 'Arth 2' shoot
HIP, however, spoke to one of the producers of Arth 2, Founder of Triple A Motion Pictures Ali Murtaza, to know about the cast of the film. He confirmed that Mohib Mirza, Humaima Malik, Shaan Shahid, and Uzma Hassan are the lead cast of Arth 2.
We asked the reason for delay from the producer, since the film was announced last year, and he explained, "Arth 2 has a very demanding plot, so a considerable amount of time was spent on the script. Plus, there were multiple projects in the pipeline. There is always a right time to start a project and this, I guess, was the right time to start Arth 2."
Since we had gotten hold of one of the producers; how could we not discuss the original Arth by Mahesh Bhatt. We asked how was Arth 2 different from the original Arth?
"Arth 2 is set in the backdrop of modern Pakistan, but of course we've taken the essence from the original film. We've packaged the old characters [of original Arth] in a fresh screenplay with a new plot set in contemporary Pakistan," Murtaza explained
The first look, revealed earlier this year, of Arth 2 had Humayun Saeed in place of Mohib Mirza on the poster.
Being the inquisitive souls that we are, we wanted to find out why Saeed was replaced by Mirza. Was Mohib Mirza better suited for the role? Did Humayun Saeed have his plate full?
And we asked Ali Murtaza exactly that and he replied, "it's the director's call really, but it was a mix of factors. Mohib Mirza is a brilliant actor and fit the character perfectly."
Humaima Malick was last seen in Dekh Magar Pyaar Se, Mohib Mirza will soon be seen in Bachaana, where he plays a Taxi driver opposite Sanam Saeed, and Shaan Shahid...wait for it..will be announcing an exciting project soon with the same team of Arth 2.
Read: First looks of 'Bachaana' and 'Sanam Teri Kasam' revealed
Samiya Ansari will be styling Humaima Malick in Arth 2. She was spotted recently at Pepe Jeans outlet in Lahore, with the leading lady. The rest of the cast will be styled by Fatema Gain.
Ladies and gents, we also have some exclusive news for you (apart form the one we've mentioned above); the team of Arth 2 - AAA Motion Pictures, HKC Entertainment and 5th Element - will soon be announcing an exciting, special project. The project will come your way next year, so let the waiting game begin!