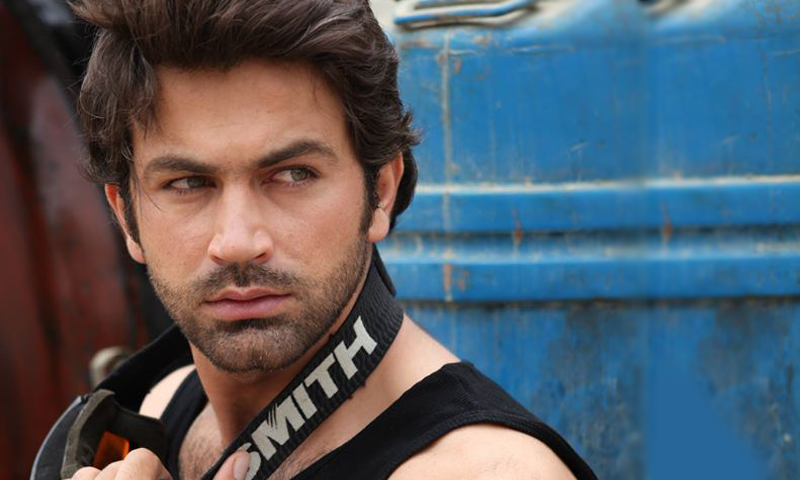 "My passion definitely lies in becoming a film star," says Asad Zaman

I was at the launch of Khalid Khan's debut film Zehar-e-Ishq when a green-eyed guy grabbed my attention. Although the director hasn't revealed the film's cast yet, my 'journalistic eye' told me that the way this man was being given special attention, he must be an integral part of the film.
My curiosity took the better of me and I headed towards Asad Zaman. He very casually revealed that he is the male of lead of Zeher-e-Ishq. Thanking my sixth sense and Zaman's openness, I headed home with an 'exclusive story' under my belt.
The next day (or a day after that) I entered my office with an air of a woman-on-a-mission. Asad Zaman was called up and today, I present to you his exclusive rendezvous with HIP in which he talked about his pre-industry days, upcoming films and plans to make it big in the industry.
---
Tell us how you entered showbiz?
---
It happened by chance. It was something I didn't plan. I actually wanted to become a cricketer. It all started out with a hangout plan with friends for an event being held at Karachi Expo Centre.
At the event we were being are usual 'fun-self' and laughing at the man doing the show. That man later approached me and gave me his visiting card. He was Ajmal Murad. Highly curious about that strange guy I went to his office the very next day where he signed me as an extra for shoot and gave me Rs 100 for it – which I obviously spent right away as my bus fare.
So how did you get your big break?
---
Again Ajmal Murad helped me get my big break. He called me for a ramp walk where I was the 11th guy, but eventually I was selected as a model with Mehwish Hayat. Once I was on the ramp television offers also started pouring in and I got a chance to work in commercials and television serials. So far, I have I have worked with great actors like Abid Ali, Arij Fatyma, Mehwish Hayat, Neelam Muneer and Ayaan Ali.
What has been the proudest moment of your life so far?
---
While there have been many such moments, but one of the biggest achievements in my life was back in 2011, when I won the Hero Bannay Ki Tarang show. It was judged by Reema, Syed Noor and Rambo with mentor-ship from legends such as Nadeem Sir.
I received excellent feedback and by winning the show it proved to me, and others that I can act and this is what I want to continue to do in future. I wanted to do a movie and eventually I was offered the lead role in Hijrat.
Read: Hijrat's official trailer will release on December 18
We have heard that male models don't enjoy same privileges as compared to female ones in modeling industry? Your take on it.
---
I don't think this is necessarily true. The only reason is that there are more designers that cater to females, therefore, we often see female models dominating the scene. But when it comes to privileges in the modelling industry, I think its equal for both genders.
Having been associated with modeling field for so long, did you find it difficult to face the camera for film/drama?
---
No I didn't find it difficult at all. The process was quite natural for me. Having said that, I also add that perfection in acting comes with time. I have learnt a lot from the directors I have worked with and from senior co-stars and am still in the phase of learning.
Your debut film Hijrat has been long due for release, could you please tell us the reason behind the delay?
---
I'm not the best person to ask about the delay in film release. The best people to ask this questions are the director and producers of the film. All I can say is that I'm a big believer of the phrase that "everything happens for the best" and "good things take time". Inshallah Hijrat will be worth the wait.
Read: First official look of 'Hijrat' is out
Tell us about your character in the film?
---
I play a guy called Murad who has been brought up in Europe. Murad has an easy-going, carefree attitude towards life. His life changes when he is introduced to an entire different world; the world of refugees. He meets a girl in the refugee camp and falls in love. The experience changes him inside out.
I won't go into too much detail about what my character is about. After all I want you all to go and watch Hijrat in cinemas. What I can say is that the film is a love story based around the refugee crisis, which is a topic being discussed around the world especially in the West. It is a really thought provoking movie and a must watch.
You have recently signed another film Zeher-e-Ishq, as a lead actor. Tell us about your role in it?
---
Zeher-e-Ishq has a beautiful storyline. When the director Khalid Khan narrated the script to me I was hooked. It is a love triangle and is based on Rumi's teachings and Sufism. I found the script very spiritual and family orientated.
My role in it is of a guy who is very jolly, enjoying life and is a bit of a flirt too. When he meets the lead actress, his perspective towards life changes totally and then he understands the actual meaning of true love and life. I can't go into too much detail about the role yet, but once again I will showcase my versatility as an actor through this film, which I'm really looking forward to.
Read: 5 reasons to look forward to Khalid Khan's 'Zeher-e-Ishq'
Tell us about your upcoming projects?
---
Well, I have Hijrat which will release InshAllah very soon. I also have a movie called Dil Ko Maro Goli where I again play the lead. The shoot is complete and is in post-production.
I have just completed a TV serial called Rab Razi opposite Abid Ali and Neelam Muneer for Express TV directed by Mohsin Talat. I'm now waiting for it to go on air.
Read: Hijrat's hero Asad Zaman to star in upcoming drama 'Rab Razi'
I have signed Zeher-e-Ishq. I have another unnamed film as a lead in the pipeline, along with an international film as a lead which will be shot abroad and in both English and Urdu with other well-known international actors. I am in discussions for other movies and I am also reading other scripts for films and TV projects.
How would you describe your career thus far?
---
This is just the beginning. Picture abhi baqqi hai....!
How would you define success?
---
Success to me is seeing a smile on my parents face and making them happy. To me success is not the key to happiness. Happiness is the key to success. If you love what you are doing you'll be successful.
What would you like to do in the coming years?
---
I would like to continue acting and make more movies and TV serials along with modelling. But definitely more acting and showcase my versatility and talent as an actor.
What do you enjoy the most – television, films or modeling?
---
They are all different in their own way, but I enjoy acting the most which I can do in films and on television. My passion definitely lies in becoming a film star.
How do you unwind after a hectic day?
---
I enjoy reading books, especially historical books and current affairs as I have done Masters in International relations. I also enjoy Taekwando which I have a black belt in and playing Cricket. Often after a hectic day I'll either go to the gym or I'll chill and relax with friends and family with a cup of tea.