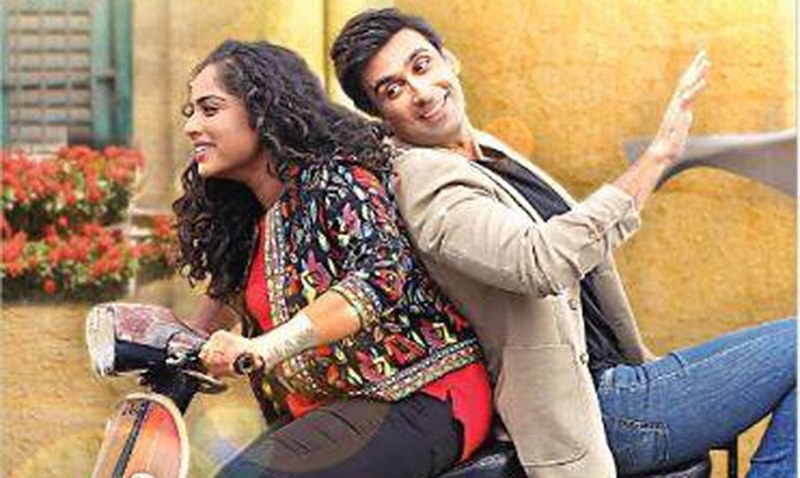 If you happen to tune into Geo Entertainment any time soon then be prepared for a bright little interruption during the ad breaks. I was pleasantly taken aback when I first saw the teaser appearing abruptly on my screen while I tried to watch one of the glossy drama serials on Geo.
The production quality of the teaser looks a notch higher compared to our usual Pakistani dramas.
The upcoming drama serial, with Sami Khan and Almas Fidai in the lead roles, looks like a romantic comedy. The poster tells us that this project is something on the lines of the Baraat series.
It is a light-hearted comedy featuring a Punjabi family coming to terms with a Gujrati family (and people with fancy feet).
Sami Khan plays the Punjabi dulha and Almas Fidai the adorable Gujju girl. Teri Meri Jodi looks to be a breath of fresh air amidst the stale, painful sagas on-air these days.
Almas Fidai was last seen in Coke Kahani and Sami Khan is gaining popularity through Geo Entertainment's drama serial Ishqa Waay.
The play is directed by Syed Ali Raza Usama who earlier directed Bashar Momin. The play has been penned by Syed Muhammad Ahmed - the person who started the Baraat frenzy and introduced Saima (Sema) Chaudhry in our lives with Azar ki ayegi Baraat) and co-written by Abeer Mahar.
Have a look at the recent trailer.
The recent trailer tells us that besides Sami Khan and Almas Fidai, the cast also consists of Hina Bayat, Kaif Ghazanvi, Maham Aamir, Hira Hussain, Nadia Kanwal, Ashraf Khan, Umer Sultan, and more.