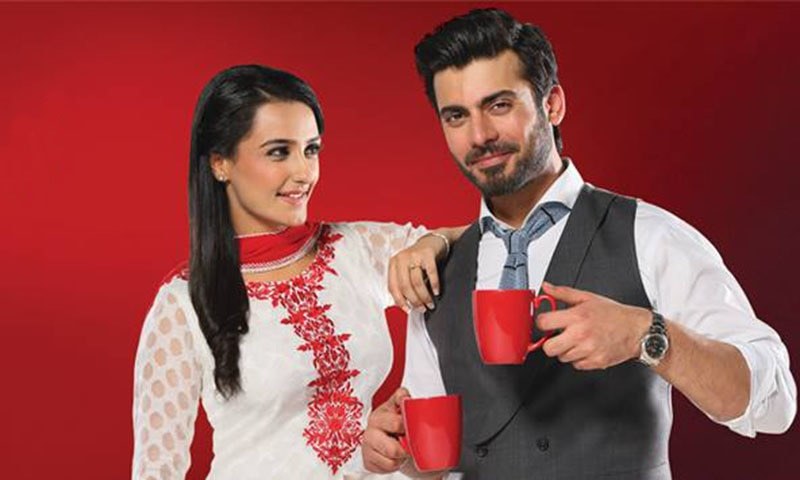 Mr. Husband (Fawad Khan) makes tea for wifey (Momal Sheikh) and the we're all celebrating the rare moment!

Husband enters home, tired from the day's work. A smiling wife welcomes him and offers him a steaming hot cup of tea to melt away his stress. The wife maybe tired to the bone, but the husband is of course always more tired because that's how it is, isn't it?
Not exactly! That's the perspective we're fed 90% of the time through our drama serials, advertisements, and even films. The recent Tapal TVC - starring Fawad Khan and Momal Sheikh - defies the stereotypical image of an average Pakistani household.
The ad shows a man's hand (I couldn't tell for sure to be honest) pouring Tapal Danedar into a pot of boiling water. In comes wife (Momal Sheikh) draped in Tapal's brand colour with grocery bags, sees the beloved husband (Fawad Khan) standing in the kitchen making tea and says (unfortunately) what every wife says, "Aap jaldi ghar agaye?"
Fawad Khan (aka Mr. Husband) says, "Bohat Kaam kar liya, ab socha thora araam karlein," and walks away with the tea. At this point, wife and the audience think, "oh! he's still thinking about his own araam and kaam." But that is not the case.
Wife, like many Pakistani, is so happy by husband's effort that she decides to take 'advantage' of the situation and asks him to make dinner as well. We're not happy with what we get, are we? We always end up wanting more. The TVC shows this insight too.
Turning out to be a typical husband, after all, Mr. Husband says, "Bana tou nahi sakta lekin khila zaroor sakta hoon." And a dinner plan is finalised.
In the end, they both have a cup of tea, made by Mr. Husband, and enjoy a stress-free life. Good news is that Tapal, or rather the director Farooq Mannan and ad agency IAL Saatchi & Saatchi have taken a different route to advertise their product, sans a typical wife and husband.
Read: Fawad Khan rocking many avatars in Warid's new TVC
Also, the ad shows Momal entering with grocery bags, not back from office, which stresses that even house wives have a full-time job and need to be pampered and take a break.
Apart from role-reversal, another thing which makes this serial different is that it was first released on digital platform instead of electronic one. Tapal's digital-first initiative proves that this brand is looking to innovate instead of following the herd. Also, digital media is all the rage nowadays and is slowly developing it into 'mass media', thanks to mobile internet.
One may say that only around 10% (18.5 million) of population of Pakistan are using internet out of the total 181 million, but this is the segment where most opinion leaders reside.
The great thing is that people are endorsing Tapal Danedar's 'Tum, Mein, aur Aik Cup Chai' campaign, especially working women. I myself have seen quite a few husbands helping out their wives in household chores, so its not a taboo really, but it's great that our mainstream media has started to play on this insight.
But the fact that we're so happy about the life shown in the latest TVC shows that such occurrences are rare and 'special' when they should actually be a norm.