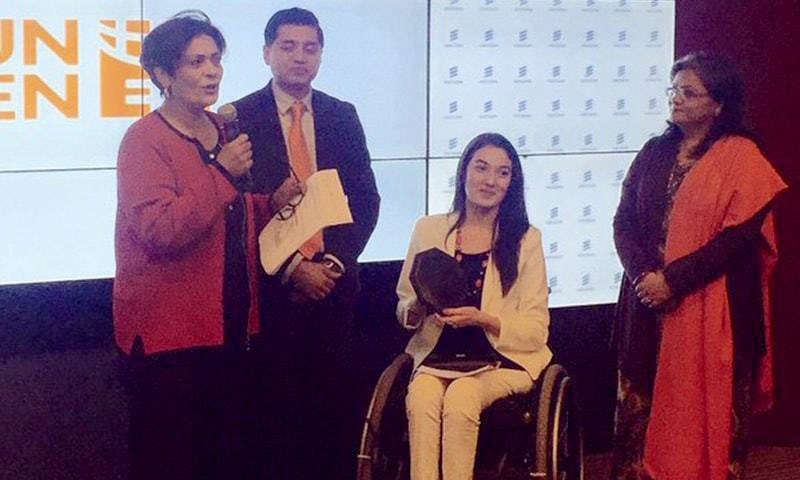 Mazari is the first Pakistani female to take up this role via which she'll work towards women empowerment.
A writer, artist, singer, activist and a motivational speaker Muniba Mazari becomes the first Pakistani female to be named the g\Goodwill Ambassador for UN Women – the United Nations entity for gender equality and the empowerment of women.
She announced the good news on Twitter and Instagram.
The announcement was made during an event held in Islamabad where she said that she'd like to work for women empowerment, end gender-based discrimination and make gender equality a reality by 2030.
As a Goodwill Ambassador Muniba will "dedicate her efforts towards the empowerment of women and girls, and would serve as an advocate for UN Women's Planet 50-50 by 2030: Step It Up for Gender Equality and other campaigns."
Read: Pond's announces 10 new Miracle Mentors for 2015
If you follow Mazari on social media, then you might be aware that's she believes in spreading the message of hope. She encourages and inspires people to live life to the fullest.
Khaleej Times recently released a video on their Facebook page enlisting 10 most inspiring women of Pakistan and one of them was Muniba Mazari. She also made it to Pond's miracle mentors for 2015 list.
Read: Khaleej Times pays tribute to most inspiring Pakistani women
In addition to being the Goodwill Ambassador, Muniba Mazari is also an Anchor and Concept Editor at PTV.