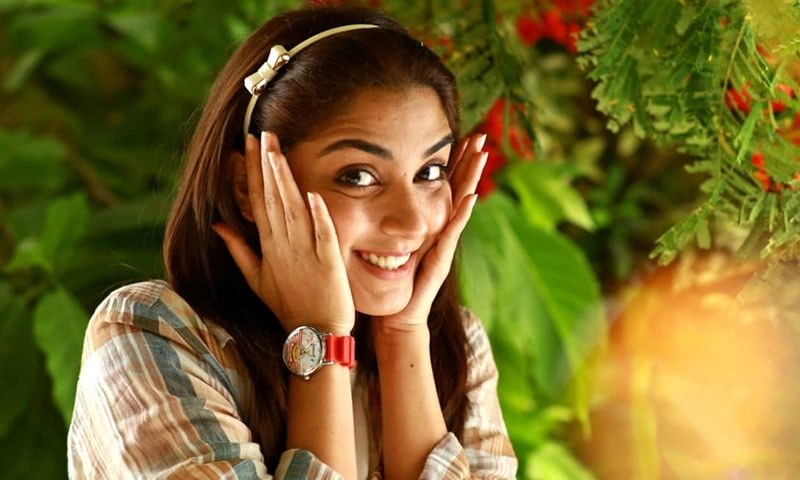 Maya Ali's styling and wardrobe in 'TGAH' is totally different from 'Diyar-e-Dil'.

If you happen to be a serial stalker like us then you must have noticed that Diyar-e-Dil star Maya Ali's style game is always on point; even when she's sitting and reading her script with a top knot, a scarf casually wrapped around her neck and flip flops dangling from her pretty feet.
It is expected that her upcoming serial Tera Ghum Aur Hum will be another blockbuster just like Diyar-e-Dil. After all people have already started talking about Salahuddin (Hamza Ali Abbasi) and Mannu (Maya Ali) with much as much zeal and enthusiasm as they did about Wali and Faarah.
The pictures of Tera Ghum Aur Hum doing rounds on social media give us an impression that Maya Ali's role is nothing similar to the one she played recently. She looks demure and traditional. And how could we tell this? From her eastern outlook and that shy smile. That is the power of styling.
Wardrobe selection for a particular drama or serial is not an easy job. Hence, it is better to leave it to a trained professional. If you feel that an actor should typically seek for wardrobe choices that enhances the actor's personality, then you are wrong my dear. The wardrobe should suit the character, not necessarily the actor. Wrong wardrobe for a role can completely overthrow a character in a film or drama.
HIP thought to get expert advice on the matter and spoke to multifaceted Amber Liaqat, from Express News. Liaqat heads the styling and wardrobe department at the channel. We got her opinion on right wardrobe choice for any actor.
"It is all about appearance at the end of the day and how a certain look was achieved. Wardrobe plays a significant part in today's drama or film, that's why any period film can never be successful without the right wardrobe which we saw in our very own famous drama serial Dastaan, Hollywood hit Elizabeth, popular series Downtown Abbey, and most recently in Bollywood film Bajirao Mastani."
We also spoke to the beautiful and talented Maya Ali to get her views on her look for the upcoming serial by HUM TV Network.
Here is our little chit chat with the star.
How important is wardrobe choice for you in a certain role?
Wardrobe is essential for a certain role, as it helps you portray a character and gives the audience a better picture of the character in any drama. I believe that a casual outfit can look striking if one owns it. It is all about how anyone carries a certain outfit and knowing how to dress in an elegant manner is most important.
Have you made a right choice of choosing SNM and PAL wardrobe by Din Industries for this drama?
I do believe that I have made the right choice of choosing Din Industries wardrobe for this drama and I love their collection designed for my role. Though I don't want to give away too much, but each outfit that I have worn from SNM and PAL for Tera Gham Aur Hum is my favorite. I am very happy with the result. I loved the vibrant colour palette used in the tailor-made collection for Mannu.
Can you compare and contrast between Diyar-e-Dil and your latest play in respect of the wardrobe selection?
I can't compare Diyar-e-Dil and Tera Gham Aur Hum in terms of wardrobe selection as they are totally different dramas and my wardrobe for both dramas is poles apart. And like in every drama or film, there is a bench mark that's left at the end, I believe this particular look will create magic on the screen, and blend in with my character very well.
Can't wait to see Maya Ali's in gorgeous eastern attire in Tera Ghum Aur Hum - a serial directed by Haseeb Hassan. Yes, that's the same person who directed Diyar-e-Dil!
The set looks majestic, have a look!