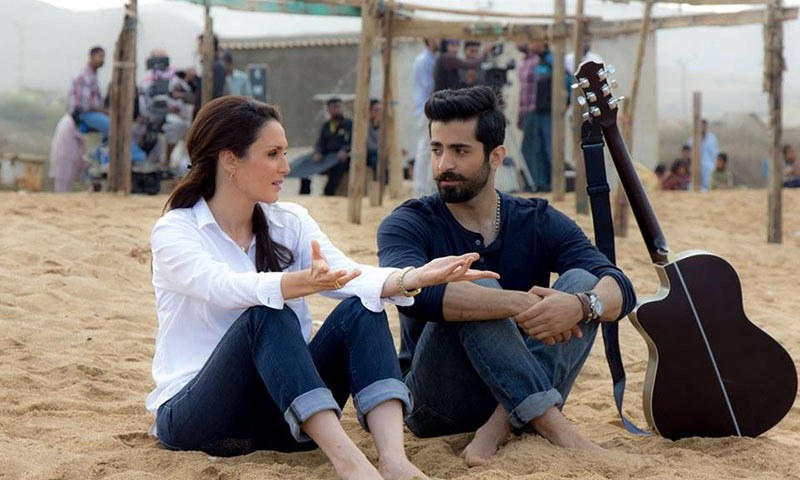 Sheheryar Munawar and Sonya Jehan are a couple in 'Ho Mann Jahaan'! If you were as unaware as I was then join the club!

While the real Baarish is nowhere to be seen in Karachi, Ho Mann Jahaan's team decided to fill the void through their video of Baarish.
Sheheryar Munawar looks like a shareef thug and Sonya Jehan looks gorgeous and graceful as ever; and I feel that makes for a perfect combination!
While Jimmy Khan's song will take some time to grow on me, I've fallen head over heels in love with the video featuring Sheheryar Munawar and Sonya Jehan. With around half a month to go for the premiere of HMJ, Baarish's video has come out at the right time to pique our interest.
When the trailer came out, one of my siblings said, "Sheheryar and Sonya's couple has awesome chemistry." And I made a disgusted expression at her and said, "You're one sick-minded person. They're not a couple! She's just his mentor or something!" It turns out she was right on both accounts.
Munawar and Jehan are a couple in HMJ. And they share sizzling chemistry. He, a rugged tapori kind of a guy and she, the prim and proper dame. Even thinking back to the video makes me look as if I'm advertising Colgate.
The video shows the relationship shared by Arhaan (Munawar) and Sonya Jehan's character. In Sarak Sarak provided us insight into Manizeh (Mahira Khan), Arhaan and Nadir's (Adeel Hussain) characters. It gives us a glimpse of their attitude towards life and studies.
Baarish, however, focuses on Arhaan's character and how he takes life after college. I'm guessing that he leaves his father's home to fulfill his passion for music, takes up a job at a very fancy café headed by Sonya Jehan, and since he has no place to live Jehan gives him a place in his home.
This is all speculation but with the release date only 19 days away, it is a healthy sign that the audience is speculating, because that'll intrigue them enough to go and watch Ho Mann Jahaan. So good work there 'team HMJ' and especially the director Asim Raza who made sure the video was crisp enough to capture our attention.
As far as the vocals and composition is concerned, I became Jimmy Khan's fan when he sang Nadiya Paar in Coke Studio, but then I didn't get to hear any more of songs. Baarish popped up this year and though I love the use of guitar and whatever other instrument is used in the background (the one which provides the jhatka); I don't get the lyrics and that annoys me.
Ho Mann Jahaan releases on January 1, 2016 and as soon as cinema houses announce bookings for HMJ open; I'm probably going to be the first person to buy tickets, all thanks to Baarish.